September 25th, 2013
Amaretto Cake-Pops
Today I finally managed to do something on top of my "The-will-I-make-sure"List was: Cake Pops. The great thing about these little treats on a stick is that they look pretty and the imagination in the design are no limits. The one they like quite plain covered with chocolate, the other colorful and – my husband would say – cheesy.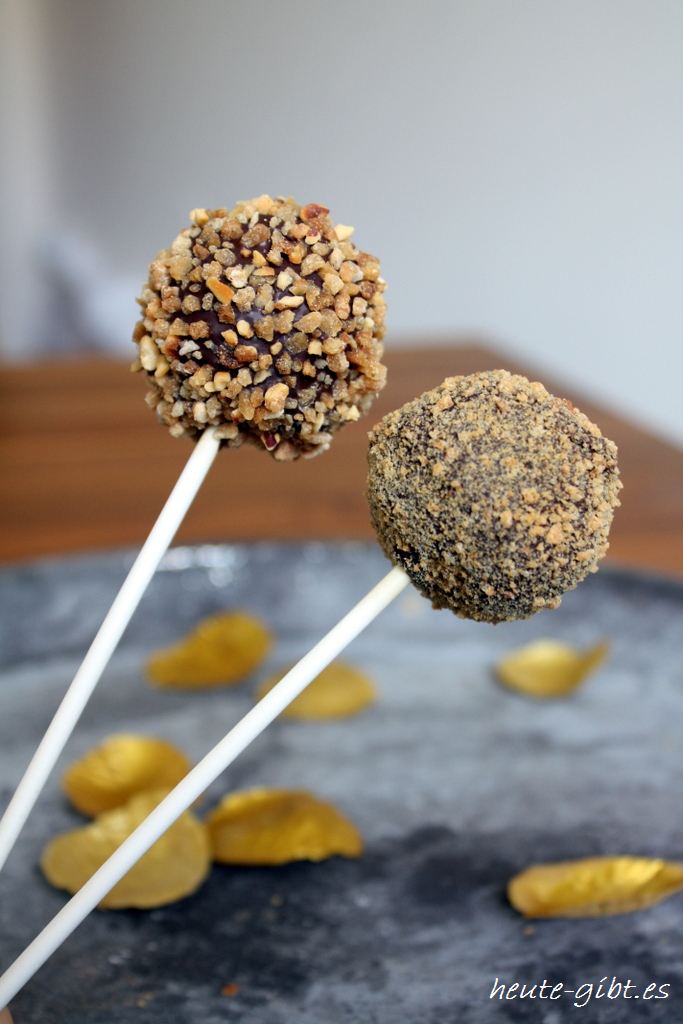 Perhaps the one or the other is noticed that a new category is on my blog: Basics. There, I've made up my mind with time to carry a small collection of basics together. How do you like the idea?
Opened I have the category with a small Introduction to the world of Cake Pops. From concepts to manufacturing – here the main facts are explained in brief.
Now to my first ever Cake Pops: For starters, I would rather try something simple, you do not lose motivation equal yes 😉
I was inspired by this book "Something About Cakepops: Delicious Recipes – lustige Motive – neue Dekoideen" Sandra von Müller.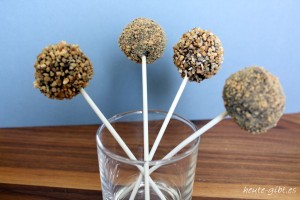 recipe
Total time
1h 30min
Amaretto Cake-Pops
Ingredients

: (For about 25 pcs)
For the Amaretto Frosting:
60g butter (Raumtemperatur)
120g icing sugar
1 tsp vanilla Zucker
2 EL Amaretto
For the decoration:
Dark chocolate
some coconut fat
Amarettini
Haselnusskrokant
Lollipop-Sticks
Preparation

:
Frosting:
Melt the butter with an electric mixer until fluffy.
Powder and vanilla sugar mixed together, sieved add to the butter and mix well together until a creamy mass.
Add the amaretto and mix.
Cake-Pops:
Please make sure to read my first Instructions for making Cake Pops through, as I refer to this, and so does not have to explain everything multiple times.
Make the Cake Pop balls according to the above instructions with the recently prepared amaretto frosting.
While the cake balls in the refrigerator to harden, finely crumble the Amerettini in a bowl.
After coating the balls with chocolate coating, they are as long as the chocolate is still wet sprinkled with the crumbled Amarettini or with hazelnut brittle or turned it.
Let dry cake pops and then enjoy 🙂
For my first steps in terms of Cake Pops the result in my opinion but is quite presentable, right? The coating with the chocolate worked from time to time keeps getting better. So do not give up the same if it does not look so perfectly the very first cake on a stick.
In this recipe I decided to refer in the production on the basics, because the process is always the same thing and differ only in the frosting and decorating. So I wanted to avoid having to repeat myself with another cake pop recipes.
Do you find that, in principle, good or it confused you too much?

Greetings
Elena
P. S. With this recipe I take on "Blog-Event XCII – Everything is round" of Bitch and Wolfgang :