February 15th, 2015
Apple cinnamon muffins with streusel – We bake with Leila
Cinnamon: As a child I liked to go this spice out of the way. Nowadays I can this – as you perhaps already know – difficult to go out of the way. One of my favorite combinations with cinnamon apple – the classic. This attracts me always magical, I can not help 😉
That also I see as the hiking book "Baking with Leila" by Leila Lindholm of love Bettina from the blog "homemade and baked" hit: a delicious recipe by one, for which I chose? Exactly, for apple cinnamon muffins! Compared to my standard recipe for this purpose, had these muffins still crumble, so they had to be tried absolutely!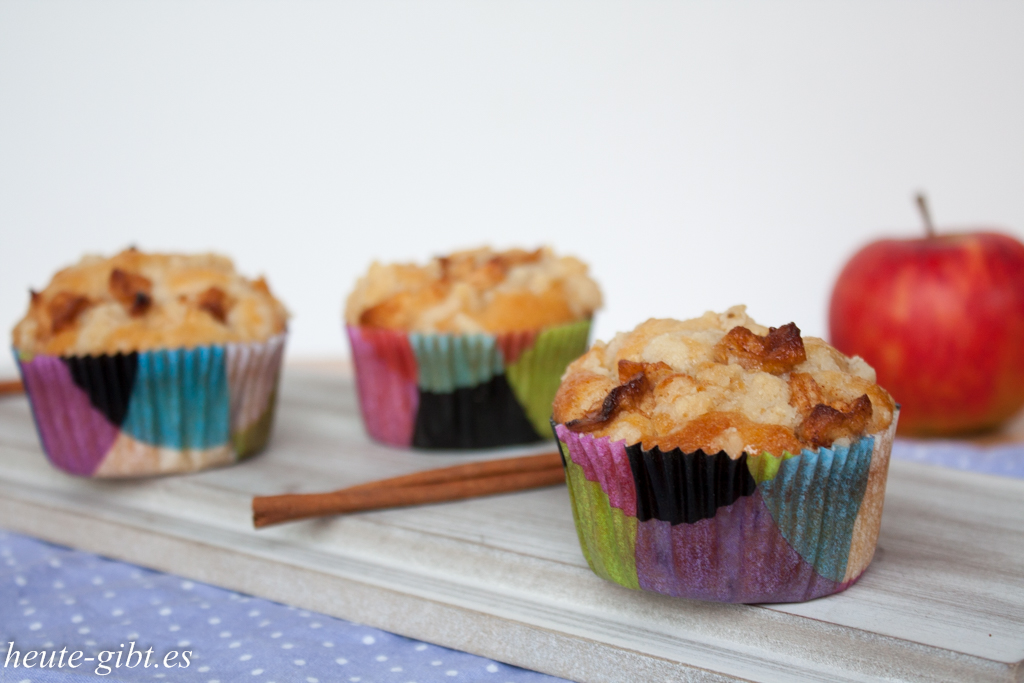 recipe
Apple cinnamon muffins with streusel
Total time
45min
Apple cinnamon muffins with streusel
Ingredients

: (für 12 Muffins)
3 eggs
200g + 2 tablespoons sugar
1 tsp vanilla Zucker
100g + 2 EL Butter
100ml milk
200g flour
2 tsp backing powder
1 pinch salt
zest and lemon juice a 1
4 large apples
1 tbs. cinnamon
For the streusel:
40g called Butter
30g rolled oats
30g Mehl
40g sugar
Preparation

:
Preheat oven to 175 ° C (fan) Preheat.
Apples remove seeds and cut into pieces. 2 tablespoons butter, 2 tablespoons sugar and cinnamon cook for a few minutes in a hot pan and allow to cool.
Beat the eggs, 200g sugar and vanilla sugar light and fluffy.
Now 100g melt butter, mix with the milk and stir well into the egg mixture.
Combine flour, baking powder and salt, with constant stirring slowly add to the dough until a homogeneous mass is obtained.
Stir in lemon zest and juice.
do for the garnish a few apple slices to the side, lift the rest of the batter.
set 12 paper cases into the wells of a muffin sheet and fill two-thirds of the dough.
Then, for the streusel cut the cold butter into pieces, add oatmeal, flour and sugar and knead.
Spread the crumble and set aside apple pieces to muffins.
Bake the muffins in the middle rack for about 20 minutes.
Die Streuselliebhaber unter euch könnten vielleicht beim Anblick der Bilder etwas enttäuscht sein, weil im Vergleich zu Streuselkuchen hier die Menge an Streusel doch sehr gering ist. Aber ich habe diese genau als richtig empfunden und habe hierbei nichts vermisst. Man schmeckt die Äpfel, den Zimt, durch die Haferflocken-Streusel wird es insgesamt auch leicht crunchy ohne dass die Muffins zu trocken sind. Hach, da hat die liebe Leila was tolles kreiert. Falls ihr neugierig seid, was es noch in dem Buch leckeres zu entdecken gibt und für welches Rezept sich die anderen Teilnehmer entschieden haben, dann klickt auf den unteren Banner und schaut bei Bettina vorbei, dort findet ihr die Teilnehmerliste, die ständig aktualisiert wird.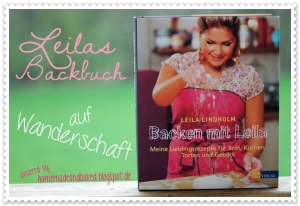 All the best and have a nice weekend!
Elena