October 6th, 2013
Apfelchips – healthy snack for gatherings
A good Sunday to all of you!
While I still find myself in the Ruhr area, there are for you today a quick recipe. Maybe you have this "Snack" already this week on my Instagram-Account seen. Look there, do not you drop because gets her insights into my colorful world 🙂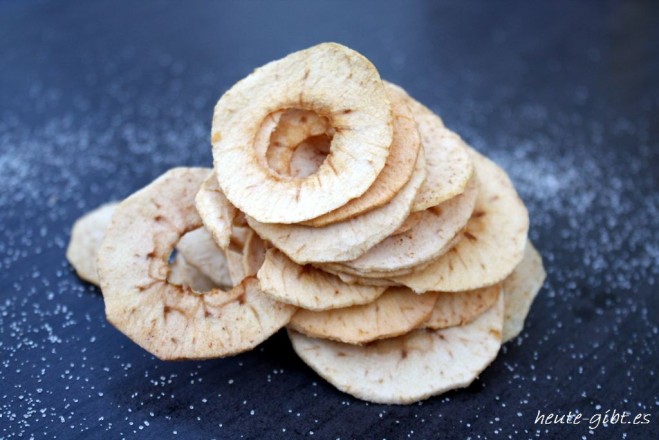 Do you know the situation that their cozy evening sitting in front of the TV and comes over you the desire for something sweet? Most people like to grab as chips and chocolate, which unfortunately is not very figure friendly. A healthier, yet tasty alternative are apple chips. I used to always buy these, but this is relatively expensive. But since I know you can do this yourself without much effort, I'd rather grab the homemade version.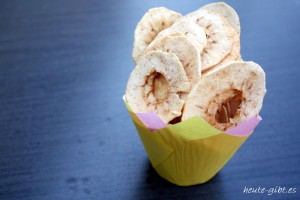 recipe
Total time
3h 10min
Apfelchips
Ingredients

: (für ca. 2-3 Backbleche)
2 large apples
some cinnamon and sugar (optional)
Preparation

:
Oven at 90 ° C (fan oven) Preheat.
Peel apples, remove the core with an apple corer and cut with a vegetable slicer into thin rings.
Line a baking sheet with parchment paper, place the apple rings on it – in this case no distance between the rings is necessary.
If desired, cinnamon and sugar and the apple rings lightly sprinkle it.
The trays slide now equal in the oven before discolor the apples brown.
Important: In order for the fruit to dry properly and escape the humidity, the oven door should not be closed completely. This it achieved quite easily by simply their sticks a wooden spoon between the oven and the door.
Allow to dry at 90 ° C for 2-3 hours.
After cooling, the apple chips can be stored in a dry and airtight for several months.
The healthier option is obviously the cinnamon sugar without, but I personally like the sweet and especially cinnamony note. But just try both and decide for themselves 😉

Greetings
Elena