October 16th, 2013
Avocado-Tomato-Pasta
Long has it been since I wrote here last time. I have some ideas, but unfortunately lack the time to implement them. A short visit to the Ruhr – a report to the Dortmund Messe autumn will follow – and a "Business trip" on the Science Days are the main reasons for the silence here. Additionally training, illness representations come to the university and the like. Not so easy to coordinate everything somehow.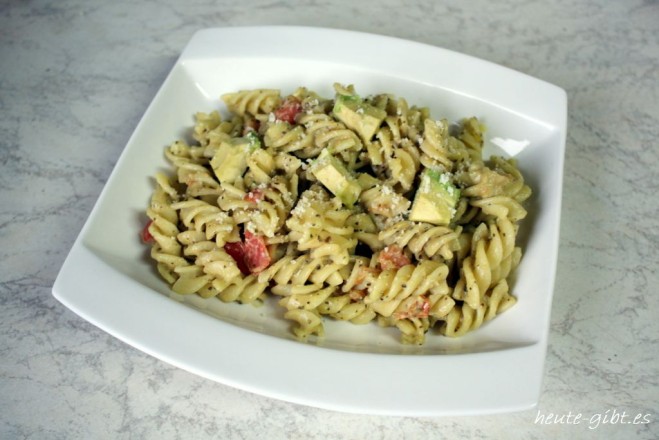 Today there was a quick but still tasty pasta with us for lunch. Although this recipe was not really planned in advance as a blog post but I just wanted not deprive this court. Quickly so even grabbed the camera, took some pics – I apologize for the bad exposure, but today's weather was not better tolerated – und schon war es entschieden: das Rezept kommt auf meinen Blog 🙂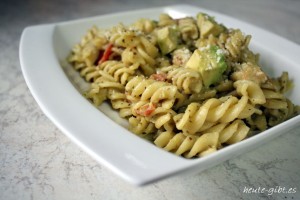 Avocado-Tomato-Pasta
Ingredients

: (For 2 people)
180g fusilli (or any other type of pasta)
1 ripe avocado
6 Basilikumblätter
3 cloves of garlic
2 tomatoes
1 small chilli
50ml Milch
2 1/2 EL Olivenöl
Salt and pepper
Preparation

:
Cook the pasta in salted water until al dente.
In the meantime, halve the avocado, remove the seeds, dissolve out the flesh with a spoon and place in a bowl. If desired, some of the avocado can be done to decorate the page.
Basil leaves, two cloves pressed garlic and 1 tablespoon olive oil to avocado to give strong season with salt and pepper and puree with a hand blender.
Core the tomatoes and cut into cubes, the chilli finely into rings.
The remaining olive oil in a frying pan, heat briefly, a pressed clove of garlic, diced tomatoes and added the chili and saute over medium heat.
The avocado puree and the milk and cook mix well.

Die fertig gekochten Nudeln werden nun in die Pfanne gegeben, untergerührt und warm serviert. Falls ihr Avocado zum Dekorieren beiseite gestellt habt, diese nicht vergessen 😉
I myself do not count the avocado to my standard vegetables, at least when it comes to pasta. But I have to admit that the combination tastes really delicious with tomato. Try it out!

Greetings
Elena