November 13th, 2016
Balsamicomöhren – a delicious leaflet from the Urkarotte
Saturday is market day and I love to stroll through the corridors and to operate thousands of impressions on me. It may be that it is not the most effective and time-saving way of shopping, but I turn it off properly and discover again and again for me new foods.
In the fall I especially like to go to the market, because the phenomenon we know from nature, is reflected here: everything is nice and colorful! To broaden my horizon, I take every year of fruit and vegetables to take home that are not known to me or that I have never tried, and experiment with it.
I discovered the yellow beets for me this year – should try their absolutely! – and about 3 years ago I bought for the first time Urkarotten.
Since then I can not wait each year until there is the purple carrots back on the market. However, recently I realized when speaking with friends that many have never tried this vegetable.
Terrible if then so comments come as: "Ah yes, yet the purple carrots, you could buy in the supermarket just before Halloween".
Um, yeah.
Actually, yes Urkarotten – as the name suggests – the original nature of the carrot and the orange variant which is more consumed by most today was grown only in the 17th century in the Netherlands to honor the king.
you can handle the purple variety exactly the same as the – I'll call – "ordinary" Carrot. However, one must be careful because the ink can rub off on other foods partly what then seemed a bit ugly.
The taste they are stronger, but also sweet. This is exactly why I have chosen for today's court, because the combination makes sweet and sour from this fast zubereitenden supplement special!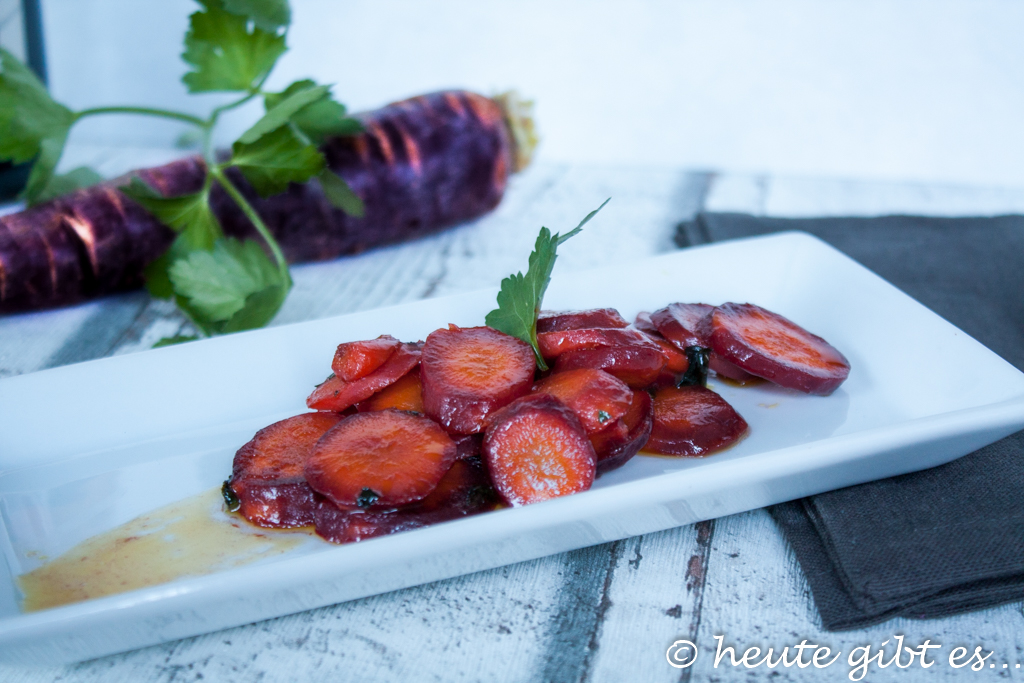 Balsamicomöhren
Ingredients

: (For 4 people)
500g Urkarotten
50g Butter
1 tablespoon of sugar
50ml dark balsamic vinegar
some fresh parsley
Salt and pepper
Preparation

:
bring to a boil in a pot of salted water.
Peel Urkarotten, slice and once the water is boiling for 5 minutes blanch it.
melt in the meantime the butter in a skillet over medium heat.
Drain the blanched carrots, add the butter and stir briefly in it.
Now stir in the sugar and deglaze everything with the balsamic vinegar.
Add the chopped parsley, salt and pepper, close the pan with a lid and leave for the carrots over low heat for 10 minutes.
Try the end and if necessary again to taste with salt and pepper. Serve warm to lukewarm.
This supplement fits perfectly with meat, but can also be served to a vegetarian main course. Try it with the Urkarotte, the herbs varied mixes of carrot, be creative, because that's the great thing about cooking!
And now swinging your cooking spoon!
Elena