January 7th, 2018
Bananen-Tiramisu – a coffee-free version of the Italian classic
Tiramisu is one of the classic Italian dessert kitchen. Next Panna cotta is probably the dessert, I must prepare for family celebrations and other special events most often. Mostly I decide this for our personal family recipe, Since I the egg-free version I tried and it just tastes good people, I switch off or ask the host what version they prefer.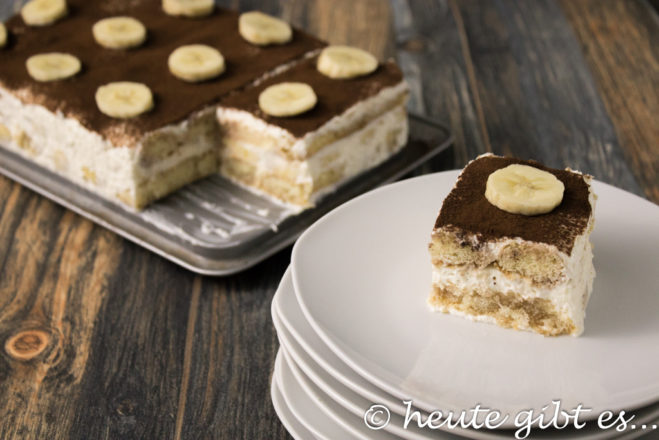 One of the main ingredients of the classic is the cafe where the biscuit cookies are dipped. Due to this ingredient dessert by the way his name because tiramisu means "pull me up". Well, the sugar in the cream certainly plays a role in this 😉
However, since I personally drink any coffee, I renounce always voluntary in this dessert. Is it someone maybe so? Then I have a tasty alternative for you, containing neither coffee nor alcohol and eggs and therefore is also perfectly suitable for children and pregnant women.
In this recipe I have chosen one of my favorite combinations: banana and chocolate. This love I have discovered as a child in the ice cream shop, because there I was replace once at Banana Split the vanilla ice cream with chocolate ice cream I ever since so order.
Do you like this combination also so much? Then this modification of the classic is perhaps something for you.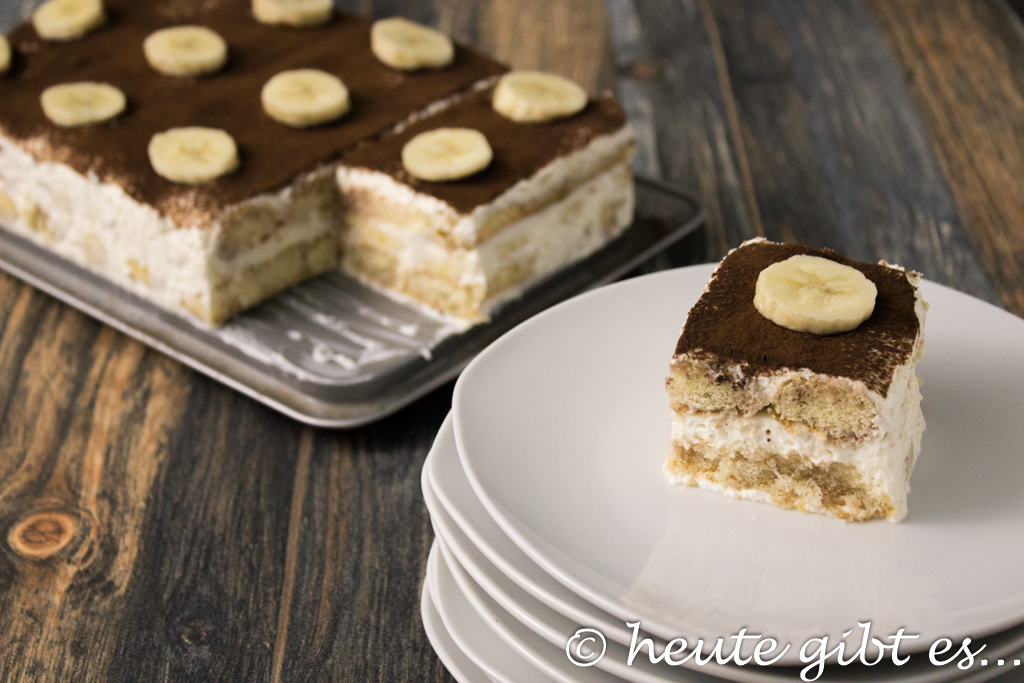 recipe
Total time
3h 20min
Bananen-Tiramisu
Ingredients

(About 12 servings)
500g Quark
500g Joghurt
100g sugar
1 vanilla pod
200g Scene
400g sponge fingers
200ml cocoa (200ml milk + 2 EL sweetened cocoa powder / Kaba)
4 bananas (including one for the decoration)
unsweetened cocoa powder for dusting
Preparation

:.
Mix cottage cheese, yogurt, sugar and the vanilla pod.
Whip the cream and fold with a whisk.
Place in a best square shape as much cream is that the ground is just so covered.
Now following procedure: A little cocoa fill in a shallow dish. Successively the ladyfingers briefly dive into the cocoa drink and side by side arranged on the cream layer. It does not matter whether the sugar side of the biscuits is facing up or down.
distributed over the sponge fingers layer, another thin layer of cream, so that the biscuit biscuits are covered. Except for a banana, the other slice and distribute them to the cream. This then in turn covered with cream,
Then, according to the principle of step 4 to add another cookie layer and cover it with a final layer of cream. This layer may like to be a little thicker, but do not overdo it. Remains cream, this example with the other ingredients in a glass layers.
Set the tiramisu for about 3 hours or overnight cold.
Shortly before serving, the dessert with cocoa and sprinkle with the rest of the banana, which is sliced ​​to decorate.
Yet a little important note at the end: Try this dessert please not with the expectation that it is comparable with the classic, because otherwise you will most likely be disappointed. These are a dessert that inspired by the classics and for people who have a weakness for chocolate and banana, is just right. Zimtliebhaber can sprinkle a little cinnamon on the banana and the last layer that fits namely also very good at that combination!
Of course, this dessert can be coated by the glass and served. For this, simply cut the ladyfingers accordingly or break. Otherwise, everything remains as in the above instructions.
Bon Appetite
Elena