October 5th, 2013
Bananenmarmelade
As you may have noticed, there was a week over here little that is new on my part. This is not because that I no longer wanted on my blog have been, but that my husband and I extended over the weekend – have taken the Friday off – make a short tour of the Ruhr. Since it is not so easy to write a new post, but as you can see not impossible 😉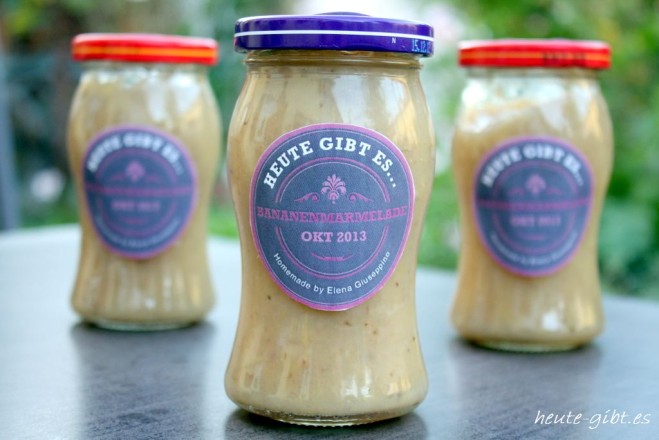 That's why today, there are no time-consuming and highly complicated recipe, but something that is quick to prepare and still tastes delicious: a jam. Since I like to try new things, there are in my cabinet not only standard varieties such as strawberry or cherry, but also more exotic varieties like these banana jam. Two years ago, I have cooked for the first time and since then it is one of our favorite jams. Even my siblings – I distribute my glasses on well-behaved 😉 – like this jam very bad, especially in combination with chocolate hazelnut cream.
But enough spoken written, here is the recipe: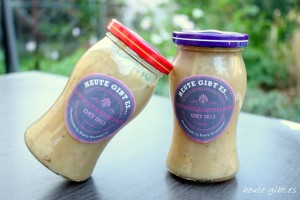 Bananenmarmelade
Ingredients

(For about 5 glasses à 200ml)
1kg peeled banana
2 lemons
500g gelling sugar 2:1
Preparation

:
The bananas with a hand blender puree coarsely. Here you can decide whether pieces should be in your own jam.
The lemons and squeeze the juice along with the jam sugar to the bananas.
The whole in a saucepan, bring to a boil and simmer for 4 minutes.
The jam still fill hot into sterile jars.
Important: Make sure that the jars are sterile, otherwise there is a danger that you moldy jam with time. I boil the jars and lids for a few minutes in water.
Whether it upside down on a clean dish towel to dry the jars before filling or let the jam here is no matter fills directly.
After filling, the sealed bottles for about 5 minutes headfirst off.
Then turn it round again and let them stand. On cooling, a slight vacuum should now arise, what can be seen from the fact that the cover with a "Plop" a little bend inward.
Whether this has worked, you can easily check by her simply presses lightly on the lid. If it does not pull inwards, and everything is in order and you can safely store the jam for several months.
Incidentally, I have the labels free of charge through "The Jam Labelizer" created and printed immediately. In my opinion, a practical side, where you can select a few clicks from a selection of labels and label it with your own text. Especially when it has to go quickly a good solution. So it pays to stop by there once.
Greetings from the Ruhr,
Elena