June 22nd, 2014
Banana Pancakes – Breakfast – quick but delicious!
A good Sunday to all of you!
While you read this – at least when you come in the morning at 10 o'clock – then I am together with about 20 other bloggers in the Ritter Sport Museumscafé in Waldenbuch (Stuttgart, Germany) and enoy an extensive breakfast. It's the summer edition of the Stuttgart blogger regulars table, taking place, this weekend. If you're curious the other great things we do at Ritter Sport, then please have a look at my Instagram profile. There you get sort of a "Live broadcast" 😉

You find it unfair that I can enjoy a great breakfast and you have to rely on cereal or bread? Then I brought you a delicious breakfast recipe that is prepared quickly and easily and still tastes really good: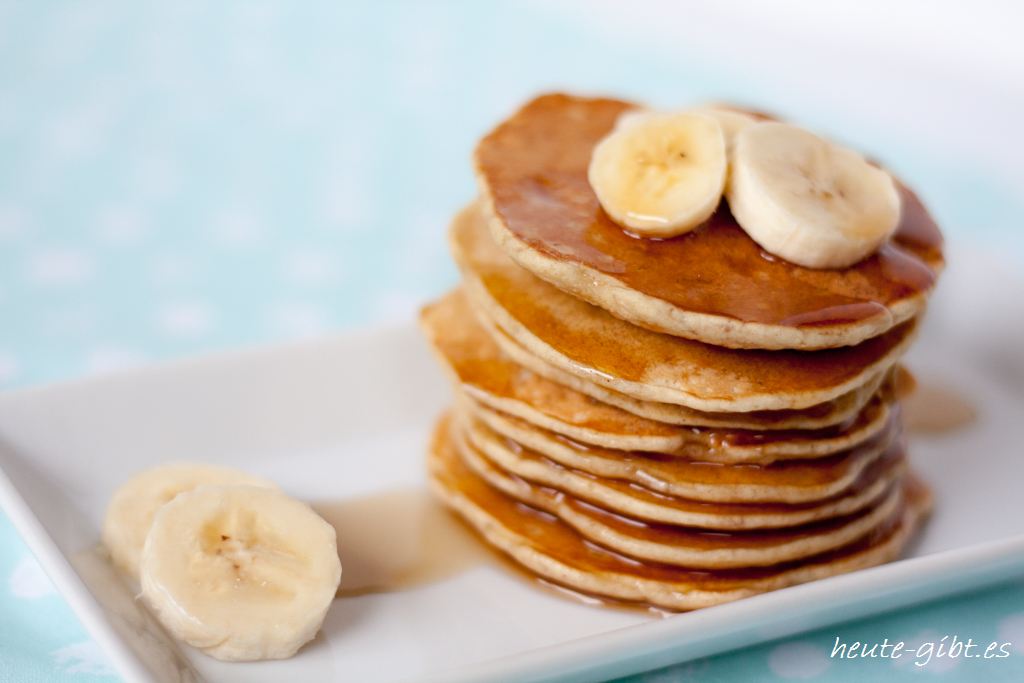 Banana Pancakes
Ingredients

: (For about 16 pcs)
200g flour
1 egg
300ml milk
1 tbsp vanilla sugar
1 pinch of cinnamon
1 pinch salt
2 tsp backing powder
2 bananas
25g melted butter
some oil to fry
Maple Sirup as a Topping
Preparation

:
Mix all ingredients apart from bananas and butter with a hand mixer or food processor. Crush the bananas with a fork, add the melted butter to the dough and stir in well until a homogeneous dough is formed.
In a nonstick frying pan, heat a little oil.
Give the batter into the pan in portions, so that small pancakes arise, each approx 10cm in diameter. Keep the heat low to medium.
As soon as you see tiny bubbles at the top, it is time to turn to the mini pancakes.
Are the pancakes golden brown on both sides, they can be served with, for example, maple syrup.
And, the not sound super simple, but looks irresistible? We have this Pancakes either at the weekend or when we leave. Finally, you barely have the time to stand forever in the kitchen in the normal working day. Or, I'm one of those people who prefer to sleep five minutes longer than to have breakfast extensively 😉 But if I have time to, then I let it go me really well and then there are for example, New York Blintzes.
What is it you have for breakfast on weekends?
Greetings
Elena
With this recipe, this month, i take part in HECM#62 with the topic "bananas". The hostess is Cristina of Lebonvivant. Here can you find more info regarding this event.