September 6th, 2020
Pear and red wine jam – a delicious gift from the kitchen
No sooner have you been happy that it is finally summer, September has already begun and autumn is practically on the doorstep. If you mourn all the berries and summer fruits, you don't need to worry, because this season also has some great fruits and vegetables to offer. At the food blogger campaign "Served up – 1 ingredient, 5 recipes" We have chosen a fruit for this month that honestly rarely makes it on the table: the pear.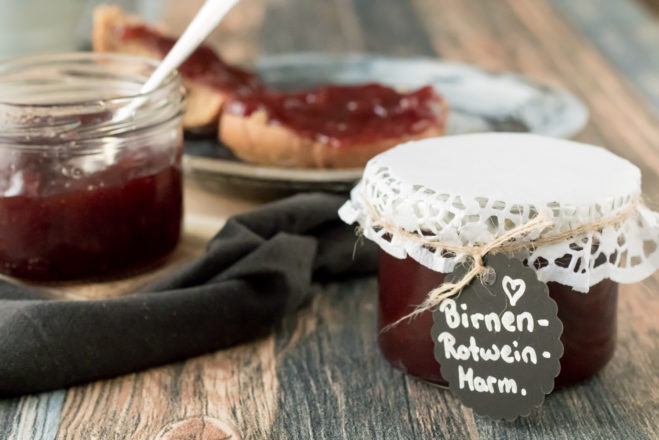 When I think back to my childhood, pears were usually only available in two forms: as a juice (which is practically a standard in Italy) or pure as a fruit. Even nowadays I very rarely use them for cooking or baking and then tend to use their relative, the apple. But actually the pear doesn't have to hide with its fine, sweet taste, because it can be easily processed into delicious dishes and combined with many foods.
Pears – What can you do with it?
A classic combination that always works is pear and chocolate. I hardly have any pear recipes on my blog, but in my first year blogging I have delicious ones Pear Chocolate muffins gebacken. Wichtig bei der Kombination mit Schokolade ist das richtige Mischungsverhältnis: Eine kleine Menge betont den süßen Geschmack der Birne, aber verwendet man zu viel geht diese unter. Aus diesem Grund finde ich es auch sehr schwierig hierbei weiße Schokolade zu verwenden und würde persönlich immer zu einer dunklen Sorte tendieren.
Another ingredient that goes perfectly with the pear is blue cheese. Unfortunately not on the blog (yet), but a clear recommendation on my part is risotto with pear and Gorgonzola. Easy to prepare and really delicious in taste. The interplay of pears, gorgonzola and walnuts in a salad is also very good. We also have a delicious autumn salad with pears from time to time. I use goat cheese (also goes perfectly with this pome), walnuts and radicchio. Especially if you like variety this salad just the thing.
Do you want more examples of which foods you can combine with pears? Try apple, hazelnut, ham, cinnamon, or red wine. You might know the latter from pears in red wine, I'd say a classic. I also decided on this dream couple and conjured up an exquisite spread.
Delicious jam with pear – perfect for breakfast
Pears and especially red wine as jam? Exactly, you read that right and I really encourage you to give it a try! Unless you really only like standard varieties like strawberry or apricot. But if you like something special or are open to new things, then this sweet spread has the potential to be one of your future favorites.
In my opinion, it is also suitable as a gift, precisely because it is not a run-of-the-mill jam. Whether as a souvenir for a brunch or as a self-made gift from the kitchen for Christmas, you will certainly surprise the recipient and arouse their curiosity. The best thing: The preparation is really easy and is relatively quick.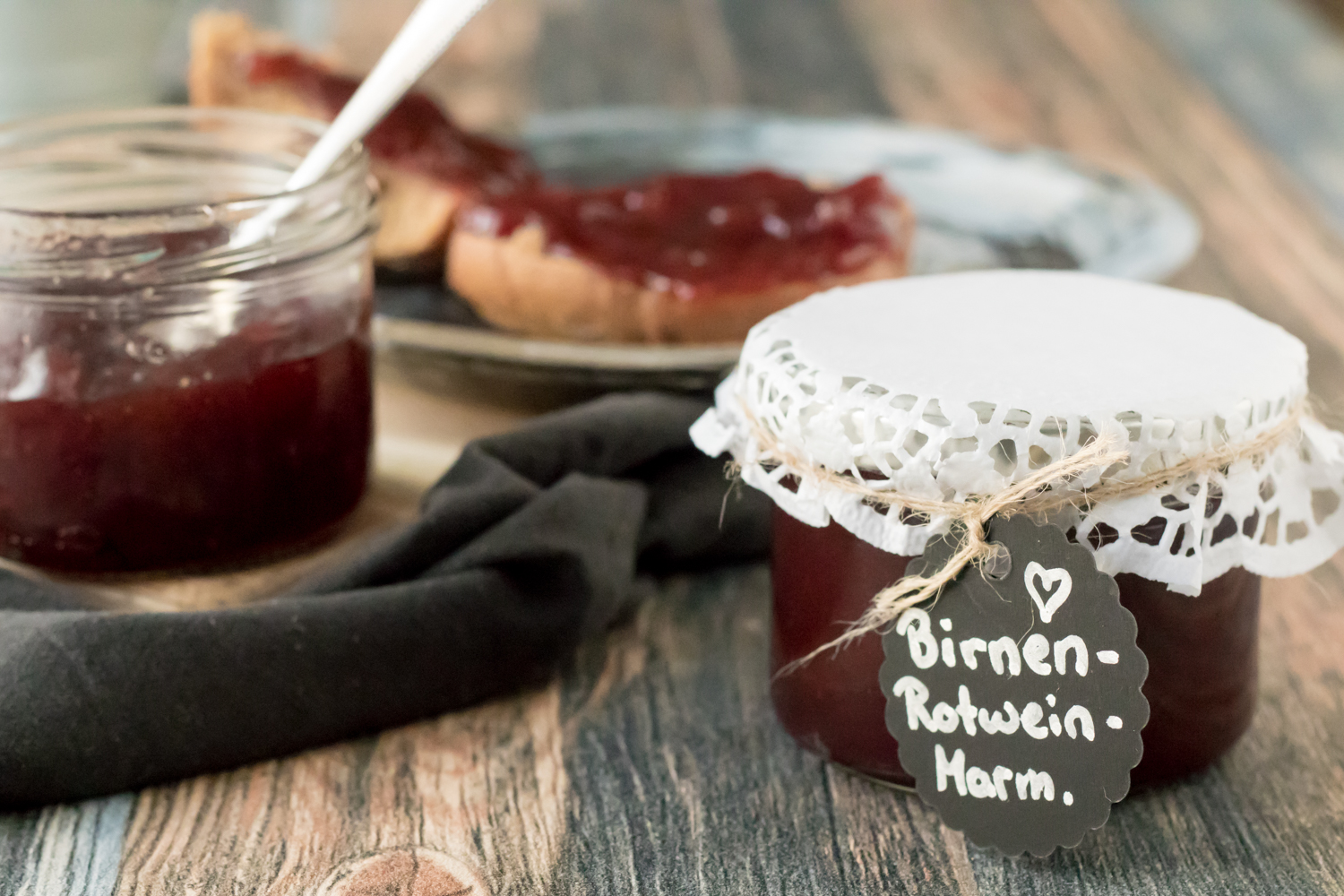 Pear and red wine jam
Ingredients

: (for 6 glasses of 200ml each)
500g pears (weight peeled and pitted)
375ml red wine (dry)
1 Orange
1 lemon
1 tbs. cinnamon
1 pinch of ground clove
½ vanilla pod
500g gelling sugar 2:1
Preparation

:
Cut the peeled and pitted pears into small pieces and place in a bowl. Now mix with the red wine, the juice of the orange and lemon, the spices (only use the pulp for the vanilla pod) and the preserving sugar and let it steep for about 30 minutes.
Then pour the mixture into a large saucepan and puree it roughly or finely with a hand blender, depending on your taste. Bring everything to a boil over high heat while stirring and cook for another 4 minutes while stirring continuously.
Fill the jam into sterilized jars, close tightly and allow to cool.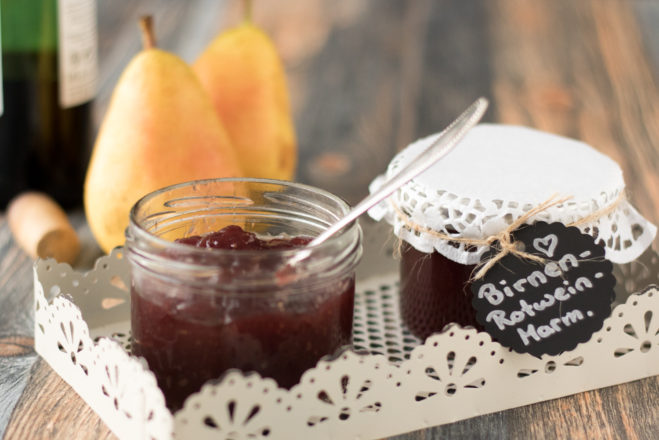 Tips:
If you want to be sure that the 4 minutes are really enough, you can do a gel test. To do this, put a plate in the refrigerator or freezer compartment beforehand and put a small amount of jam on it after the cooking time. If it gels after a short time, it can be bottled. If this is not the case, let the mixture cook a little longer.
If you want to surprise your vegan friends with this, make sure that you choose the red wine that it is vegan.
Don't throw away the vanilla pod, mix it with a little sugar and keep it. After a few weeks you will have homemade vanilla sugar.
Try this jam and please let me know what you think of it!
Fancy even more pear recipes? Then you should definitely take a look at my food blogger colleagues, because here, too, delicious things are conjured up from this fruit:
Enjoy your meal Elena