September 21st, 2013
Pear Chocolate muffins
Einen schönen Samstag euch allen! Heute gibt es mal wieder Muffins. Ich kann euch auch schon versprechen, dass es hier in Zukunft öfter welche geben wird. Wieso? Ganz einfach: Muffins sind schnell vorbereitet und gebacken, schmecken trotzdem sehr lecker und können je nach Geschmack leicht variiert werden. Dann noch in einem schönen Muffinförmchen servieren und jeder ist glücklich 🙂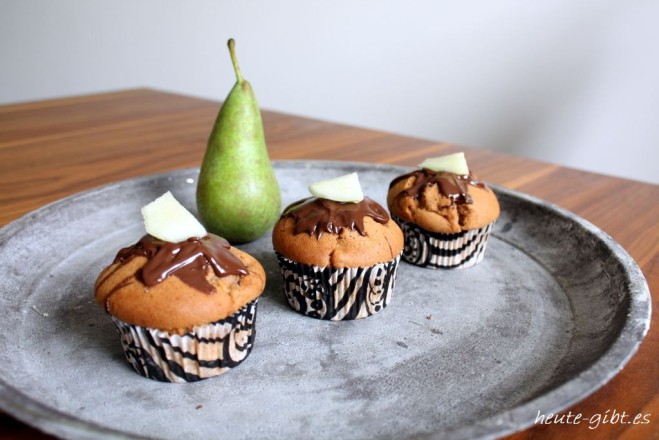 With this one I wanted to do, among others, my colleagues in the student lab at the University of Stuttgart a joy. Since it was already late in the evening at the time of preparation, I chose the above mentioned reasons for muffins. Since then the pears just right, which I had just bought this week came to me. Quickly, the idea arose to combine them with chocolate and to conjure up these little cakes: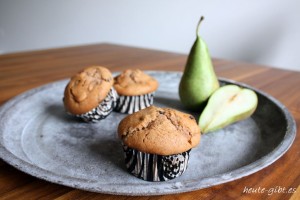 Pear Chocolate muffins
Ingredients

:
160g Butter
100g sugar
1 Päckchen Vanille Zucker
3 eggs
225g Mehl
2 tsp backing powder
Cocoa 1TL
2 ripe pears
50g chocolate drops
some liquid chocolate and pear pieces for decoration
Preparation

:
Add the butter with the sugar and vanilla sugar in a bowl and beat for about 5 minutes until fluffy.
The eggs add one by one and mix well.
Add the flour, baking powder and cocoa into another bowl and mix.
Now enter the dry ingredients while stirring slowly to butter mixture, so that a homogeneous mass.
In the meantime the oven to 180 ° C (fan) Preheat.
Peel the pears, cut into cubes, add together with the chocolate drops to the dough and stir with a spoon.
Then pour the batter into a greased muffin tin and bake for about 20-30 minutes in the oven. test with a stick or toothpick if the muffins are baked all the way through!
Depending on your taste so enjoy or decorate for example, with a chocolate icing and a pear slice.
As hoped, my colleagues were happy about the biscuits. Although the muffins without chocolate icing were, they tasted each. but if you have more time, it is worth it to decorate with some melted chocolate and a pear slice. This I then also realized in the muffins, which I have set aside for the photos.
Incidentally, I am not the only person who loves cupcakes. Franziska von "Dynamite Cakes" organized on her blog a "Muffin-Party".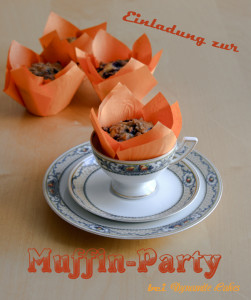 There she is looking for the most delicious muffins, and also very evident the difference between muffins and cupcakes is explained:
For muffins, as described in my recipe above, if the dry ingredients to the wet, briefly stirred and the dough filled the same in the mold for baking. Cupcakes, however, differ from muffins fact that the dough is stirred long, so that the effect can use the baking soda so.
Had you known this?

So I would like to assure my pear chocolate muffins a place on the guest list and I am convinced that they will be at the party include some nice acquaintances. 😉
Have a nice weekend and greetings
Elena