December 27th, 2016
New Year in… Portugal – King Cake – a guest post from "full Lotte"
I hope you enjoyed stress-free Christmas Day with your loved one, be spared from the disease shaft and could you enjoy good food!
With us as every year with the family was traditionally celebrated Italian and feasted. Although my parents have long to live namely in Germany and I was born here, always the customs from Italy are on holidays with us at the center.
That's why I always find it very interesting to know how people in other countries – including Germany – celebrate. Since New Year's Eve is already just around the corner, I have a little New Year's Eve special for you, I have asked two fellow bloggers Food: How to celebrate New Year's with you and what is typical for your country?
Are you as excited as I am? Then strapped on you and puts the scarf, because the love of Silvia Blog "full Lotte" takes us today the same times in the south:
I say it rather just, we like it loud!
Oh you wonder who we are? Well, let the Portuguese. Elena asked me some time ago if I would like to tell you from my home, more specifically, they wanted to know how we celebrate New Year's Eve. And of course I did!
Actually, there are not that many differences to Germany. It is just only celebrated a lot and loudly in restaurants, casinos, in the big cities to public places with concerts, which are usually free of charge, on the beach, on ships or at home. It should not be missing a thing – Eat. Everywhere there are stalls selling delicacies and home is a large table with lots of goodies. The Portuguese like to keep in the old traditions. Therefore, the Bolo Rei must – Kings cake – not lacking.
When baking a bean and a small toy figure is processed with the dough. Who is the character in the cake, has next year good luck, well and in the bean Finder next year must donate a cake.
New Year's Eve is served the "Canja de Galinha" a strong chicken soup. And when you're on the Customs, so was told you that no matter where the Portuguese are traveling this evening, they eat 12 raisins. Each Rosine is a desire of the new year in the month.
If you want to increase your luck for the next year at this New Year's Eve, so wear the Portuguese, especially the women, new and bright blue underwear. Crazy, right?
Incidentally, the supposedly largest fireworks in the world can be experienced on the Portuguese island of Madeira. I'm not surprised, as you blast your already strong alone at carnivals. I've told you input: we like it loud!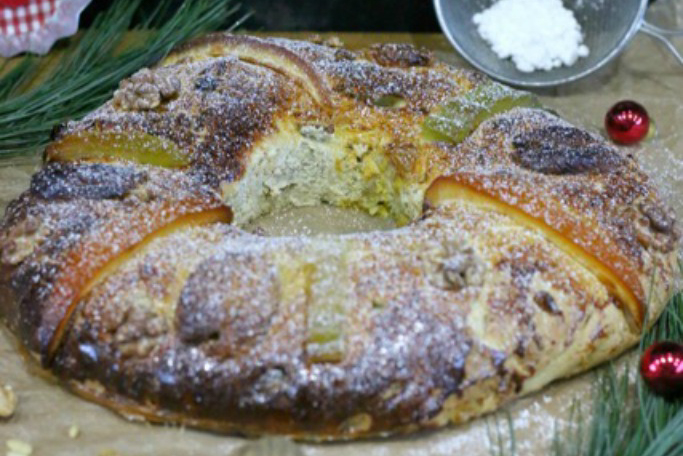 recipe
Total time
7h 30min
King Cake
Ingredients

:
650g Mehl
40g fresh yeast
150g Butter
150g sugar
75g candied lemon peel
75g Orangeat
150g dried fruit (e.g. raisins, figs, dates, etc.)
50g walnuts
50g Pinienkerne
4 eggs
1 Bio-Lemon
1 Orange
100ml Rooms
1 egg yolk
for decorating:
half walnuts, candied peel, figs, cherries or almonds
Preparation

:
The fresh yeast crumble into a bowl and dissolve in 100 ml of warm water. Weigh 150g flour in a bowl and form a well in the center. In this type the dissolved yeast, with the flour mix and form into a ball. Cover the bowl and let rise in a warm place for 15 minutes.
The shell of the lemon and orange rub with a grater. give 500g flour into a bowl, form a well and add to the butter, abrasion of lemon and orange, as well as sugar. Mix well with your hands and work in sequence with the eggs. The flour-yeast scoop of and knead well. Finally, pour the rum and knead again vigorously.
Chop candied peel, dried fruit and nuts small and work into the dough. Again into a ball and cover with a little flour. With a tea towel cover and let rise in a warm place for 5 hours.
Line a baking sheet with parchment paper and preheat oven to 25 degrees. From the dough form a ring, put on the plate and allow to rise in the oven 1 hour.
Take baking sheet from the oven and preheat to 180 degrees.
brushing the ring of pastry with the egg yolk and decorate. In the oven now until golden brown about 40 minutes.
Actually, the fruits on the Bolo Rei after cooling even with gelatin being brushed, but we do not like that and therefore I refrain.
Thank you dear Silvia for this brief insight into a typical Portuguese New Year's Eve! I must admit that for me was Portugal in this respect a blank slate.
Especially the custom with the hidden bean I find very funny, and you have to hope that the finder can also bake, otherwise it's less fun 😉
What about with you? Did you know he is treated like New Year's Eve in Portugal? may come herself out of the country and still have another tradition, will you necessarily share with us? Then like to leave a commend here, we are all very excited!
Bye for now
Elena