August 10th, 2013
Brezel Cupcakes – Dumplings times modern
[Pe2-image src ="http://lh4.ggpht.com/-VqAZHGjUNGo/UgVi6UTR6qI/AAAAAAAAAPg/8gSV4WrYWLE/s144-c-o/IMG_5411.jpg" href="https://picasaweb.google.com/103013924738836182627/BrezelCupcakes#5910238840015153826″ caption="Two-day-old pretzels as a basis" type="image" alt ="IMG_5411.jpg" pe2_single_image_size="w260″ pe2_img_align="right" ] That's right, you read quite correctly: Pretzel Cupcakes!
It all started – how could it be otherwise – with stale pretzels. This I was thankfully free because they were no longer sold. Two days later they were now so hard that even my husband would become suspicious if I had tried to foist him. 😉
So what to do?
@heutegibtes Have you an idea for the pretzels? I can think of spontaneously dumplings with mushroom sauce or breadcrumbs. 🙂

— Kochmädchen (@Kochmaedchen) August 9, 2013
In this direction, my first thought was, but I wanted to try to more exclusive me once. The wily Uncle Google was me this time not much help: Pretzel casserole, pretzel salad, pretzels and of course buffer pretzel dumplings – not imaginative enough or on the few images rather unappetizing everything either for my taste.
My current reading Back "130 grams of love" provided the necessary inspiration. Finally cupcakes are visually appealing and are in any case to my favorites – so why not ?! The Sponge was easy to realize, finally, it's "merely" baked a bread dumpling in muffin cups.
But what topping fit you best one "Semmelknödel"? My choice was in two varieties: cream cheese and peppers and feta. This support to mask the taste without him.
Quickly to the supermarket to pick up some last ingredients and have the experiment could begin: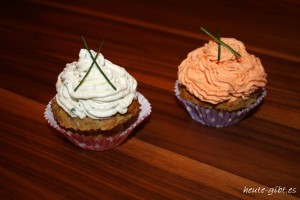 Brezel Cupcakes
Ingredients

(For about 8 pieces)
For the Sponge:
2 1/2 stale pretzels
2 stale buns
250ml hot milk
50ml Sahne
1 small onion
some butter
2 eggs
1 tablespoon wheat semolina (fine particles)
Salt, pepper and nutmeg
For the cream cheese topping: (for about 4 pieces)
250g cream cheese
2EL Quark
chives
1 garlic clove pressed,
Salt and pepper
For the peppers and feta topping: (for about 4 pieces)
200g Feta
100g cream cheese
, Finely chopped 1/2 red bell pepper
1 garlic clove pressed,
fresh parsley
Preparation

:
Sponge:
Cut pretzels and rolls into thin slices. This pour the hot milk and the cream and infuse covered for about 15 minutes.
[Pe2-image src ="http://lh3.ggpht.com/-xZ2a-h50hQQ/UgVi7OSZCBI/AAAAAAAAAPo/2Zwvhu_8tAk/s144-c-o/IMG_5427.jpg" href="https://picasaweb.google.com/103013924738836182627/BrezelCupcakes#5910238855580682258″ caption="Sliced ​​bread and pretzels" type="image" alt ="IMG_5427.jpg" pe2_single_image_size="w300″ pe2_img_align="center" ]
Meanwhile, finely chop onion and fry in a little butter.
Add the onion to the pretzel mass and season everything with salt, pepper and nutmeg.
One of the two eggs separate. The egg yolk is added together with the other egg to dough and all is well kneaded.
Beat the remaining egg whites with the wheat until fluffy, then mix with the pretzel mass.
The dough is then filled into muffin cups. is used as in my case, silicone molds, a previous greasing is not necessary.
[Pe2-image src ="http://lh4.ggpht.com/-TW0CP3KK8Jk/UgVi7lN4ozI/AAAAAAAAAPw/lwRuUHmcscs/s144-c-o/IMG_5439.jpg" href="https://picasaweb.google.com/103013924738836182627/BrezelCupcakes#5910238861735797554″ caption="The muffin cups waiting to be used" type="image" alt ="IMG_5439.jpg" pe2_single_image_size="w300″ pe2_img_align="center" ]
Goes quiet when filling a little more generous in front, as the Sponge will not rise during baking!
Baked the whole is at 175 ° C (fan) for 25-30 minutes.
Once the finished Sponges come out of the oven, you should resolve this matter for the ramekins.
Toppings:
Put all the ingredients of each toppings in a bowl and mix well with a hand blender or mixer. Do not forget to taste!
The topping with the pastry bag, apply to the cooled Sponges.
Store the cupcakes until serving in a refrigerator.
Now the all-important question: Were the cupcakes delicious? But Holla the forest fairy! 🙂
I will remember me for upcoming parties in any case!
I hope you are also keen to experiment and wish a good appetite!
Greetings from my kitchen
Elena