November 11th, 2013
Book review: "Gift ideas from the kitchen" by Nicole stitch & Coco Lang
So close to Christmas time makes you start thinking about what you could only give her beloved. I myself am a big fan of home-made one and give me great difficulty in the preparation and subsequent packaging of my goodies. Especially for people who own everything else, are gifts from the kitchen the ideal solution. Or a small gift for a spontaneous invitation? No problem, Homemade is always good.
My favorite book on this subject I bought last year and have not regretted the purchase until today. On the contrary, today I schmökere like rum in it and was allowed to bestow some friends with delicacies from it.
In the book I want to recommend to you is to be "Gift ideas from the kitchen" Nicole Coco stitch and long, which was published in 2011 when GRÄFE AND UNZER Publishing (GU).
The author Nicole stitch is perhaps even many of her Food Blog "delicious days" known, if you should not in any case there look past times.
At first glance…
Personally, I was then directly addressed in the bookcase the book: The gift jars with chocolates on the book cover makes you want more. A little unusual is the first landscape of the book, which I personally like very much but because it brings the three-column content super advantage. A positive feature is also equal to the bookmark on – two would be better, but that is now more luxury.
Leafing through the book, can be found on each double at least one prescription with a matching photo to on the homemade things are pretty packed. Most of all you want there to be rewarded even 🙂 The fear that the gifts are all more or less packed the same, is not fulfilled – On the contrary, we get many suggestions as to how the delicacies easily, quickly and can still make up pretty.
The first impression is very positive so definitely, but there's more to it…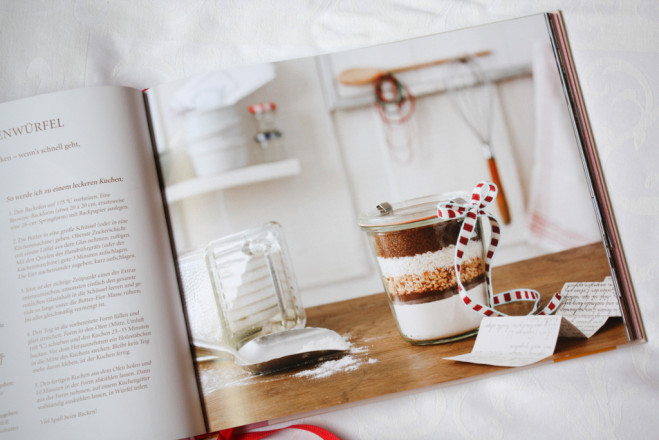 …and on closer inspection
After a brief introduction by Nicole Coco and follow before the actual chapters two double pages with tips and tricks "Around the Present" and "Ingredients and preparation", Short and thus the most important thing at a glance.
This is followed by the following chapters:
Beautiful classic
Good & practically
Simple Sophistication
Fine things
Quickly & simple
Packing & Decoration
On the title page of each chapter is listed separately again, what one finds right there. Of jams, sauces over, baking mixes to caramels, whether classical or fails, here everyone gets their money. Would you like to give presents to someone who likes to stay with tried and true things? How about strawberry jam, pickled garlic or BBQ and chili sauce? Or is the recipient someone who likes to try new and unusual? Then Caipirinha jelly, pumpkin and caramel liqueur or Macadamiapesto would perhaps rather the right thing – just to name a few examples.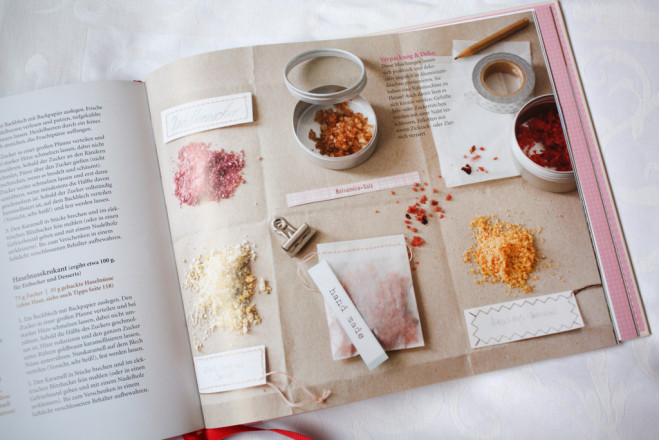 Leafing through the book one will immediately notice the clear structure: In addition to the required ingredients and the necessary preparation time, the durability of the finished products is everywhere and the conditions under which this is true. I find this very convenient as you can as a beginner assess the durability bad. In particular, if the products are not intended for personal use, but for others, you want to avoid all risk.
The individual steps are very clearly structured and clearly written, so a good success nothing stands in the way.
Too many recipes you will find helpful tips and suggestions for variations. Another practical I find the comments what is best to use this product or to which court it tastes really good. Or you'd know spontaneously what you should sprinkle with balsamic vinegar salt?
Richtig toll finde ich die kreativen Verpackungsideen die man zu jedem Geschenk erhält. Diese sind gerade für Dekomuffel goldwert 😉 Allgemein wird dem Thema Verpackung und Dekoration ein hoher Stellenwert beigemessen, was sich in einem eigenen Kapitel zu dieser Thematik wiederspiegelt. In diesem werden Tipps zu geeignetem Zubehör wie Gläser, Flaschen und Etiketten gegeben und auf Bezugsquellen und wichtige Links hingewiesen. Die Schnittbögen der Boxen und ausgewählte Etiketten werden online zur Verfügung gestellt. Ich persönlich finde das praktischer im Vergleich zu Vorlagen im Buch, da man so die Faltpläne mit einem Klick ausdrucken kann. Einem tollen Geschenk steht somit nichts im Wege.
Conclusion
My conclusion to this book falls – as you shall surely can already think – very positive. The gift ideas from this book are well chosen so that for every taste and every season there is something suitable. If you want to make friends and acquaintances happy with home-made one, which is exactly the right book for it. Especially people who place a high value on the optics, come at their expense.
Great book and absolute buy recommendation!
Already tried by me:
Baking mix for Rip-Rip-cake cubes
Himbeeressig
Mangoessig
Gift ideas from the kitchen
by Nicole stitch & Coco Lang
Hardcover: 168 pages
Publisher: GRÄFE AND UNZER; Edition: 4 (1 February 2013)
Language: German
Size and / or weight: 26,7 x 21,1 x 2 cm
Price: 16,99 €
ISBN: 9783833821660

Extract at GU
This post is part of the second theme week EVERY DAY A BOOK