March 12th, 2017
colorful gnocchi – The Italian classics in five colors
Having you last week my Basic recipe for gnocchi di patate and even one or the other tip for the production and storage of Italian "Kartoffelklöße" have betrayed, now comes the second contribution of the new blog category "Italian Kitchen – Learn all about…".
Before it but there you go, I want to thank you briefly for your positive feedback both here and on my social media channels! I am pleased that this category as well arrives with you and I hope you will like the next posts!
Today, it is colorful here!
The eye eats with known and so I try again and again to ensure that the components of a dish are color. Some parsley to pasta with cream sauce spice up the whole thing on something and it does not look boring and monotonous from.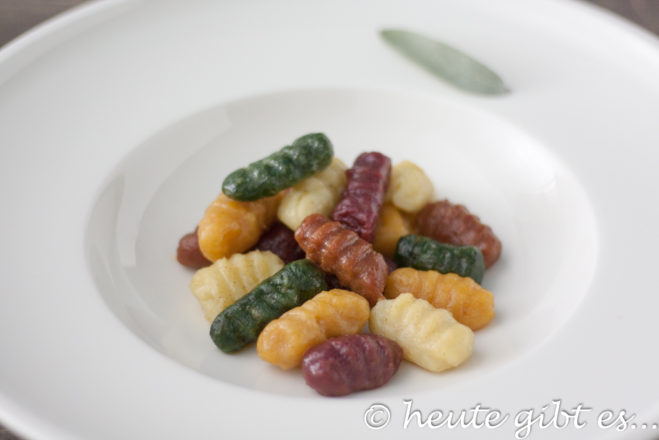 So why not make colorful gnocchi? From the preparation produces the colored one is no more complicated than the Italian favorites and you also required for proper organization little more time. Color they are, of course, the total eye-catcher on the plate!
Unfortunately, I could draw on no family recipe for you, as there home was only the classic version with us. But since I like to experiment, I have kneaded more dough, shaped gnocchi and cooked, the ingredients ratios adjusted somewhat, until I finally had the perfect recipe for me.
What ingredients can be used for the colors?
For making colorful gnocchi – small note: It is not gnocchi! – can finally use their color any intensive ingredient. Of saffron about herbs through to Seppia ink sets out a course. It is important that the consistency of the dough at the end is not too sticky, so you can then shape it no longer gnocchi. Clearly one can then add more flour, but thereby the strength of the Gnocchi may be adversely affected, so that it after cooking e.g. are too tight or rubbery.
For those who do not want to experiment, I have, so you have four color variations for you against the white classic gnocchi five different colors on the plate.
The following ingredients for dyeing were used: spinach (green), carrots (orange), beetroot (violet), tomato paste (red).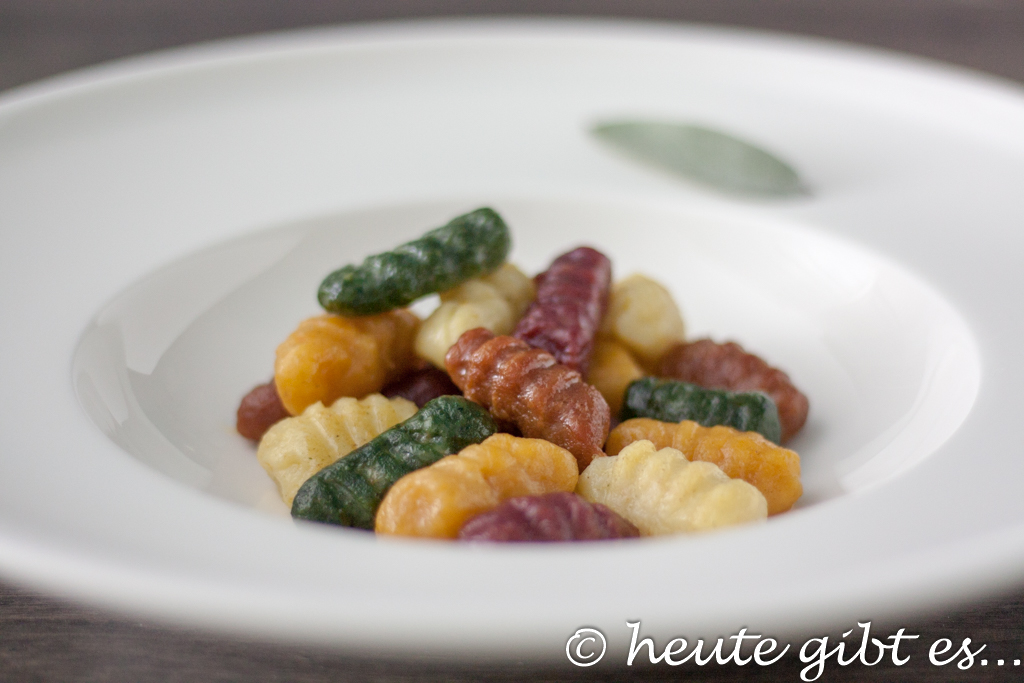 recipe
Total time
1h 15min
colorful gnocchi
Ingredients

(Per 3-4 people, a total of 500g potatoes)
Per color:
100g floury potatoes
50g Mehl
10g Hartweizengrieß
Salt
In addition, for each color:
Green gnocchi: 50g fresh spinach
orange Gnocchi: 1 medium carrots
purple gnocchi: 100g fresh beetroot, alternatively, is already cooked (vacuumed)
red Gnocchi: 1 tablespoon tomato puree
Preparation

:
The unpeeled potatoes boiling in a pot of water at all. Then peel still hot and then directly through the ricer.
the ingredients for the different colors are parallel nor Cook stated during the potatoes prepared:

Violet:

Peel the beetroot – Using this it is best gloves – and cook in a pot with lightly salted water.
If this is soft, puree with a hand blender.
Do you use already pre-cooked beetroot, you can mash them directly.


Orange:

Peel the carrots and cook until soft in a pot with lightly salted and then puree.


Green:

Clean the spinach leaves, wash and blanch in boiling water briefly (for about 2 minutes in the water boil). the spinach for quenching in a bowl of ice water, then squeeze out the liquid with your hands and puree the end with a hand blender.

Danger: Thus the vegetable retains its original color, all vegetables must be cooked in separate pots.

Now add 1 tablespoon of the prepared vegetables and the tomato purée, pressed to each 100g potatoes, 50g flour 10g semolina and salt, knead well, so that the dough gets a uniform color and taste if necessary even with salt. Should be sticky, adding more flour to the dough.
For the white version simply knead the basic ingredients without to add an additional color component.


The dough corresponding manner in Grundrezept der Gnocchi shape and the molded Gnocchi then cook.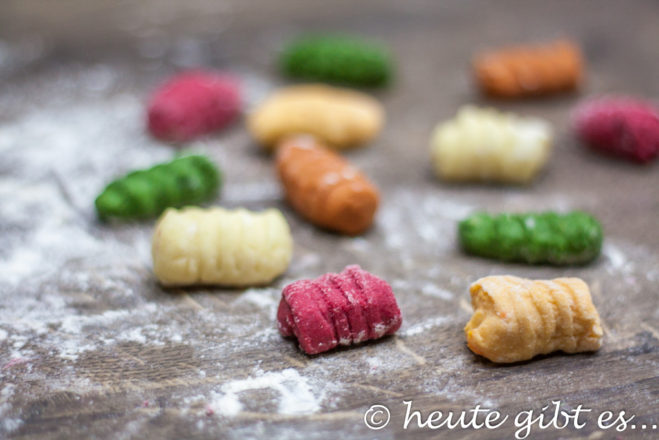 Should you like me to combine all the colors in a dish, you should be careful in the choice of sauce. Personally, I find this the best the gnocchi as to pivot in only sage butter or garlic oil and serve way. May sound like boring, but so are the colorful gnocchi in the center and you can also taste something out of each vegetable.
Just like the classic gnocchi di patate, also colored variants can be frozen without any problems and, if necessary frozen are placed into the boiling water directly. Here, too, no egg is necessary as long as you use the right potatoes!
Have you already cooked colored gnocchi? If so, what ingredients did you use?
Do not forget: If you have questions Month theme gnocchi you, please, this under the relevant contribution, so that they can be answered in a kind of FAQ at the end of the month.
Bon Appetite
Elena