January 20th, 2017
Burger – italo style – a guest post from "DELICIOUS&Co"
Do you like burgers? I think that most people can answer that question in the affirmative, because you can vary this fast food very easily and adapt to your own taste. The preparation is really not difficult, and even the burger buns, called Buns, You can also bake as baking beginners with no problems and – if you just like I like to do things in stock – freeze.
As a big Burgerfan pleased to present myself to you today court that not I, but the love Tina has especially created for you. One or the other of you will be the last Food Talk know and if not, you should definitely read the article.
But now I want to pass the word to Tina and I am excited to see how you will like their creation!
Hello my dears,
"heute gibt es" a recipe from me here on the wonderful blog of Elena. My name is Tina and I blog on DELICIOUS&Co, For me her recipes found in all areas: from vegan to meaty, savory to sweet. I am a fanatical DIY maker and love in the forest fruits or mushrooms collect or pick apples or pears of abandoned trees and then fill with jam and jam my stock shelf.
As me Elena asked if I would like to write a guest post on her blog, I was so happy and then my head also smoked pretty… how can I conjure up a bona fide Italian a decent Mediterranean dish to the blog? A classic pasta dish I did not bring you, and I was so glad when Elena was hooked then, from my idea to do an Italian burger for you. So I put myself on the same evening in the kitchen and this prepared for you. I hope you like what I have conjured up for you.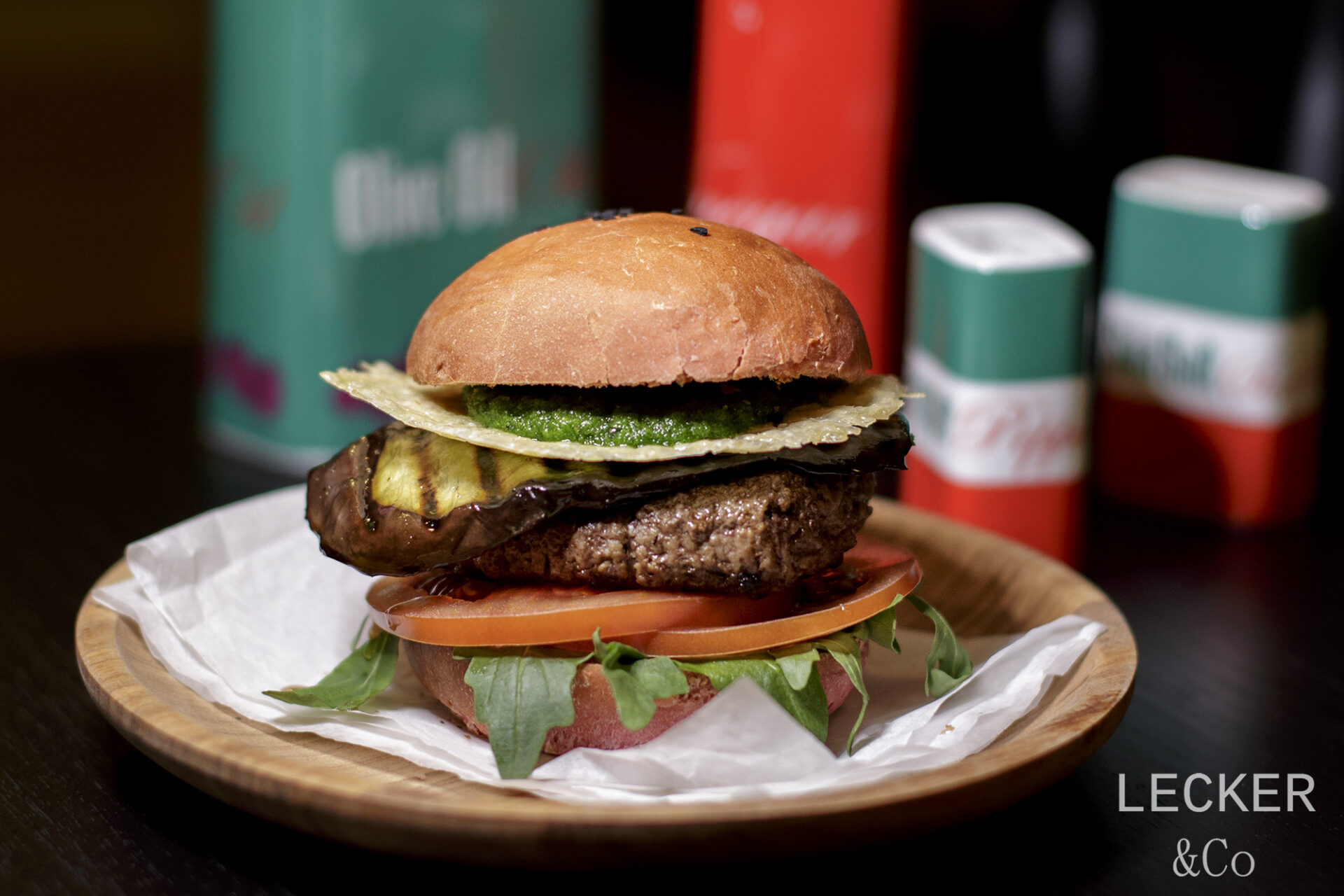 Burger – italo style
Ingredients

: (For 4 burgers)

For the arugula pesto:
50g Arugula

50g Zucchini
1 teaspoon honey
Salt and pepper
For the Parmesan chips:
100g freshly grated Parmesan
For the patties:
For the eggplant:
1 Aubergine

4 tablespoon olive oil
2 EL White Balsamic
2 cloves of garlic
1 sprig rosemary
Salt and pepper
In Addition:
4 Burger Buns

1 large tomato

some arugula
Preparation

:
Mix with a hand blender to rocket along with the zucchini and honey into a green pesto and tastes from this with salt and pepper.

Scatters the Parmesan on a lined baking tray in the size of Burgerpatties. Then you bake it for 1 min at 160 ° C circulating air in the oven. then pulls out the sheet and let cool the chips. then places they still have to remove a paper towel to remove the excess fat.
Cut the eggplant lengthwise into slices and cook in them in a little olive oil on both sides. I used a grill pan, because this then so beautiful patterns leaves on the vegetables. Crushed cloves of garlic with the knife edge and give it and the sprig of rosemary with in the pan and cook in them something.
In a dish their stirred then the 4 tablespoon olive oil with vinegar and salt and pepper. then give the eggplant and garlic and rosemary with back and pull let anything for at least 30 minutes.
Forms you 4 patties from the ground beef and cook in them in the pan, the buns cut up and toasted them.
then laying on the bottom Pattie first rocket, then a slice of tomato, which Pattie, a grilled eggplant, parmesan chip and finally the pesto. Then the lid on top and enjoy.
Let it taste you, your Tina.
And I promised too much? Even at Tina's description of Burgers I get hungry at the time, which is then only become worse through the images 😉
What do you think of the fusion of American and Italian cuisine? Would you can resist?
Greetings
Elena