December 3rd, 2016
Cantuccini – the Italian classics easy homemade
Hard to believe, but it really is December already! So something to bake high time for Christmas baking. This year I am very late, which is mainly because I have not really been in the Christmas mood. Several visits to the Esslingen Christmas and medieval market and today's action have, but then motivated to start me bake the cookies.
Today's action? Yes exactly:
Welcome to door no. 3 from Merry Blogmas advent calendar!

Together with other food bloggers I try you tune into Christmas or to increase a little anticipation. Every day there while on one of the participating blogs a Christmas recipe. Yesterday there was, for example, a delicious Gingerbread Liqueur Martina of Kinderkuecheundso. This fits perfectly with my current present for you.
I have long thought about what I cook for you, and one thing was immediately clear: It should be something classic Italian cuisine. Something that everyone knows, but very few have ever prepared themselves. Oh, and biscuits should be, since all my cookie jars are still completely empty.
On the final list then there were two biscuits: cantuccini and amaretti.
As I think you in the past, popular Peach-Cantuccini-Dream had imagined, but never revealed how even bakes the required Cantuccini, the decision was made: There are Cantuccini!
Here are a few interesting about this originating from Tuscany biscuits that will be new hope for many of you:
In Italian they are called mostly "Cantucci" and not "Cantuccini".
They are also under the name "biscuits of Prato" known because it was collected in exactly this province.
All variations with chocolate, nuts and dried fruits may not be called Cantuccini actually, because this name is allowed to wear only the traditional almond pastries. The correct term for this "Tozzi".
The original contains no butter and is made with unpeeled almonds.
The name "Cantuccio" means "small piece, sliced ​​bread".
Typically Vin Santo a classic dessert wine from Tuscany and the surrounding regions is to drink.
Now I would no longer suspense and tell you you how easy to make these delicious cookies are: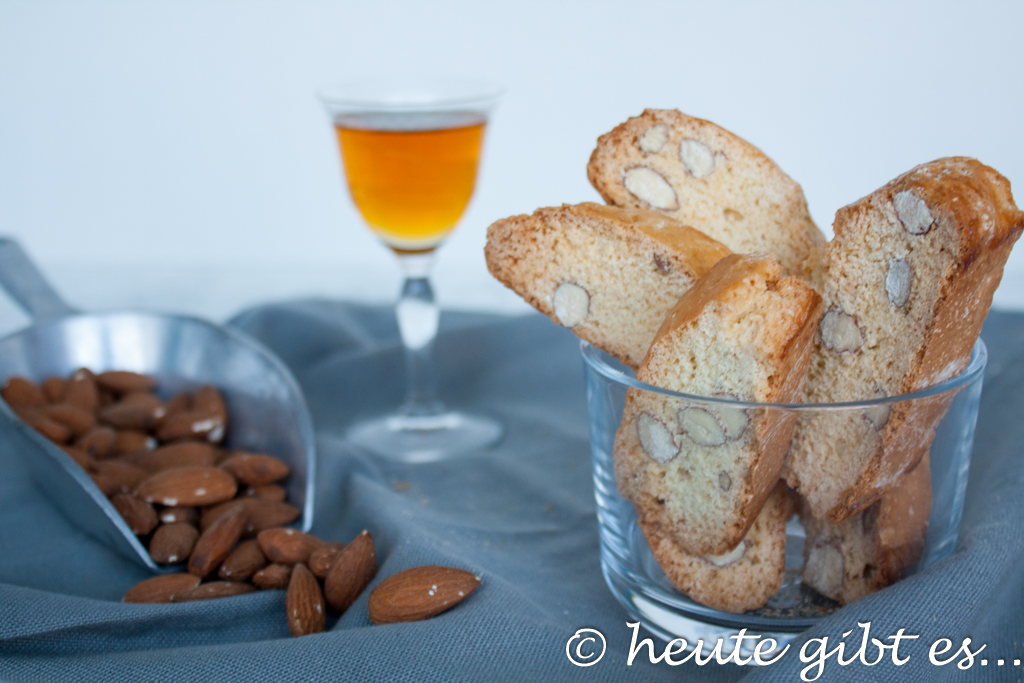 Cantuccini
Ingredients

(50-60 pieces)
250g Zucker
4 eggs
400g flour + something for the work surface
1 level teaspoon baking powder (7.5 g)
1 pinch salt
Grated rind of a bio-Orangev
150g almonds
Preparation

:
beat sugar and 3 eggs until fluffy.
Flour, baking powder, salt and orange rind and knead to form a dough. This will be sticky at the end, but that is quite normal.
very coarsely chop about a third of almonds, add this and together with the rest of the dough under kneading.
Preheat oven to 200 ° C (top and bottom heat).
Cut the dough into three equal pieces. Now form each piece on a well-floured surface into a long roll with about 4 cm diameter. The forms will be easier for you here, if your hands are eingemehlt.
distribute the three roles on a lined baking tray, Brush with a beaten egg and prebake for 20 minutes in the oven.
After the baking time, the rollers cool down to the baking sheet and then cut with a serrated knife obliquely into 1cm thick slices. Set the oven in the meantime to 180 ° C (conventional oven).
The Cantuccini are now designed with the cut side up to the same baking tray and toasted for 10 minutes.
Leave to cool then and stored in cans.
Did I promise too much? It is worth really hard to buy these cookies because they are quick homemade and also taste much better than those from the supermarket!
Although my cookie jars are now no longer completely empty, it interests me anyway, you think absolutely still pure owns which cookies! My Favorites of recent years be safely baked again, but about new ideas I am always happy!
And so I close my door no. 3 of the Merry Blogmas Advent and thank you for today's visit. Tomorrow we will continue with Karin, If you're curious to see what there is to discover in the next few days, then look yet at the respective blogs by:
All the best
Elena