May 1st, 2014
Mushroom spaetzle
Have a nice Labor Day. Well, did you dance into May, yesterday? Here we tookj it easy and are looking forward to the day off. Despite the bad weather my dad has grilled in the garden and so we all enjoyed tasty meat and vegetables.
Today's recipe, however, is wonderfully suitable for vegetarians. as well. That is to say, it's a variant of cheese spaetzle, popular in the Alps region , which I discovered in the Edeka (German supermarket chain) magazine "Das schmeckt!" (Issue 01/2014). The difference to the classical cheese spaetzle is that in this particular recipe, additionally to cheese and fried onions, mushrooms are added, too. In case you don't have much time, you can also use spaetzle from the dairy case instead of homemade ones. Thus, this dish is also extremely handy when guests arrive for dinner, unexpectedly.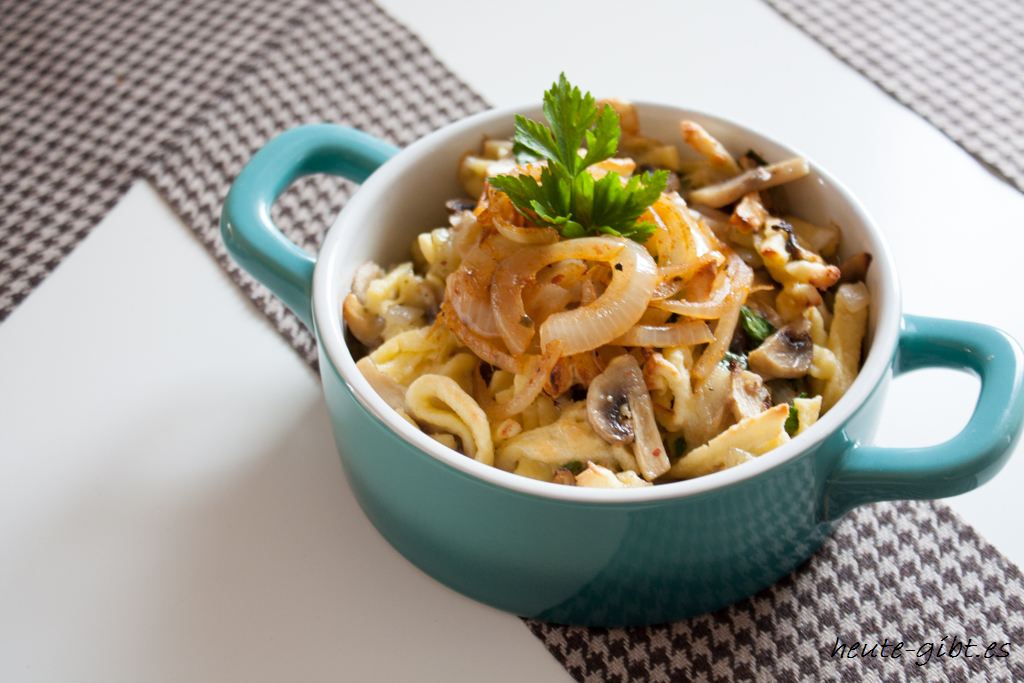 Mushroom spaetzle
Ingredients

: (For 4 people)
500g mushrooms
2-3 tbsp lemon juice
4 onions
150g Emmental cheese, grated
1 bunch of parsley
2 tbsp butter
Salt and pepper
600g spaetzle (homemade or from the dairy case)
½ tsp paprika powder (sweet)
Preparation

:
Clean the mushrooms, cut them into slices and sprinkle with lemon juice.
Peel the onions, dice 1 onion, cut the other 3 in rings.
Preheat oven to 200 °C (fan).
Heat 1 tbsp butter in a pan, insert diced onions and mushrooms, fry and then season with salt and pepper.
Fold in the spaetzle, the cheese and finally the chopped parsley. Now everything is put in an ovenproof dish and fried golden brown in the oven for approx. 10 minutes.
Meanwhile, heat 1 tbsp butter in another pan, mix the onion rings with the paprika and fry them golden brown.
Season the onion rings with salt and pepper and spread on the mushroom spaetzle before serving.
I'll post a recipe for homemade spaetzle in the near future, as a little guide for those who have never prepared them for themselves. For homemade taste we all know is best.
Best wishes and have a nice first of May
Elena