February 2nd, 2014
Chocolate Crinkles – Biscuits with soft core
While I'm trying to write my review, my husband heard alongside loud music. Unfortunately, I have always belonged to the people who get distracted by anything and to sing along and dance. Learning with music, for me was therefore never implemented. What does this have to do with this post? Well, as you can see, I let myself again distracted and do not write really fitting introduction. But everything does not have to be perfect 😉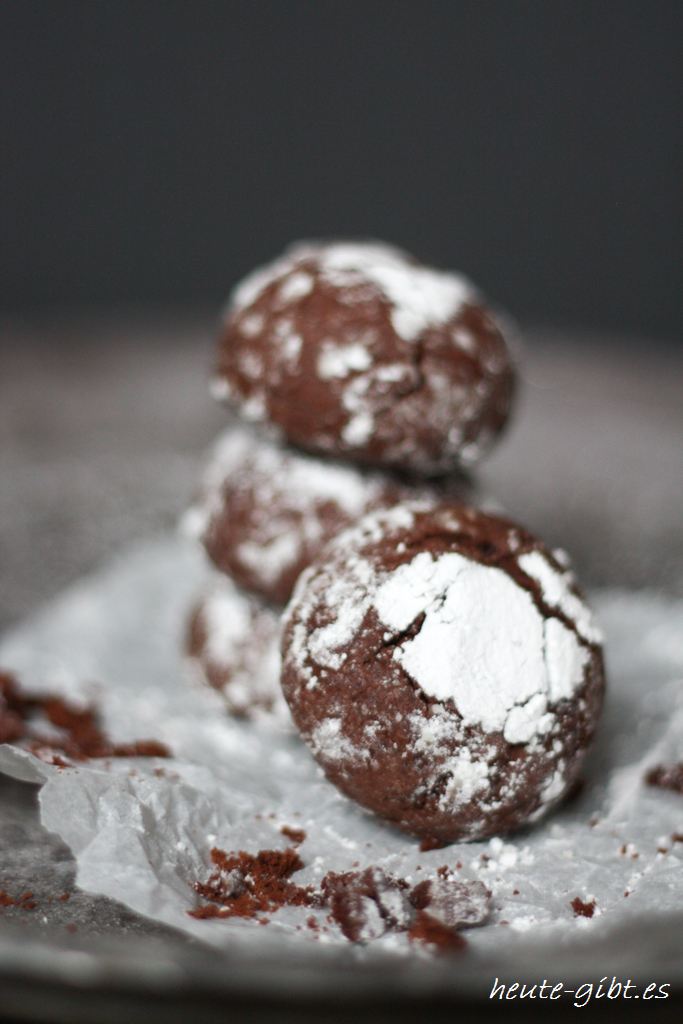 Today's recipe contains one of my favorite ingredients: chocolate! I love working with it, because it is so versatile. In my bookshelf currently are at least four books in which this ingredient plays the main role. Over the top? I personally do not think, but of course because of my fascination with chocolate. I always have to hold back, that's not so rampant here takes – that is me so far in my opinion but well done 😉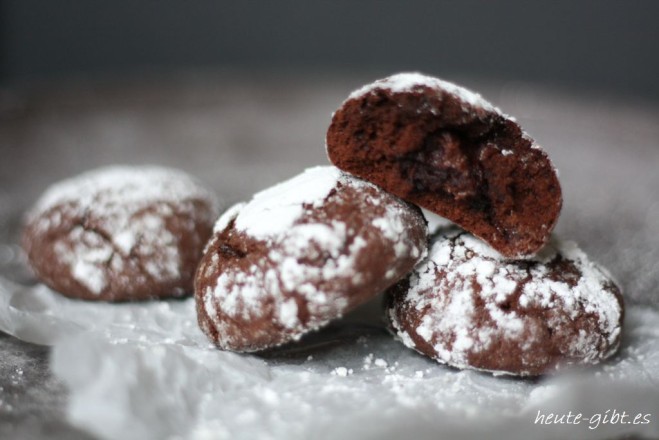 Today, it is time again and there is something chocolaty. Chocolate Chip Cookies with a soft core. I could not resist when she came hot from the oven and immediately had to try this one. Since they reminded me a bit of Schokoküchlein with liquid core. Absolutely delicious!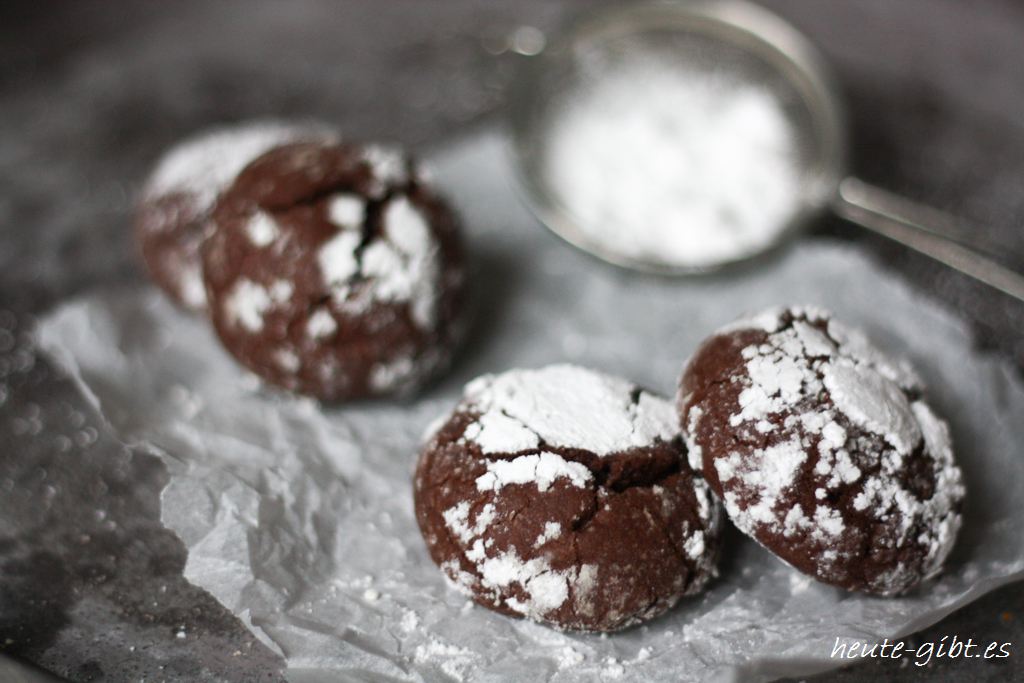 recipe
Total time
3h 30min
Chocolate Crinkles
Ingredients

(24 pieces)
200g dark chocolate
90g Butter
100g sugar
3 eggs
200g flour
Cocoa 25g
½ TL Backpulver
pinch of salt
such as. 8 TL Nussnougatcreme
Powdered sugar for the surface
Preparation

:
Break the chocolate into small pieces and melt over low flame in a water bath with the butter.
The bowl from the water company, add the sugar and stir quickly. The mass Pour into a bowl and let cool for 5 minutes.
Then successively add the eggs while stirring.
Flour, cocoa, baking powder and salt and add to the chocolate mixture and stir to a homogeneous dough. This then for 3 hours in the refrigerator.
Preheat the oven to 160 ° C (fan) Preheat and during which mold the biscuits. For this purpose, give one tablespoon batter into the palm of your hand, press in the middle with a finger, a trough into this a blob – around the tip of a teaspoon – Give chocolate spread, the nougat center enclose with the dough and shape the whole thing into a ball. This then roll in sifted icing sugar and place on a lined baking tray and flatten slightly with your hand.
The cookies for 15 minutes in the oven to bake.
After baking this place on a rack to cool. Do not be surprised if the cookies are slightly soft when Rausholen. These are easy to harden the surface, they retain the soft core inside.
Thanks to the dark chocolate, the cookies are not too sweet, but I think just right. Since no guest can resist the Kaffeeklatsch 😉
Best wishes and a nice Sunday
Elena