November 8th, 2015
Sicilian donuts – and on what you can look forward to you now
Hello and welcome in my kitchen!
Do not worry, I did not write before in future in Italian, but I'm going to – as already announced months ago – kidnap again to Italy. And today, it's that time again, it goes to Sicily!
August. The country roads are as good as free. Left and right you can see all the browns and yellows. Green can be found here as well as not, because the grass is at the temperatures more than dry. Olive and lemon trees, watermelon fields and tunnel greenhouses "decorate" the Sicilian countryside.
The first view of the sea as soon as you reach the coast – priceless.
As it is, the city shield "Welcome to Licata – seaside town", There are so few cars and traffic rules keep the fewest. Well, that's not quite right, the unofficial rule all hold: Whoever gets there first has right of way. In the eyes of tourists a mess. Add to that the Vespas that meander through somehow.
The anticipation is rising. Not only to see the anticipation the relationship again, but also the joy of the visits to a "confectionery" and "rotisserie".
A Pasticceria is a pastry shop. In Sicily there can be known abroad "Cannoli" buy. The dough rolls are fried, which are filled with a cream and decorated with candied fruit, chocolate sprinkles or pistachios. But there's much more: Cartoccio Siciliano, Babà, Cassata Siciliana, Cialdone, etc.
I could still call you spontaneously at least 40 pastries that you would find in a Sicilian Pasticceria.
In a Rosticceria – often do you find this in combination with the Pasticceria – are sold to take away that one so easily takes on the hand warm and cold dishes. Sicilian street food so.
The most famous product of Sicily are the Arancini – stuffed rice balls. What else to get there?
Mozzarella, Tile, Bundles – to name just a tiny selection.
Why am I telling you all this?
I've been working this year for two days in a Pasticceria Rosticceria and in Sicily – for free and for fun. I wanted to finally make the many treats itself and get advice from a professional.
The Result?
Much of what previously seemed complicated, I can now produce even in my own kitchen. When I was in Germany feel like a mozzarella in carrozza have now, then I put it to me holding her own.
And the best?
I will share this knowledge step by step with you. Not only the recipes but also the tricks that are designed for the perfect success of advantage.
DC today I want to begin with a sweet pastry: the Ciambelle siciliane. A Ciambella is a donut in the Italian bakery world. A "Sicilian donut" is something completely different. The taste can be the best compared with ladyfingers. Whether simply dipped just so or in milk (typically Italian), you will love them!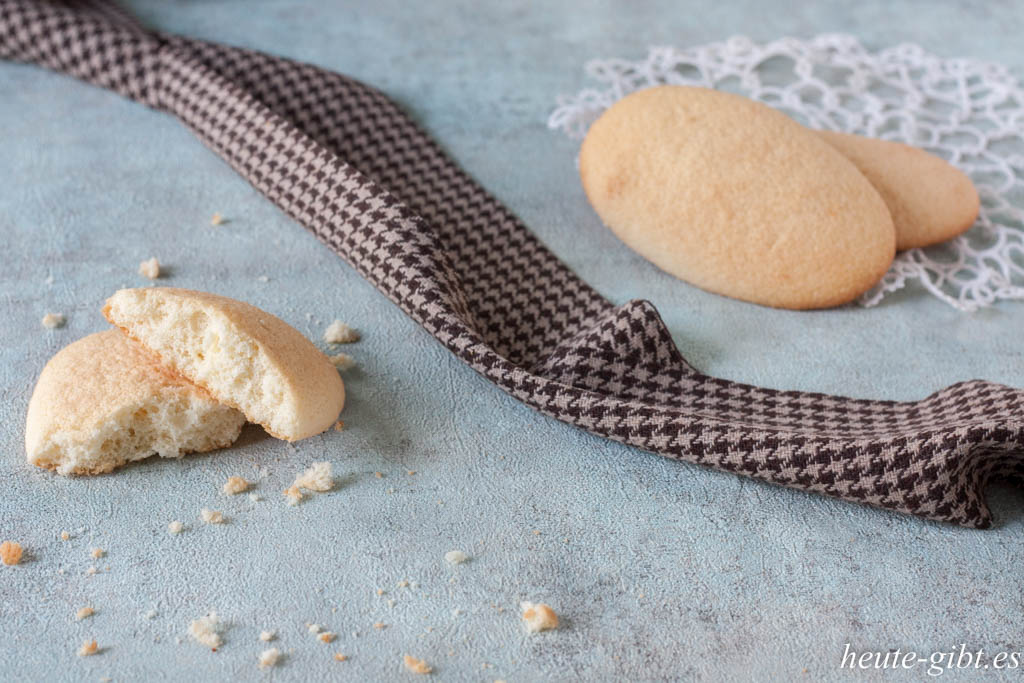 Sicilian donuts
Ingredients

: (For about 18 pieces)
200g sugar
150g Owner
250g Mehl
some honey
Preparation

:
Sugar and eggs until fluffy.
The flour while stirring add slowly.
Some honey – about one spoon tip – add and stir.
Fill the mixture into a piping bag with Lochtülle (13 or 15mm) and train on a lined with baking paper baking sheet about 10 x 3cm long strips. Let enough space between the strips of dough, because they are absorbed in baking.
Bake in preheated oven at 220 ° C (conventional oven) until golden brown. The exact baking time depends on your oven, but is about 8 minutes.
Allow to cool and enjoy the pastries. In a tin can they keep up to 2 weeks.
I love this recipe. Most Sicilians buy this pastry in the pastry shop because they think that it is very complicated. In truth, it is the exact opposite: It is one of the simplest recipes that I know. The beginners get back out great as well. Dare so!
See you soon
Elena