December 16th, 2018
Werbung
Donuts in white wine – Italian wine biscuits and a raffle
[This post contains advertising]
Wine plays a very important role in Italian culture and thus in my family. At every meal (except breakfast of course) is served wine with us and my now 86-year-old grandparents swear that one to two glasses of good wine on the day of Health not hurt.
Which wine is the right one for me?
In Sicily, where my roots are, in most people is very popular red wine – the darker the better. I myself drink uncharacteristically not often or even daily wine. However, if I allow myself a glass, then it must be a good drop and may also like to be white. But in this case what is good? This is a matter of taste certainly like many culinary themes.
I have to smile when I think of how I used to be a wine as chose as a gift: In the wine department of a well-stocked supermarket, I looked for the wine bottle with the most beautiful label that was perfect for my budget. Searched for a wine for a dinner with guests, I am also proceed this way. Depending on whether there should be fish or meat, I opted for a white or red wine. Yes, just as it always ran off. Do you know that, too?
Since I honestly am not THE wine expert to this day, I have identified three options for me as I select an appropriate wine depending on the occasion:
I take a wine that I already know and which I now know that this is good. (But you would not always serve the same wine and would also like to own some variety in the wine glass.)
I will advise me by a wine merchant. (In wine shops it has certainly always an expert, but you just want a larger supermarket, the seller there often, unfortunately, not so much about).
I decide earlier (depending on protein white / red meat, fish, shellfish, cheese…) For a wine color and a country, choose a wine in my budget and then read me the descriptions on the wine bottles or the Internet carefully. (With security involves risk, but works quite well and have therefore already one or two of good wine discovered).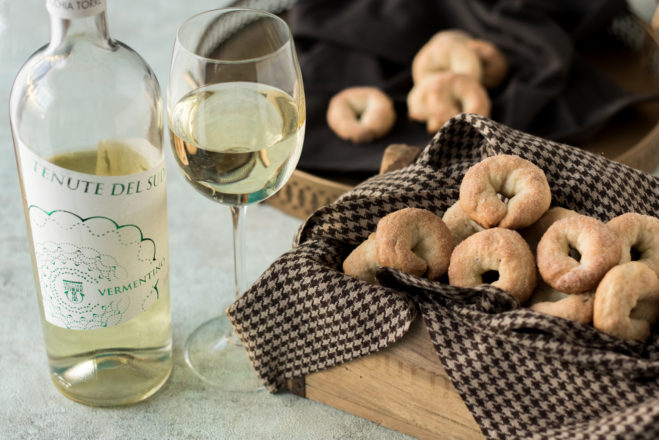 But those who appreciate wine as a drink only white, has in my eyes from the opportunities offered very little idea of ​​this. After all, what would be some dishes without the right choice of wine. If you've already used once (hopefully only in the early stages of your career chef) a very reasonable and inappropriate wine while cooking, you may know what I mean.
Wine lovers assist in the selection of wines
But what you do best when you need wine for a very special dish and do not have a competent wine merchant at hand? Since I suggest you read in the online wine shop "wine lovers"By the way, recently in the network, the web series Wine Chefs present to look over. In addition to the many filter options you have there is also the option to let you, for example, more accurate advice by phone or email.
When I was looking for a good, dry white wine for my Italian wine biscuits, I was this the "South Vermentino Tenute Salento 2017" recommended. The biscuits are typical of the region of Lazio, where they are also "'mbriachelle" called, which means "drunken biscuits" means. The Ciambelline can be served with coffee, but – and yes this is my full seriousness – also like dunked himself in wine. A good wine is therefore all the more important here.
The "South Vermentino Tenute Salento"
The (Puglia the "Heel of the boot") Originating wine was from the cooperative "Cantina Vecchia Torre" from the white wine grape variety "Vermentino" manufactured. When pouring the shimmering straw-yellow color of the wine, I noticed immediately. The taste of this Vermentino convinces particularly by its fruit flavors and fresh, but restrained acidity. The vintage 2017 was even awarded the Gold Medal of the Berlin Wine Trophy.
This white wine is recommended for fish, poultry but also vegetarian dishes. Do you want to spend a pleasant evening with friends is certainly not wrong, this wine. I will certainly keep this special white wine in the future as a gift in mind. Very well, I can think of him as well for my Pumpkin risotto or for my Pasta with white sauce imagine.
For my cookies Tenute del Sud Vermentino was perfect in any case. Would you like to bake the Ciambelline, you should always ensure a fruity, dry white wine to choose with an alcohol content around 12 percent by volume.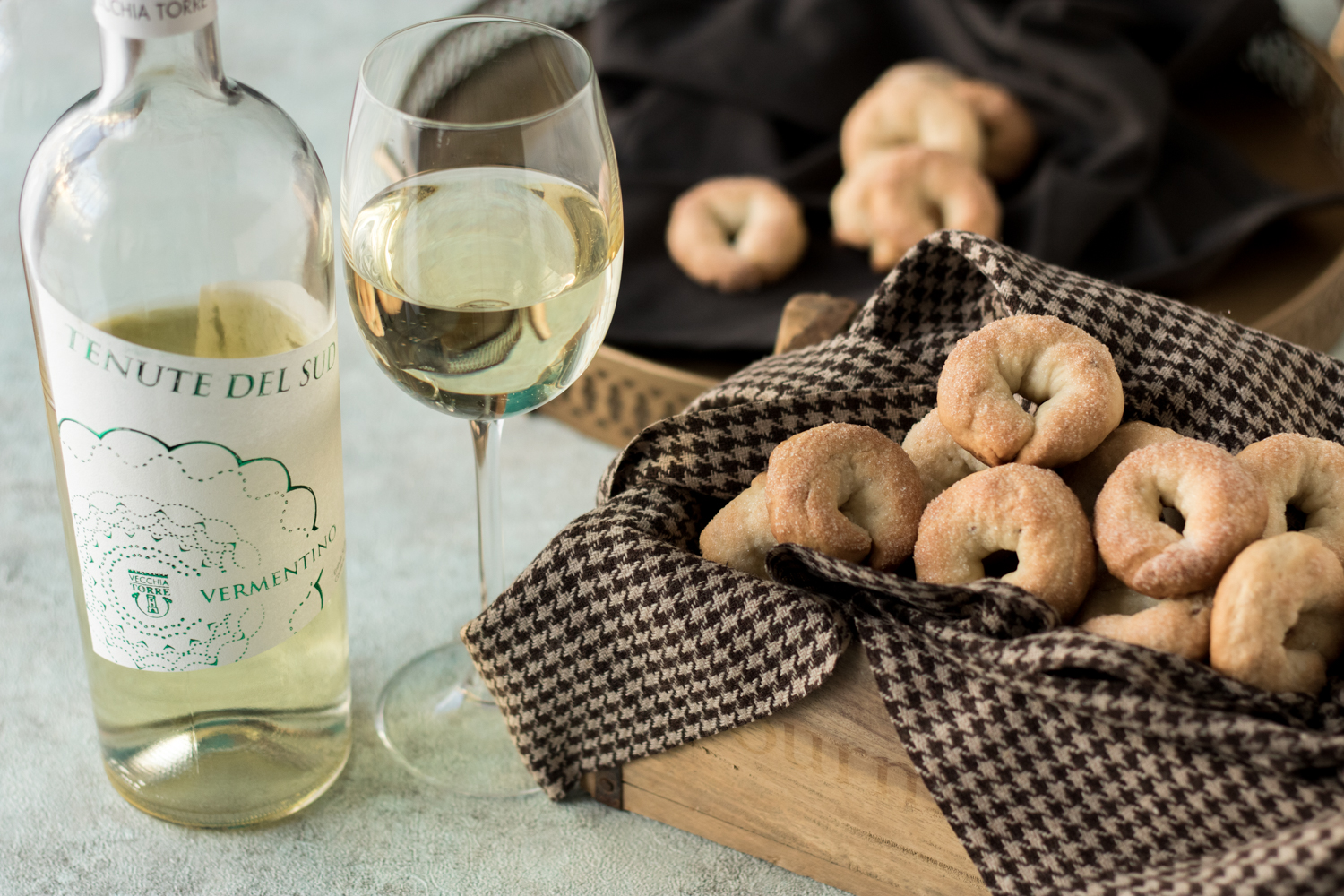 Donuts in white wine
Ingredients

(For about 55 cookies)
200ml dry white wine
1 ½ teaspoon anise (whole)
200ml tasteless oil (e.g., sunflower oil)
175g sugar
600g flour
some sugar for the sugar crust
Preparation

:
Fill the white wine into a bowl and let the Anis it soak for 5-10 minutes.
then add oil and sugar and mix with each other.
Now gradually add pour the flour and knead to a smooth dough.
In a small bowl fill some sugar and deploy it.
always take for forming the Ciambelline a piece of dough, this resulted in about a 12-15 cm long roll (diameter max. 1 cm) mold and close to form a ring by the ends are pressed slightly to each other.
dip the biscuit with the top in the sugar and then set on a lined baking tray.
With the entire dough so proceeding, and finally bake the biscuits in a preheated oven at 180 ° C (top and bottom heat) for about 20-25 minutes or until they are golden brown.
Tips:
The cookies keep in a chiller or tin can with no problems 2-3 weeks. With us, however, they are plastered much faster.
The biscuits can easily be served with coffee or something. In Italy, however, they are also very happy dipped in wine.
I warn you prefer ever ahead: The cookies do right addictive. In Italy, they say to those biscuits "one leads to another"Have we eaten one, you have the next immediately afterwards and you can not stop easily.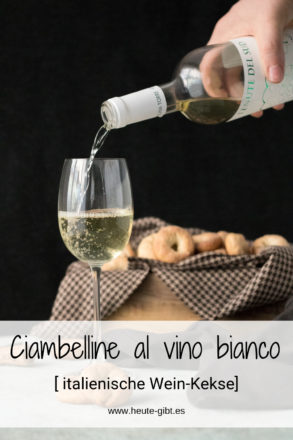 To conclude, I have a great surprise for you:
Contest
So you can convince yourself of this white wine, I will give away along with wine Friends 3 x a package 6 bottles South Vermentino Tenute Salento 2017.
Just comment on this until 12/23/2018 at 23:59 tell me at this post and how you select the perfect wine.
General Rules for Sweepstakes at "heute gibt es" do you find on this page.
In this competition applies in particular have the following: The addresses of the winners are for shipment to "wine lovers" transmitted.
I cross my fingers for you!
Enjoy your meal and health!
Elena