November 1st, 2015
Classic Brownies – or: How I made chocolate "Blogkrisen" help!
After a long absence, I'm back. There was – as you may have noticed – a long blog break.
Why?
The air was suddenly fizzles. Discussions on the topic of blogging have not made it better, because it was in some Mitbloggern increasingly about earning money. Blogging for fun? Somehow I have a feeling that is more and more into the background. want to share posts by others without an advantage to pull it or achieve something together with others – that is in other countries often no problem, but in Germany it seems to be almost impossible. Since I envy my Italian fellow bloggers where the social character is simply much more pronounced.
Before it comes to misunderstandings:
now I would not be generalized for all German bloggers, because I am aware that there are still one or the other, which simply has passion for blogging. Certainly, the negative trend is not only noticed.
From the silly season out, we went directly into a Blogdepriphase. I took a break not only with me but also suddenly had no desire other blog articles to read or to report to Facebook and co. And guess what is perhaps the worst? I regret this extended break a bit. I also had very rarely a bad conscience about my readers, because I was aware: "Now, when I write something, only gibberish comes out", Better to wait until I'm ready again.
And now it's time. I would enjoy, have some ideas and hope that you are doing more and again. For what would my blog without all my readers? Because it makes but only half as much fun!
How can you think you have I brought you something delicious. Something that I also smaller from each blog and crisis "Depriphase" helps. Schkolade in the form of mega delicious brownies! A piece and already sees my "Blogiversum" again great!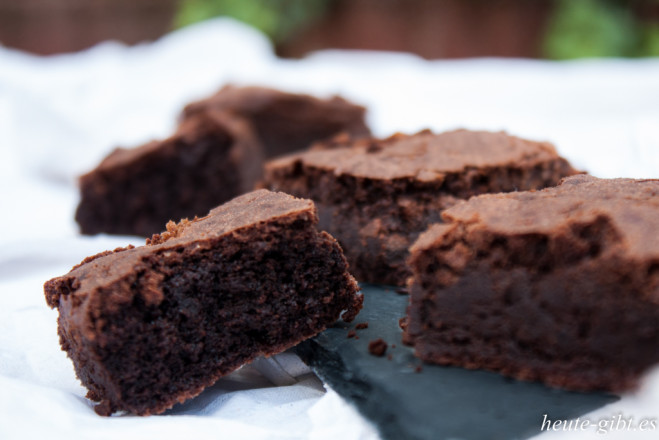 This recipe I wanted to introduce in March you already. Why is that then comes only now? at that time because the book from which the recipe is, "missing" war.
Who is still looking for the perfect brownie recipe that should necessarily this (slightly modified) by Cynthia Barcomi from her book "Let's Bake" try: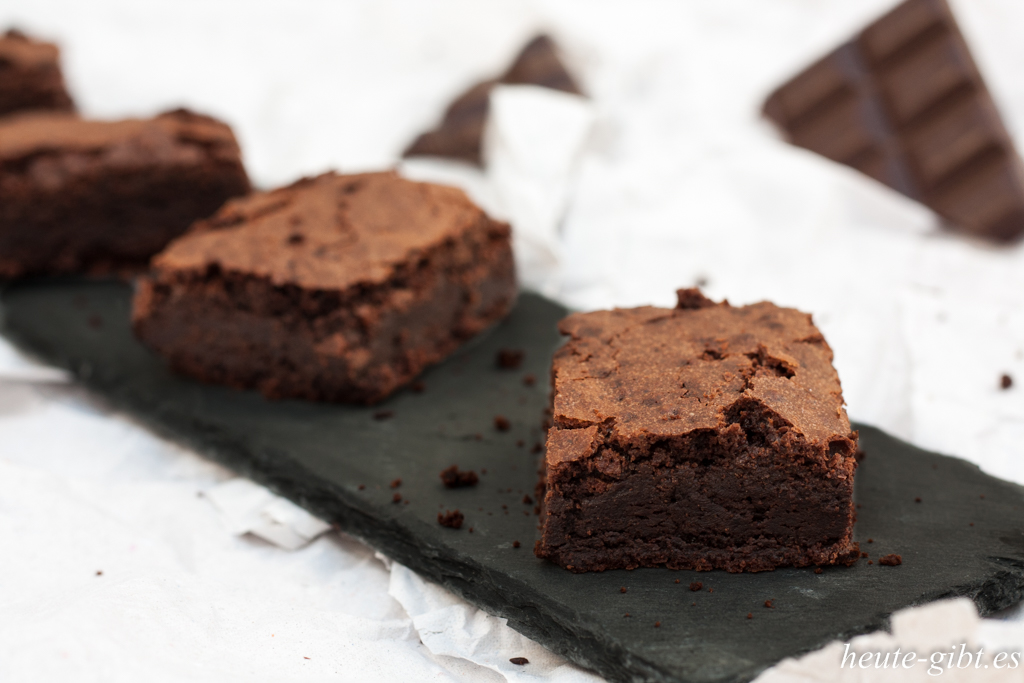 Classic Brownies
Ingredients

: (For a baking sheet 23 x 23 cm)
170g zerlassene Butter
250g dark chocolate
1/2 teaspoon ground vanilla
100g white sugar
125g brown sugar
3 eggs
60g flour
40g cocoa ungesüßter
1/2 tsp salt
1/4 TL Natron
Preparation

:
Chop the chocolate and melt together butter, vanilla and both sugars in a water bath while stirring.
Cool the mixture and once it is no longer hot – Please note, otherwise the brownies are hard – the eggs and cook mix well.
Flour, cocoa, salt and baking soda mix and easily mix with the chocolate mass, until the color is uniform.
evenly distribute the batter into the greased baking pan and bake in preheated oven at 175 ° C (fan) for about 20 minutes (Gartest with chopsticks!) bake.
Allow to cool before slicing and enjoy the brilliant consistency inside!
If you does not have square shape, you can use, which is about 25 x 30 cm and a Rectangular.
Side note: Please do not confuse brownies with a fluffy chocolate cake. These are relatively soft on the inside and that is how it should be. Although you can eat hereof not a big piece, but this is not necessary because already the first bite, the endorphins are sprayed.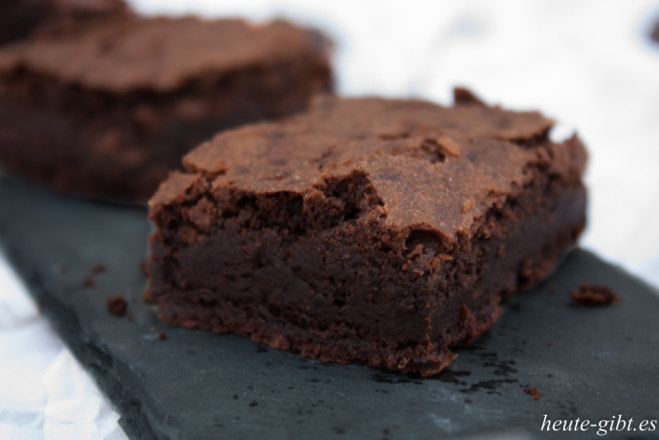 For all those who lose their "Naschpotential" have not yet reached and come from Stuttgart and the surrounding area (or lust have to visit us in Swabia)), which should necessarily this afternoon on my Facebook site stop by, because there is something to get hold until Thursday night!
Chocolaty Greetings
Elena