December 29th, 2013
Crêpes Suzette
The Christmas holidays are over and finally I come to you to write here again. Hopefully you have beautiful and relaxing days spent with your loved ones and have only found rants under the Christmas tree. For my part I can not complain in this regard.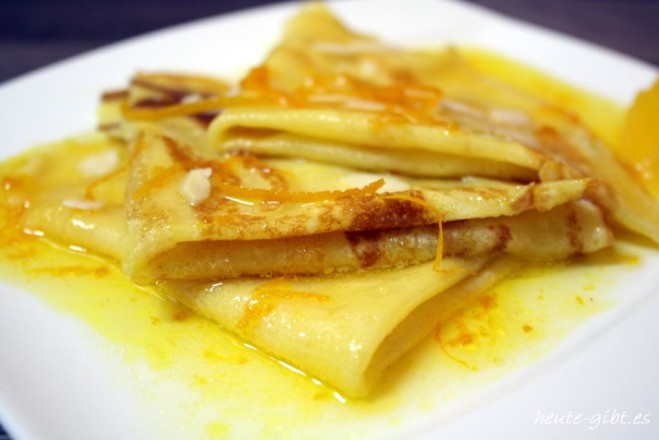 Hardly Christmas is behind us, preparations begin for New Year's Eve. We spend this day this year, not as usual with the family, but with friends take part in an organized event, including New Year's Eve buffet and everything that goes in part. This saves quite a bit of pre-planning and stress, which is thus always connected. Finally, you do not want to dish out the usual New Year's Eve – at least that's always the case with us.
A finishing touch on your menu could you achieve with today's dessert: crepes Suzette. This dessert not only tastes delicious idolatrous, but makes for great "Aahs" and "Ohhs" your guests when you flambéed crêpes only at the table.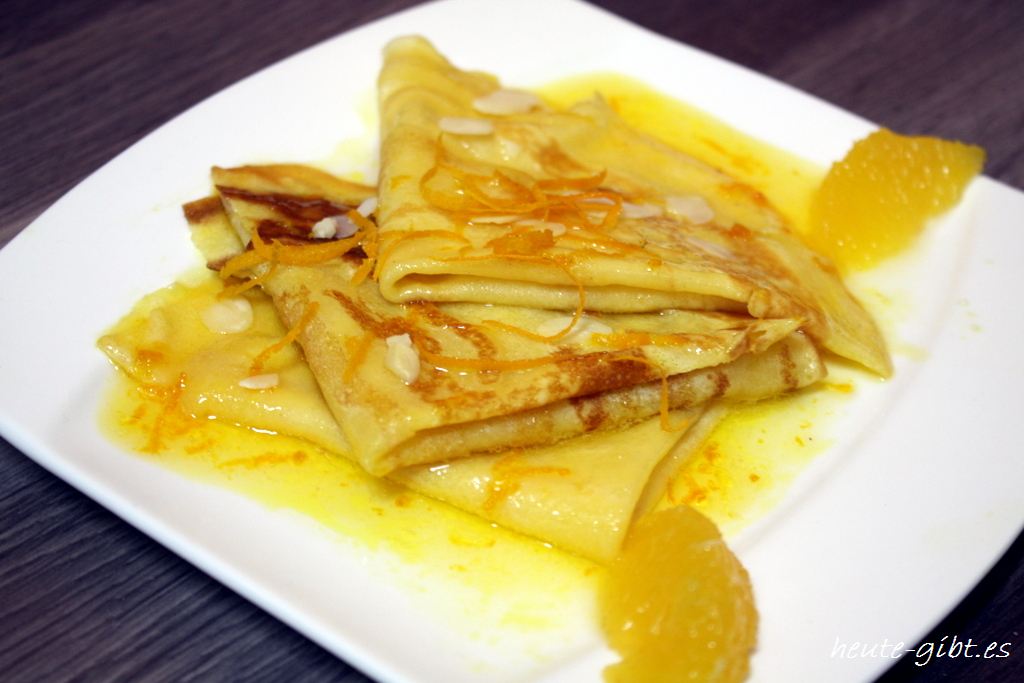 Crêpes Suzette
Ingredients

: (For 4 servings)
25g 1TL 60g Butter
125g Mehl
250ml Milch
2 eggs
1 tbsp vanilla sugar
1 pinch salt
75g sugar
Zest of 1 untreated orange
Juice of 2 oranges
Juice of 1 lemon
60ml Orangenlikör
sliced ​​almonds and orange zest to decorate
Preparation

:
Melt 25g butter in a pan and set aside.
Flour, milk, eggs, vanilla sugar, salt and a pinch of sugar mix to a smooth dough.
Then stir in the melted butter and allow the dough to swell about 30 minutes.
Heat 1 teaspoon butter in a nonstick pan and then pour in the dough portions and bake until golden brown on thin crepes from both sides.
In another pan heat the 60g butter, melt the 75g of sugar in it while stirring and then the orange zest, and the orange and lemon juice Stir and boil the whole thing down to a syrup.
Now the crepes folded twice each, turn in the pan with the syrup and transfer to plates.
The slightly heated orange liqueur Pour the crepes and ignite. Once the flame is extinguished, distribute the remaining syrup on the pancakes and decorate it with almonds and orange.
Surprise your guests with this French delicacy. While in Germany, the thin pancakes are now well known, this variant is still, however, many new. The perfect way to say goodbye to the old year and start the new well 😉
Hi
Elena