October 3rd, 2014
The Blogger Meet Stuttgart 2014 – and a special giveaway
"We show you OUR Stuttgart" – that was the plan, as I shared with my three love of fellow blogger Christina "Christina's Catchy Cakes", Jessi of "Luxuria" and Natalie of "Holunderweg 18" a Bloggertreffen in Stuttgart plant.
We put our whole heart and soul into the organization, phoned around, sent emails, visited stores in advance, packed goodie bags and much more.
That all this has worked out great so I want to tell you three of them in this way again "Thank you" say!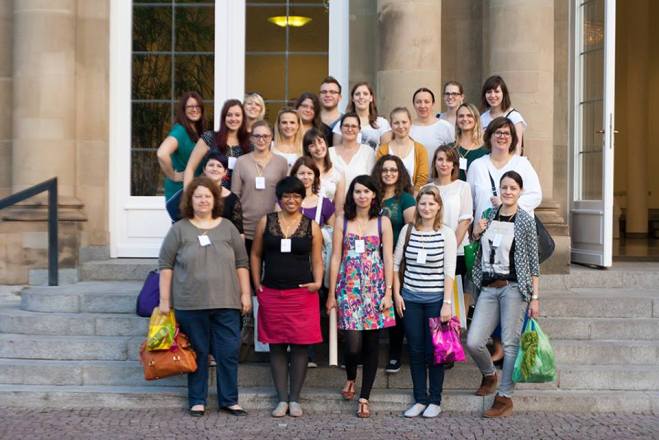 Foto: Christina ("Christina's Catchy Cakes")
You could not attend, you missed it or are just curious as to how "our" Stuttgart looks like? Here a "short" Summary of great weekend:
For those who had the time and inclination, the weekend began on Friday evening. From Marienplatz we took the cog railway to Degerloch. If you are never ridden this, then it is high time, because on the track you have a very great view of Stuttgart. We can arrive at the top you the restaurant "Fässle" recommend, where we have been delicious.
A little tip: Do not go without dessert home 😉
On Saturday we went already at 9:30 clock going and we went together – D.H. mit button 30 Personen – from the Schlossplatz in Stuttgart on the way to our first stop on the famous King's Road:
mymuesli
Many know mymuesli certainly through the online store, where you can individually compile their cereal or choose between one of the many varieties. In Stuttgart there are matching the website of the company since April 2013 and a shop. Many are easily overwhelmed at the first visit, because the choice of cereals offered is huge – from espresso muesli through to Stuttgart cereal and more.
We were allowed to choose a species and enjoy them in combination with milk or yogurt.
The small gain was just right, because then it went up to Immenhoferstraße to:
gagamu
In this small sweet shop greeted us the graphic designer Maike and "their three monsters" – the Gagamus. This one finds both children clothes, as well as cards, magnets, jams and so on. Those looking for a monster even present for his beloved is right here.
The English Tearoom
Tea-lovers beware: THE address for tea in Stuttgart is in my opinion "The English Tearoom" in the Weißenburgstraße.
Even outside the Union Jack at the entrance shows that here bred Londoner keen to share their enthusiasm for tea with the world. The couple Lynn and Christian welcomed us in their great store more than welcome, offered us the same tea in fancy cups and delicious pastries and even convinced the coffee drinkers among the bloggers that tea can be a real treat.
What was also new to me: Lynn offers real clotted cream, which otherwise is not available to scones and a MUST around here. Very nice!
puolle crowds
Almost next door greeted us and gave us the love Céline in her studio welcome. I'm more excited about their great cards they imprinted using a printing press from 1890 itself. We were allowed to look over the shoulders and at the latest after each of us was aware of her even how much work is behind the cards. For those who are looking for original and high quality invitations or business cards, you are at Céline to the right place.
After so many stations it was again time for a refreshment. For this purpose, it went to an Italian restaurant, namely to:
Perbacco
After the translation of "perbacco" I was asked that day often. It is best with the German Estimate "Gosh!" translate. I hope you understand what I mean by 😉
The team has put together for us a small card with pasta dishes, where each is found it. For me it was cannelloni, although not with those of my "mother" can keep up, but still were delicious!
Together we went on a full stomach in the Eberhardt road.
Flinders fine paper
Addiction after her great stationery articles in any color and shape? Or are you also like me Washi Tape addicted? Then you get the picture "Flinders" pay a longer visit. Best with full purse, because there are so many things to discover. Although there is this store for a year, many of our blogger friends did not know him.
Tip: If the paper world for you is just getting started, but then visited one of the many workshops offered each month!
Swap Bag
Also in the Eberhardt Road, the store is "Swap Bag", Of the concept I am thrilled: It looks for a "Body" and individualized by these different "Cover" and "Inside Bets". A small bag, camera bag on the way to "Teacher or student bag" and more. There is for every body when buying two different lid of your choice to do so. Depending on your mood you can then always buy a new cover and you've got a "new" Bag. The selection is huge, so you can create thousands of different pockets with a body.
Latitude
To the chagrin of my purse a visit to Stuttgart for me is always with a short stint with Latitude connected in the Eichstraße. In my opinion, a heaven on earth for Dekotanten like me who are always on the lookout for new things. Bags, dishes, baking utensils, plates with great awards and much more. And the best: It's worth it to stop by there again and again, because there is always something new to discover.
Violas'
A special highlight of our tour was the oil tasting at Violas' – a delicatessen and deli in the heart of Stuttgart. Then we rummaged through the entire store, except for various oil and vinegar, has the Violas' also a large selection of spices. No matter what you are looking for, you will surely find something here and it will be ordered by the staff.
Incidentally offers Violas' now on the top floor of the store also a daily lunch at.
Merz & Benzing
Our last stop was at Merz & Benzing. For me always shocking how many people do not know this shop and the Market Hall in Stuttgart. If you are a fan of high-quality household and kitchen articles are, then you should definitely check out here.
To round off the day we went to Café Künstlerbund on Palace Square, where we were the day reminisce with a delicious dinner and the fellow bloggers were able to share about a variety of topics. The benefits are not everything revolved around our blogs, but we also talked about private and thus learned the people who know behind a blog stuck better.
Finally, we distributed our goodie bags, we have put together with the help of our partners. I have here does not make a mistake, because there really were two (!) Bags for each 😉 The joy was great, the others thanked for the planning and the great day and then passed slowly by us. Because, unfortunately, did not have to be the next day at breakfast together here every time.
Sunday morning we met in small groups outside the restaurant Hüftengold Olga in the street. It was nice to sit together again in a beautiful setting and talk to a delicious breakfast of this and that. It was a great, relaxing day and a wonderful conclusion of the bloggers meeting.
Conclusion
The time and effort for the organization of this event have truly paid off! I saw many familiar faces and many people love to know. I am especially looking forward to a reunion with my name Comrade Elena of "The sweet life"Julia von "Kochlie.be" and Krizi of "Crysis's Kitchen".
Thank you to all the lovely bloggers who have made the weekend so special. Come on over to their blogs, it's worth it!
Marion von "Marion's Backstüble"
Lisa von "himbeersonne"
Carina von "like a piece of NY Cheesecake"
Anja von "Alltagssterne"
Linda von "Chez Lindarella"
Annika von "Ann-Joying Life"
Mareike of "Sugar Snow"
Anna von "Anna would Backwahn"
Ina von "Miss Sommerfeld"
Julia von "Love cooking"
Daniela von "faboulous food"
Ronja von "Von und Honig Vanille"
Anika of "Head pieces"
Kristin von "Crysis's Kitchen"
Angela of "Heart"
Sonja of "the whitest cake alive"
Nicole and Julia of "a bit of June"
Elena von "The Sweet Life"
Nicole by "Swabia Pasta"
Daniel von "Prinz Leinad"
Judith von "Judy's Delight"
Tanja von "wonderful"
Juliane von "July and the World"
Jessi von "Luxuria"
Christina von "Christina's Catchy Cakes"
Special thanks to even St. Peter, who has conjured up a great weather this weekend we 🙂
And also I would like to thank all the many partners who have enabled us to great goodie bags! Here again the list, who was involved in the content:

Thanks also to IKEA for practical shopping bag.
Curious, what was in the goodie bags?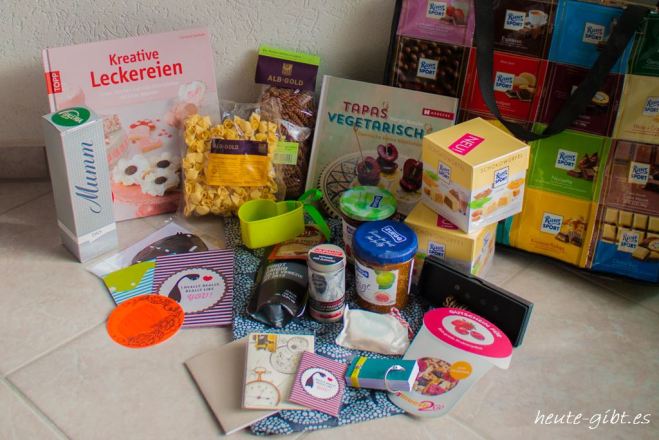 And, a bit jealous? Because, unfortunately, some participants called off for the bloggers meeting at short notice, we had their goodie bags after the weekend left. Therefore, you have an excellent chance of all the great goodies that are seen in the photo to win.
What do you have for this?
Just leave me a comment under this post and answer the following question: Which presented shop is your favorite?
You should be at least 18 years old, live in Germany and specify a valid e-mail address in the field provided, on which I can reach you. The e-mail address will not be displayed publicly and used by me exclusively for the purpose of notification of winning.
You can participate by Friday, 10.10.2014 at 23:59 clock.
The winner has one week time to report from the time my notice with me by e-mail. If this is not the case, the Giveaway will be drawn again.
The decision is of course excluded.
About Likes on Facebook I would be happy of course, but this is not a requirement for participation.
Please note that your participation is valid only when all the criteria above are met.
I'll keep our fingers crossed!
Greetings
Elena
Random.org chose:
The great goodiebag goes to Jennifer 🙂
Congratulations!