February 9th, 2016
The cake Quartet 0711 on TV – Preparations for our second Pop Up Bakery
There is news – and what kind of!
The television was broadcast in November visiting me and finally I may come across with this message, because the contribution is the day after tomorrow – AHHHHH!
But luckily I am not alone, but on my girls from Kuchenquartett 0711 – Judy, Natalie and Sonja – do participate in the whole action.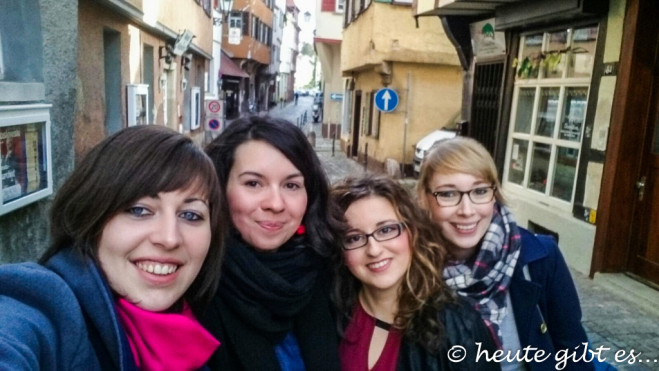 In the show "Essgeschichten"In which the short paper shows is about people from the southwest, for the culinary pleasure plays a major role. In our case it is about our next Pop Up Bakery.
You is not entirely clear what a Pop Up Bakery is?
But then read again the contribution to our first Pop Up Bakery by because I have explained the most important thing.
This time we have come up with even a motto for our guests: muffins, cupcakes and other from the muffin tin. In the broadcast, each testing a special Muffinart of us, without knowing if the baking result is possible or not.
The shooting went almost a whole day! With the camera crew went into Esslinger downtown and then to my house, where the baking session could begin. It was exciting, but it is also stressful because you should say something only at specific times and it had to be very quiet at times – which is anything but easy I like 😉
Personally, despite initial skepticism gave me great fun to stand in front of the camera. This I owe certainly also the nice team of SWR and the girls, because without them the day would have been only half as funny.
You want us necessarily see it in action, you are curious about what we have come up with tasty for you and want to know if our test muffins are really become what?
Then you should at
, February 11 Thursday, 2016 at 18:15 on SWR
turn on.
You feel like trying out our delicacies?
Then you have the following date marked red in your diary to visit us in person at our second Pop Up Bakery:
13 February, Saturday, 2016 | 13-16 pm
Melva Mode Café Reuchlingstraße 22 in Stuttgart-West
If you you're not sure, then takes a look at our Cupcake card – at your own risk 😉 For I am sure that will be there is something for everyone, do not you think?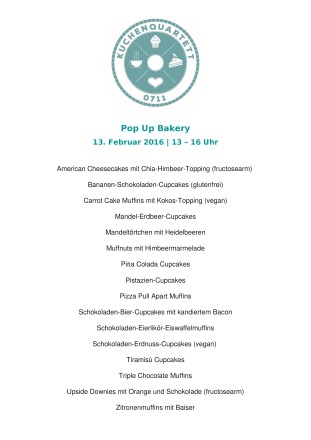 The proceeds will be donated by the way again for a charitable purpose. Eat cake without feeling guilty, what could be better?
I wonder how you will like the program and would be pleased to welcome you to personally in Stuttgart on Saturday!
Greetings
Elena