May 11th, 2015
The cake Quartet 0711 – our first Pop Up Bakery
There is news: Soon, you can see my baked treats in Stuttgart try! How do you want? I'll start from the front…
Together with three other back enthusiastic bloggers from Stuttgart I have the Kuchenquartett 0711 founded. A quartet include Judy of judysdelightNatalie of Holunderweg 18, Sonja of the whitest cake alive and myself.
What is our goal?
More cake for Stuttgart! Together we organize periodically in Stuttgart a Pop Up Bakery, where you can not only admire our baking skills, but also taste. Enjoying a piece of cake in a beautiful setting with lovely people and learns us know personally.
What is a Pop Up Bakery?
This is a "temporary Bakery", which opens its doors for a short time at a previously announced place and a few hours later when the baked goodies (hopefully) are sold out, again disappears.
What can you in our Pop Up Bakery try?
We try to compile a varied selection so there is something for everyone. Delicious cakes, cupcakes, cake, cake pops and Co., but we like to use seasonal fruits and vegetables. We offer both classic and special – including vegan, low-fructose and gluten-free – Delicacies.
You are not fans of sweets? Do not worry, there is also something hearty for you 😉
When and Where does our Pop Up Bakery instead?
On Saturday, 16:05:15 you can us from 14h - 17h in the beautiful rooms of pink brown – Coffee & home decor visit (Gutenbergstrasse 57, Stuttgart). Take the shouting Erten in the family furniture place, drinking a cup of coffee or tea and then browsing in pink brown, where her pretty residential and decorative items and much more will be discovered.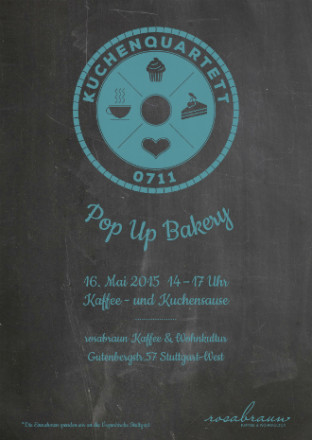 sign up you have to?
Gladly you are allowed to spontaneously pass or you already – to us to facilitate the planning – here on Facebook Sign in.
What else is important?
Is plentiful, creates a good mood and best - to much garbage to avoid - a-fresh. We appreciate each and every one of the stops by and spoil yourself with culinary delights.
I'm mega excited and can not wait!
Greetings
Elena