December 28th, 2016
New Year in… Germany – Three herb butter – a guest post from "Dila vs. Kitchen"
Welcome to our little trip around the last night of the year! Nice that you are there again! After we learned yesterday, as Silvester in Portugal is celebrated, we remain in Germany today. the one or the other might think now: "As we celebrate in Germany, but is actually clear!", Well, celebrate for people like me, although they live here, but according to the traditions of their country, many customs are still unknown.
For this reason I have invited Monica, who will tell us the same detail, is celebrated as New Year's Eve in Germany and allowed to do what not be missed:
As Europe celebrates actually New Year? What are the differences, what similarities and customs are there in the different countries? – I must admit that so far I have never really given me about it. To me Elena asked if I was not a guest post for the New Year's guest post series on "Today there…may contribute ".
Of course I wanted - no question! But before I can tell you something about New Year in Germany you right, I want to introduce myself briefly: I'm Monica Albrecht, live quasi Elena around the corner and blogging since 2013 Dila vs. Kitchen about cooking, baking & Do it Yourself. Over the last 3 years, my blog has grown from a mere collection of recipes to a website whose aim is to bring people the "Green Lifestyle" in relation to cooking detail. In my recipes, I value sustainability, seasonality and regional products. This area will also be further expanded next year. If you stop by times Mögt - to only.
So, but now I get to the real issue, which is why I am here today to Elena guest: New Year's Eve. Specifically, New Year in Germany. As we celebrate German anyway? What is typical for us? How we spend the New Year's Eve and what is it for us to eat that?
When I think of the New Year's Eve night, I was able to celebrate so far, then I noticed the same three things over as the very first one: Raclette, lead casting and Dinner for One. All three are the epitome of New Year's par for me. And that's why I would like to introduce you to these three now a bit more specific.
Raclette
Raclette is in my opinion the first choice for a successful New Year's food. Raclette you can sit comfortably with friends together, is busy for hours, anyone can get his pans according to their own taste compose himself and the host has no stress in the kitchen. In times of food intolerances and dozens of different diets, they also do not really have to take account of particular preferences when raclette. There is simply something for everyone costs.
Essential ingredients for a successful raclette are the following for me:
• Raclettekäse
• Various types of meat (salami, bacon, ham)
• vegetables (corn, peas, carrots, peppers, onion)
• Meat (for grilling on the plate - prefer pork & Chicken)
• cooked potatoes
• Bread / Baguette
• Various Buttervariaten
Especially delicious it is the way, if you do not buy finished the butter versions but produce itself. The recipes for my favorite varieties, I have therefore brought you today once: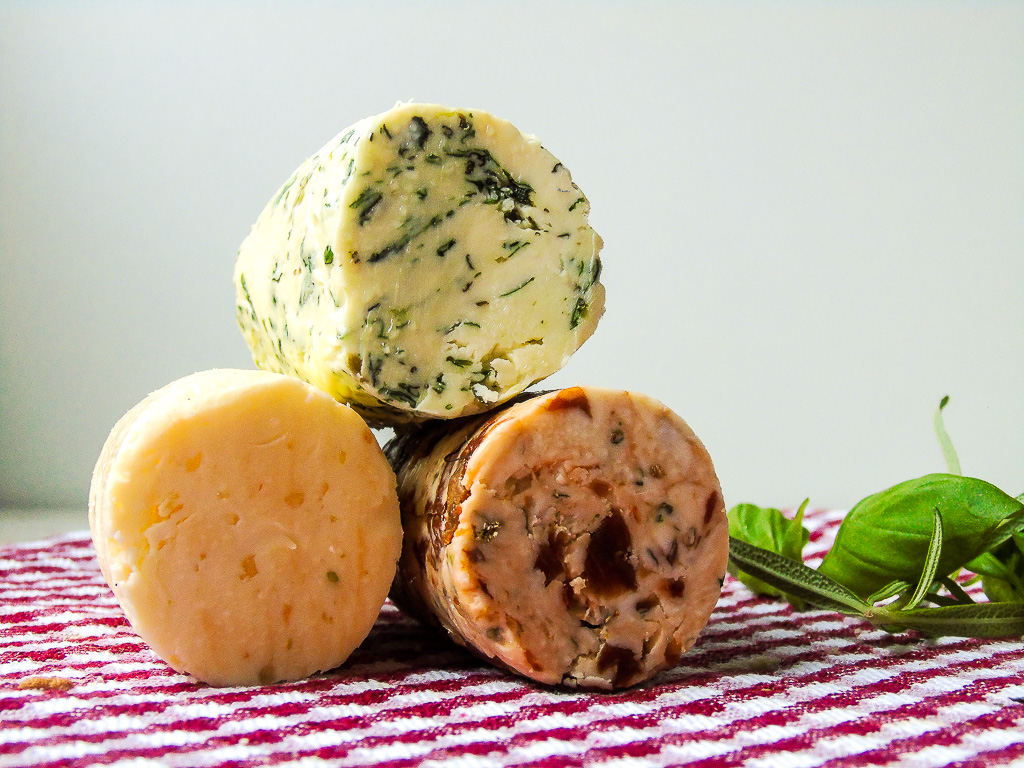 Herb butter | Garlic butter | tomato-butter
Ingredients

(For each 1 rolls of about 80 g)
250g butter
2 cloves of garlic
4-5 dried tomatoes in oil
1 handful basil leaves
1 handful rosemary stalks
Something stripped oregano
Salt
aluminum foil
Preparation

:
The butter first let soften at room temperature, then place in a bowl and mash with a fork until the butter has become creamy.
divide the butter in three portions.
For the garlic butter, the two cloves garlic press and add to the butter. Add a little salt and mix thoroughly together.
Finely chop the garlic butter basil and rosemary, together with some salt to the butter give and also mix thoroughly.
For the tomato butter 4-5 pieces very finely chop dried tomatoes with a knife and put together with a little oregano to butter. Mix everything together thoroughly. NOTE: This add any salt because the tomatoes are already salty.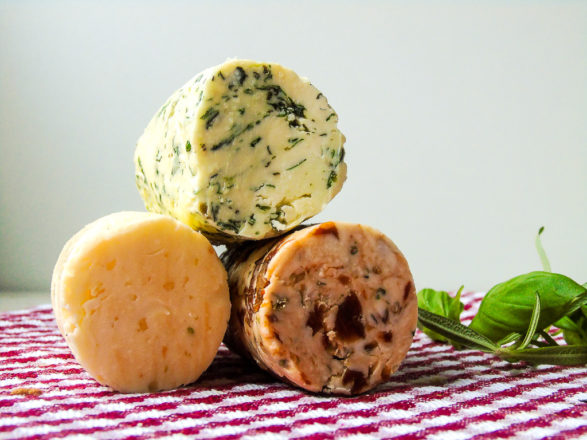 After one has fully beaten really the belly raclette, we bridge the time until midnight Germans happy with lead casting and watching Dinner for One.
lead-pouring
Lead casting is an oracle game, which is to predict what one has to expect everything in the new year. The mixture is heated little lead figures over a flame and then pour the liquefied lead in a glass with cold water. The newly formed mold is then interpreted. Most appropriate interpretations are given so that the fun can start rates on the packaging of Bleigieß sets.
My personal interpretive highlights include it here:
Doctor's Bag - Exciting Medical Play
Hangover - Cucumber
Semmel - Important date is forgotten
Dinner for One
Für all diejenigen, die Dinner for One tatsächlich noch nicht kennen: Dinner for One ist ein Sketch aus den 20er Jahren, welcher in Deutschland 1963 erstmals im NDR ausgestrahlt wurde. Das Original des ca. 18-minütigen Sketches ist in Schwarz-Weiss gedreht und auf Englisch. Bei Dinner for One geht es um den 90. Geburtstag von Miss Sophie, die – wie jedes Jahr – mit ihren vier engsten Freunden feiert. Leider sind diese Freunde aber alle schon längst verstorben und so muss Sophies Butler James nicht nur das Geburtstagsessen und die Getränke servieren, sondern jeden einzelnen Gast beim Anstoßen mit dem Geburtstagskind vertreten. Legendär James Frage nach dem Servieren eines jeden Ganges: "The same procedure as last year Miss Sophie?" und die zugehörige Antwort von Miss Sopie "The same procedure as every year James".
I do not know exactly why New Year's Eve so much Dinner for One look in Germany, but a real New Year has in Germany definitely only when one has seen this sketch until midnight at least 2-3 times. And often in more often. The whole being with increasing alcohol level course is always funny.
For those who do not want to miss this year the usual Dinner for One Marathon (or for that Dinner for One might want to watch for the first time even) I have you here yet picked out the complete broadcast dates from 12 noon to just before midnight (only the original course - no dialect versions):
12:00 rbb | 15:25 NDR | 17:40 NDR | 18:00 WDR | 18:07 rbb | 18:55 First / BR | 19:00 MDR | 19:10 hr | 19:25 SWR | 19:40 NDR | 23:20 ORF | 23:35 NDR
So, that's it for now my little trip to the German New Year's Eve. The point fireworks way, I have deliberately not been included, because fireworks are indeed more like a global thing. I am also of the opinion that fireworks should not be genuine. It's expensive, it makes a bunch of dirt and frightened children and pets, invested the money rather in good food and delicious drinks - there you have definitely more of.
On that note: Happy New Year everybody!
Thank you Monica, for this very detailed insight! The different variations of the herb butter are perfect, as is certainly every bit which tasted good! Bleigießen was until three years for me a complete mystery, since it does no such thing here. So I just bought a pack of times and because the other had – whether they wanted to or not – join 😉
Is there not among you Raclette on New Years Eve, but something else? Tell me about your traditions and customs, I'm looking forward!
Tomorrow it's the way our "New Year's Travel" on, so be curious what will be the next target!
Greetings
Elena