March 25th, 2018
Eierlikör-Panna-Cotta – a variant of the classic dessert for Easter
A week from today is Easter, next Christmas, the most important family celebration in Italy. While mostly grilled with us on Easter Monday, we have breakfast profusely on Easter Sunday. Of course, it is not only at breakfast but there are then still a multi-course meal and it goes almost directly over for lunch. You could even talk almost a hearty brunch.
In addition to traditional dishes I always like to serve something new, so I already weeks before'm thinking about it, and for example, Pinterest researching. A great source of inspiration are always other blogs, so I came up with the idea to create with 6 other food bloggers recipes for your Easter brunch for me.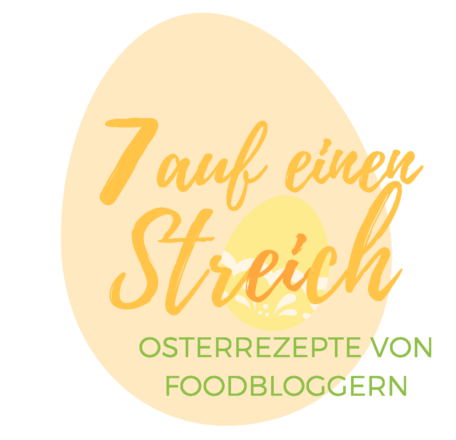 This idea is the action "7 at one stroke – Easter recipes from food bloggers" emerged. We, that is, Graziella of Graziellas foodblog, Ina von Ina is(s)tTobias of The cake bakerTina from DELICIOUS&CoCorinne from bowl luckAndrea from Zimtkeks & Apple tart and I ask you today on our blogs each an Easter recipe before. The recipes have been conceived for an Easter brunch, can of course also for a delicious breakfast, your coffee table or be used for dinner!
What I've been thinking for your Easter table? A variation of the famous dessert classic Italian cuisine: Panna cotta, My recipe for Foolproof classic panna cotta I have presented to you a long time ago. Today's version is suitable for Easter with eggnog, This is the panna cotta a special flavor that is very fine in combination with the fruity raspberry sauce. A big plus is the fact that it can be prepared the night before in this dessert. This relaxed with security preparations for the Easter. The preparation is really simple and therefore also for beginners to cope without difficulty.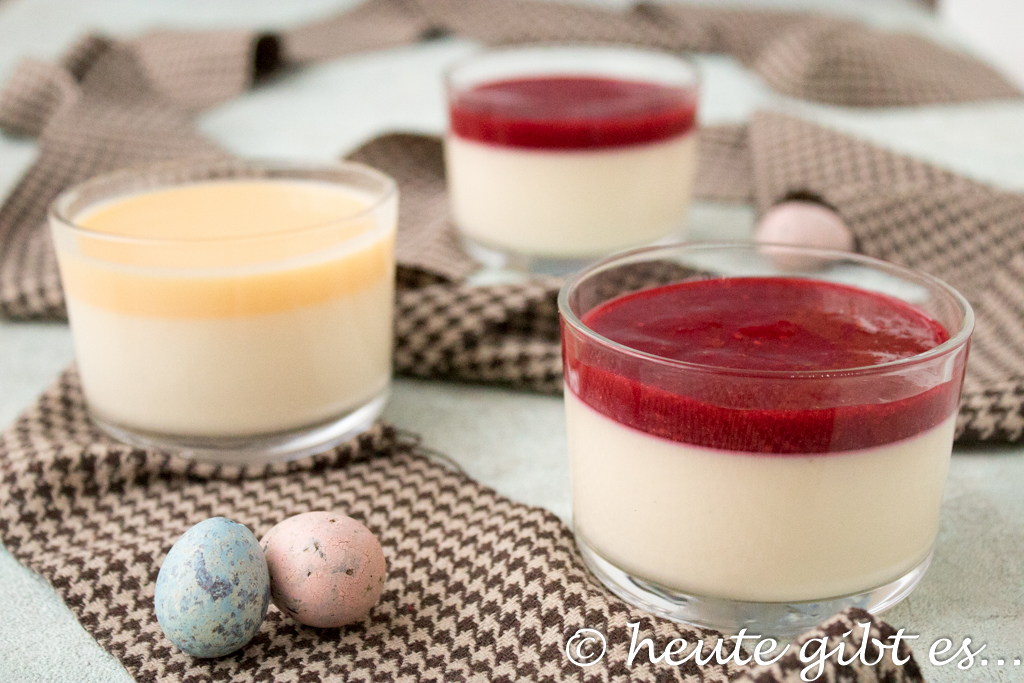 recipe
Total time
3h 25min
Eierlikör-Panna-Cotta
Ingredients

(For about 5 servings)

For the panna cotta:
600ml Sahne
1 vanilla pod
50g sugar
5 sheets of gelatine
200ml eggnog
For the fruit sauce:
300g (frozen) raspberries
20-25g sugar
Preparation

:
just boil the cream with the sugar, the vanilla seeds triggered and the vanilla bean in a large pot, then simmer while stirring for 15 minutes.
In parallel, the sheet of gelatin for 5-7 minutes soaking in cold water, remove the vanilla pod from the cream and dissolve the gelatin expressed therein.
Now add the egg liqueur and mix well.
The panna cotta pour into jars and refrigerate for at least 3 hours in the refrigerator.
wash the raspberries, brush and blend together with the sugar. Season if necessary with further sugar. Pour the raspberry sauce before serving on the panna cotta.
Important tips and information:
The number of servings that gets her out of this recipe depends on the capacity of the glass used. To estimate you can expect about 800ml liquid.
The panna cotta is still completely liquid when filling into the vial and is determined only in the refrigerator.
The consistency of panna cotta is somewhere between that of a cream and a pudding.
Instead of raspberries, other berries can be used for the fruit sauce. If you like but can also eat some eggnog or chocolate sauce to it.
If you want to serve the panna cotta on a plate, you should the glass before pouring the cream rinse cold and dip briefly in hot water before retrieving. This dessert can be rush much easier.
In the fridge Panna cotta holds about 2-3 days.
'
among your guests if children or pregnant women are, the eggnog panna cotta can not eat because of the alcohol, it does not necessarily prepare a second dessert. In this case, you can simply pour into a glass of something Panna cotta shortly before the stirring of the egg liqueur. Noted here, however, that you must then reduce the amount of eggnog.
How do you like the version of the Italian classic dessert?
Now grab a drink quickly and looks absolutely even after what my fellow bloggers have conjured up for your Easter table. One thing is certain: It is determined to continue tasty 🙂
Spanish hornazo von Graziellas foodblog
Carrot Cake Cupcakes von Ina is(s)t
Wait Leier Salat the pie baker
Easter Lamb of DELICIOUS&Co
The perfect scrambled eggs of bowl luck
Hot Cross Buns of Zimtkeks & Apple tart
You a nice spring-like Sunday!
Bon Appetite
Elena