May 26th, 2015
Strawberry-mascarpone-cake – and what with "Despair, 2 eggs and time management" has to do
Spontaneous bake a pie, if you only have two eggs in the house, the fridge is half empty and the shops have closed for Pentecost? I love these challenges!
Actually, I would have to bake anything, because it was announced neither guests nor should I prepare something for any celebration.
then why I wanted to bake a cake in such conditions? Certainly not, because I like to have stressful situations. This has only HIM to do. And his birthday. and indirectly – once again – with my time management.
The love Tobias – Many of you probably as cake baker known – had a birthday and was on his blog for his virtual birthday table Cake desired. As euphoric as I often am at the beginning of an action, I wanted this necessarily participate.
Well, that was about a month ago. In between, I then – Shame on me – the event totally forgotten. Until last Saturday night – 23 o'clock. I scrolled in Tobis blog post on the terms and conditions, only to discover with horror that I had time only until the next day. panic-stricken – and I am not exaggerating here – I ran to the fridge to see that I had only 2 eggs there. 2 Do! We should be on Pentecost with relatives or on the road, of course I do not really shopped. What a cake should I ask topped with two eggs?
Giving up, I did not. And certainly not again because of my oh so great do not make time management a little time. I made my night thoughts, hoping to get THE idea in a dream, so I could take off early the next morning. A brainstorm I had not in a dream, but ultimately was baked rather by feel, finished and decorated. The result? Look for yourself:
That I only "The residue" have baked, this looks but not too bad, right? The spontaneous visit the next day was very happy about this cake with strawberries and mascarpone.
And now you think you probably "Oh, how nice to have a happy ending"?
Why does it not happened and the end of history learn her next week in a further series of "heute gibt es… Chaos" according to the recipe: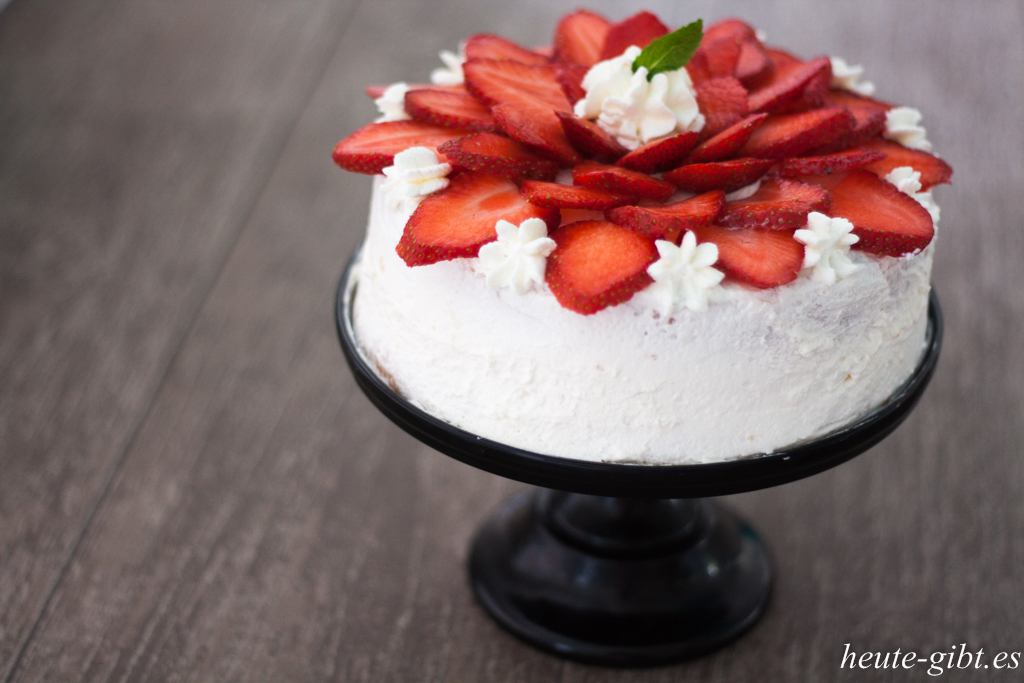 recipe
Strawberry-mascarpone-cake
Total time
1h
Strawberry-mascarpone-cake
Ingredients

(For a 20er springform pan)
For the sponge cake:
2 eggs
2 tablespoons hot water
125g sugar
1 tbsp vanilla sugar
75g flour
25g cornflour
1 tsp backing powder
For the cream:
Mascarpone 200g
160g yogurt
30g sugar
1 pinch ground vanilla
180g strawberries
For decorating:
200ml cream
200g strawberries (depending on size)
Preparation

:
Biscuit base:
Oven at 160 ° C (circulation) Preheat.
Beat the eggs with the hot water until frothy.
Sugar and vanilla sugar gradually stir.
Mix flour, cornflour and baking powder, stir in the egg mixture and seven with a whisk.
Batter into a greased and floured then 20er springform pan and bake for about 30 minutes.


Hint

: Checks with a wooden stick and see if the dough after time is really through.
After the baking time to take the floor out of the oven, a few minutes later to remove from the pan and let cool completely.
cut just before using the sponge horizontally into two parts.
Creme:
Mascarpone, yogurt, sugar and ground vanilla mix into a homogeneous mass.
Wash strawberries, clean, cut into small pieces and fold into the cream.
Spread the cream evenly on the bottom tier, and then cover with the second floor.
Ornament:
Whip the cream and the cake evenly "stock up".
The strawberries cut into thin slices and from the edge inwardly in the circle "imbricated" Arrange so that the cake from above looks like a flower. Here you can give free rein to her your creativity.
After you now all dutifully read the recipe you probably as curious as you may just be scrolled down 😉 I would no longer suspense you:
Unfortunately, the cake is not ready in time, because we had a day of events going on very soon. So even a reasonable contribution to the strawberry pie could neither pictures taken are written. I resented so much about myself that I had not made it to all the trouble to be ready on time.
Since I neither you nor would deprive the Tobias this delicious tart, I've decided, you further insight to this story in my chaotic life to give 😉
When it comes to you in everyday life from time to time so or you are correct time management professionals? I'm curious!
All the best
Elena