June 17th, 2020
Strawberry risotto – rice with strawberries
We are in the middle of the strawberry season and everywhere you can see desserts in which the red berries are processed. But how about a salty dish with strawberries? You read that right, I have a strawberry recipe for you today that can be served as a main course in a spring menu. It is a classic of Italian cuisine: risotto alle fragole.
Strawberry risotto – an unknown Italian classic
Risotto with strawberries – does that sound strange? Probably. But I can assure you that this dish can not only convince visually due to the color, but also in terms of taste – if you get involved. The strawberry risotto is not really known here in Germany. The fruity risotto was created in the 80s, when many cooks in Italy liked to experiment with different tastes.
Typical for a risotto is easy to prepare. To round off the taste of the strawberry, this dish uses a prosecco (or even champagne) and a goat cheese as cheese. Of course, you can also take a dry white wine and parmesan if you like them better. But let yourself in for the perhaps somewhat unusual alternatives and try it out first – Worth it!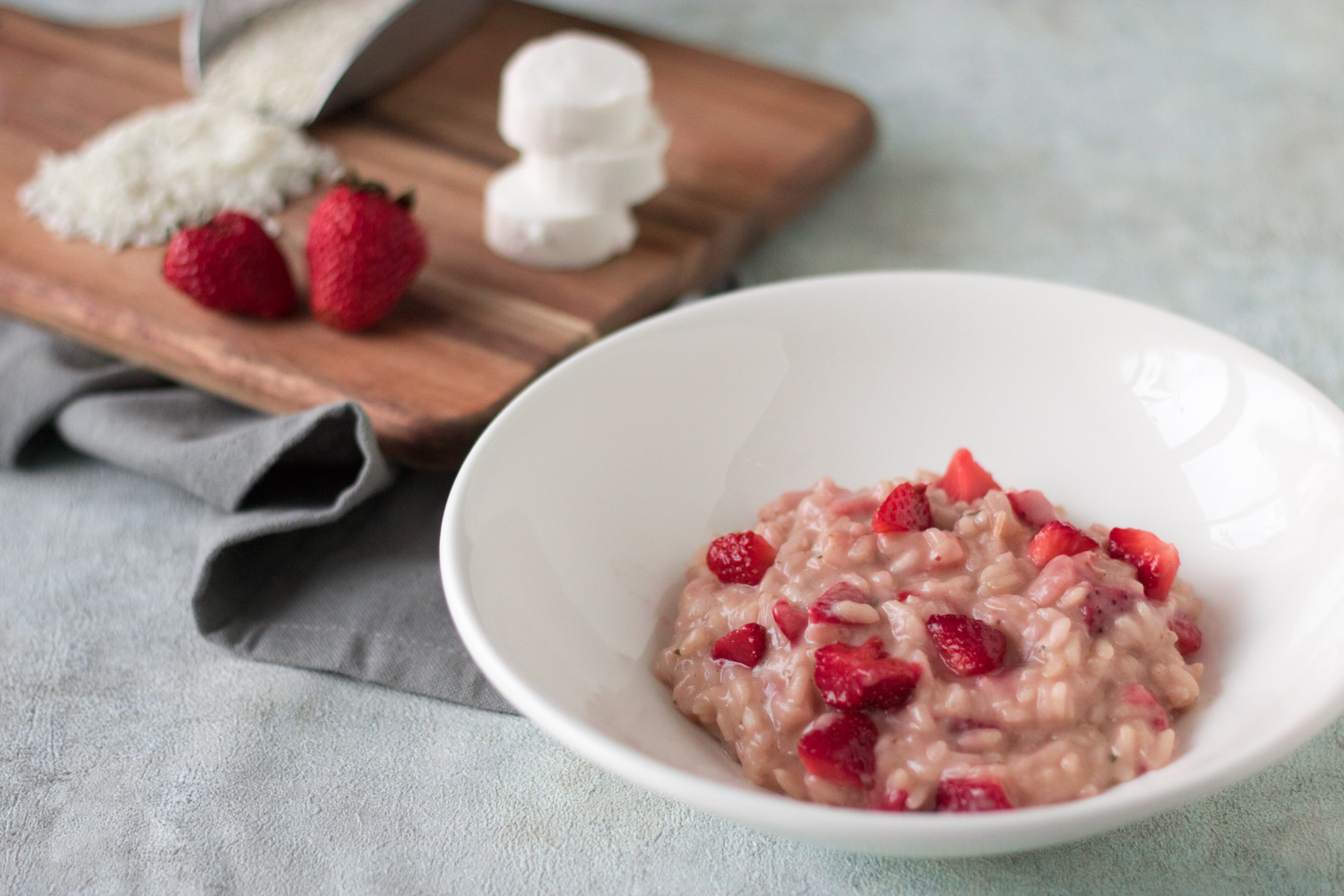 Strawberry risotto
Ingredients

: (For 2 people)
250g strawberries
1 shallot or small onion
1 tbs. olive oil
160g risotto rice (e.g. Arborio or Carnaroli)
50ml Prosecco
500ml hot vegetable broth
40g Caprino cheese or goat cheese thaler
15g Butter
Salt
Pepper
Preparation

:
Wash, clean and dice the strawberries. Peel and dice the shallot.
Heat the olive oil in a saucepan over medium heat and fry the shallot cubes until translucent.
Add the rice and stir for about 2-3 minutes so that each grain of rice is moistened with butter.
Deglaze with the Prosecco and let it boil down while stirring. Now add a ladle of hot vegetable broth and 2/3 of the strawberries and let the risotto cook in an open saucepan over a low heat for about 20 minutes.
During this time, always add a little vegetable stock so that the risotto is always just slightly covered with liquid. Stir occasionally so that the rice does not stick to the pot or even burn. In the end, the risotto should be soft but still firm to the bite.
Now add the cheese and butter and stir in the rice until they are completely melted. Finally, carefully fold in the remaining strawberry cubes, season with salt and pepper and serve.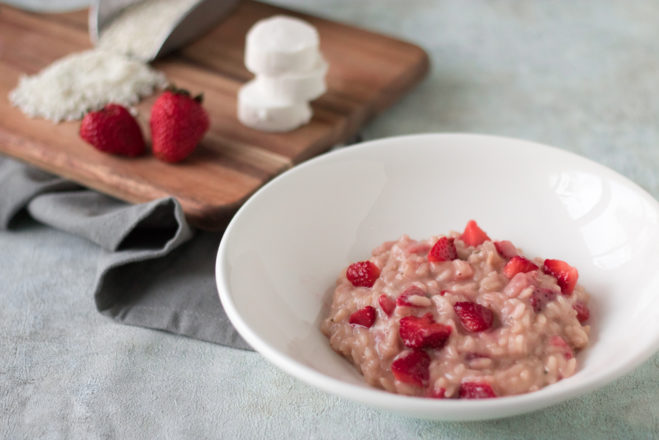 Tips:
For a more intense color, a small amount of strawberries can not cook as pieces, but pureed with the risotto.
The goat cheese goes well with the berries. Don't you like this Then just take parmesan.
The Prosecco can be replaced by sparkling wine or dry white wine. For a non-alcoholic version, simply deglaze with broth.
Look forward to the great strawberry scent throughout the apartment when you cook this risotto. If the smell reminds you too much of the preparation of strawberry jam: don't worry, it smells more intensely of strawberry than it tastes afterwards 😉
For all romantics: the color of the dish makes it perfect for a candle light dinner or for Valentine's Day.
What were the most unusual ingredients you've ever eaten in a risotto?
Enjoy your meal Elena