May 1st, 2016
Peanut Butter Chocolate Granolabars – Homemade granola bars – fast and easy
Do you know that: One is the whole day and feel like something sweet? For such situations, I usually have cereal bars ready and after a while I feel mentally much better!
I must admit that I never had the idea to make granola bars themselves. In cereal I also needed forever to realize that it is not all that difficult. Mean Schoko-Knusper-Granola (Granola sounds just too hip to!) There since time and again.
So when the love Jessi their cereal bars brought 2 years ago at a meeting of bloggers, I was excited after the first bite of the bars! Since then, the Granolabars buzzing around in my head forever, until I in December – whole 1 ½ years later! – finally tried a slightly different version and was again blown away.
The best: It is anything but heavy and you need not that long. Taste they do in my opinion much better than selling cereal bars and take-away is also not a problem if you wrap them accordingly.
How it works? I'll show you: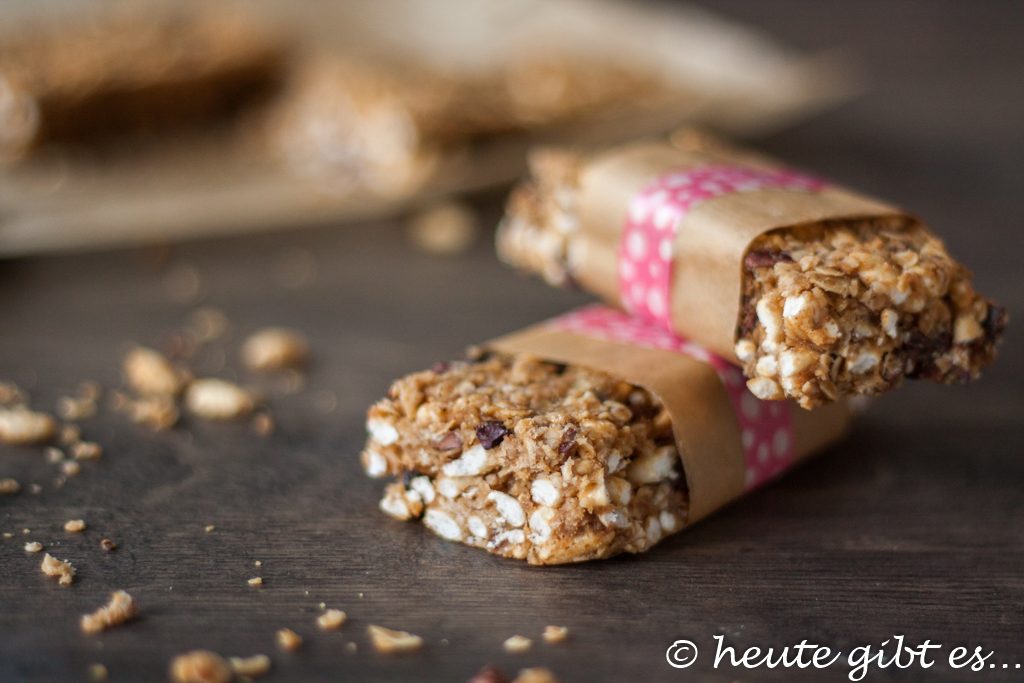 recipe
Erdnusbutter-chocolate Granolabars
Total time
45min
Peanut Butter Chocolate Granolabars
Ingredients

(For a 23 x 23cm shape, preferably with removable rim)
60g Butter
150g peanut butter
115g honey
1 pinch salt
$ 1 Gemahl until Vanilla
240g soft oatmeal
60g spelled puffed (alternatively rice crispies)
50g Kakaonibs
100g chocolate drops
Preparation

:
Form design interior complete with baking paper.
Melt the butter, peanut butter and honey over low heat in a saucepan while stirring.
Remove the pan from the heat and then stir in the vanilla and salt.
The oatmeal, give puffed spelled and the cocoa nibs into a large bowl, add pour the butter mixture and mix well together.
Now just about 2/3 of the chocolate drops stir and pour the mixture into the baking pan.
Important: For Granolabars also keep well together later, it is better if you press with the back of a spoon the mixture into the mold.
The remaining pieces of chocolate spread on the surface and also press gently.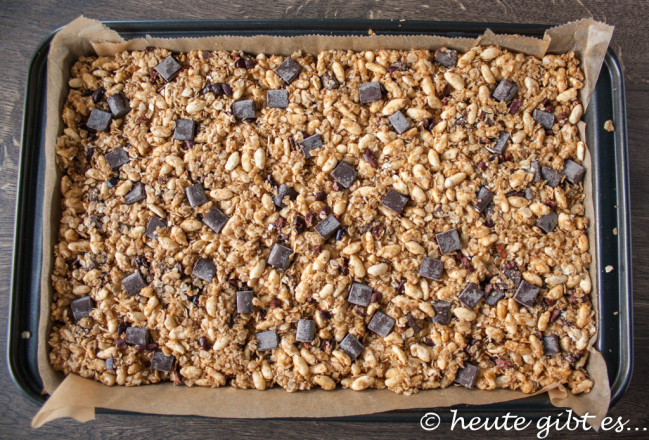 ask questions and then cut the bars into the desired shape to finish off the mold for about 30 minutes in the refrigerator.
Nicely packaged the Granolabars came with my Imp action super and thus are great as a gift for a visit with friends, or just because. Our colleagues are happy with security also a small lift in the workplace 😉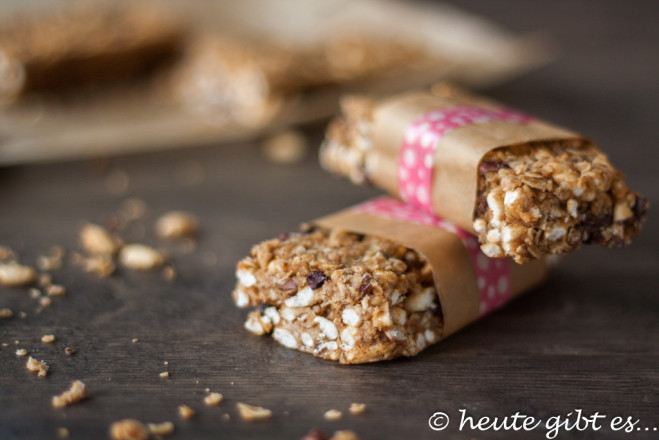 Have you tried you have to Granolabars? There is even a recipe, you really excited about the since? I am pleased with your opinions, experiences and favorite bar!
All the best
Elena