February 28th, 2017
Farfalle with lemon sauce – Pasta with mild lemon sauce
Als Kind sind wir jedes Jahr über die Sommerferien für mindestens 4 Wochen nach Sizilien geflogen bzw. gefahren. Während der Fahrt vom Flughafen in Catania nach Licata habe ich immer gespannt aus dem Autofenster geschaut. Ich fand die trockene, auf den ersten Blick sehr karge Landschaft, sehr faszinierend. Zu dieser Jahreszeit sieht man immer wieder Kakteen mit ihren roten, stacheligen Früchten, aber auch Olivenbäume schmücken die Umgebung. Am meisten freue ich mich aber bis heute noch über die Zitronenhaine, vor allem wenn die gelben Zitronen schon reif sind.
My love for lemons is quite pronounced, perhaps because my mother has eaten several daily during pregnancy ?! On my to-do list for the Sicily holiday therefore always drinking a freshly squeezed lemonade. If you are so down there, I highly recommend you this as a drink.
It was this Lemon Love is my current court while leafing through the book "My Italian cuisine" Marchesa Violante Guerrieri Gonzaga fell directly into the eye. A pasta dish with lemon sauce – I just had to try it!
The noodles are cooked super fast and taste great right, which is why I do not want you this withheld: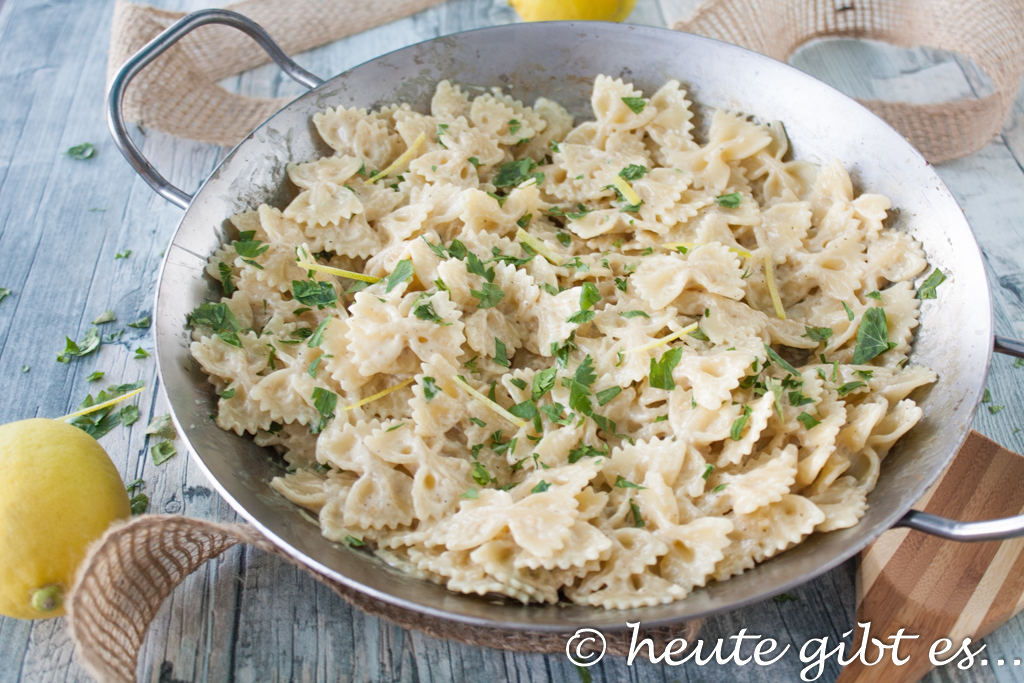 recipe
Butterflies von lemon sauce
Total time
25min
Farfalle with lemon sauce
Ingredients

: (For 4 people)
2 organic lemons + optional one for decorating
40g Butter
some white wine
200ml cream
500g Farfalle
30g freshly grated Parmesan cheese
Salt and pepper
some fresh parsley
Preparation

:
Finely grate the peel of two lemons, remove fine zest from the lemon third (for later serving) and set aside both.
Melt 30g butter in a pan, add the grated lemon peel and fry briefly.
With a dash of white wine and add the juice of half a lemon. simmer the whole short, until the liquid has almost completely evaporated.
Pour in the cream now, season with salt and pepper and let it boil for something.
Meanwhile the pasta in salted water until al dente cooking and once it is ready to surrender to the cream sauce.
Finally, stir in the remaining butter and the Parmesan cheese, mix well, if necessary add salt and pepper and garnish when serving with lemon zest and parsley.
Sounds easy? It is! Incidentally, not only tastes on hot summer days, but also to any other season. The remaining lemons grated peel should you relatively soon after the preparation of the court use, lest they dry out. Maybe you prepare yourself to a freshly squeezed lemonade? 😉
Instead Farfalle you can of course use any other type of pasta, depending on what you have personally like!
More information about the book and whether it has convinced me there will be the way in the near future.
See you soon
Elena