May 11th, 2015
Farfalle with asparagus and goat cheese sauce
I love asparagus – whether green or white – and can not wait for the season to start every year. If the time has come, I'm not only tested recipes but try every year something new. This vegetable is so versatile and can be not only in the starter, but also in all other gears – even in the dessert – to process. Not always the new court is a fluke, but now and then there is still a recipe that I record in my collection.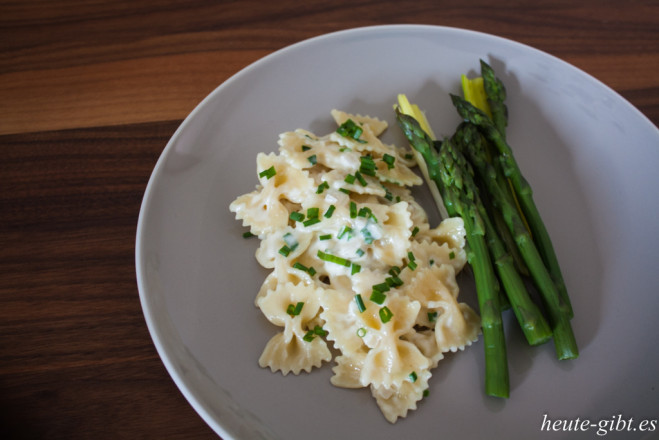 It's the same in today's main course: once nachgekocht and I am so confident that there will be this pasta again with us – in no later than the next asparagus season. That as Italienierin Pasta love is no secret, but when I was in magazine Deli the combination with green asparagus and goat cheese was reading, I had the next day all the ingredients get and try out: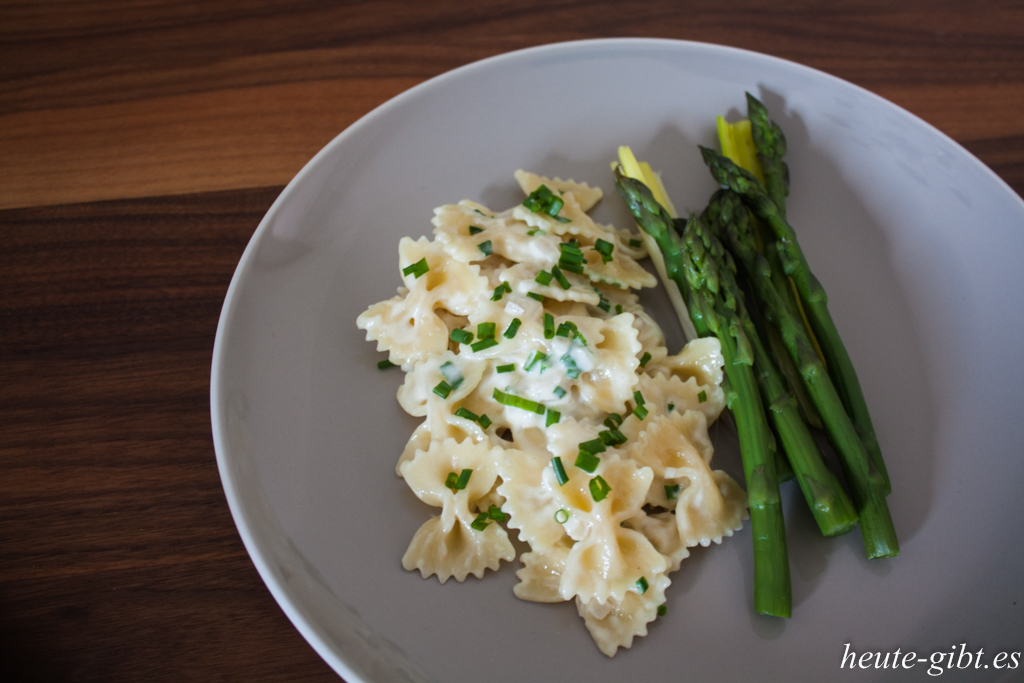 recipe
Farfalle with asparagus and goat cheese sauce
Total time
40min
Farfalle with asparagus and goat cheese sauce
Ingredients

: (For 4 people)
2 EL Olivenöl
3 shallots
300ml Scene
160g goat Gouda grated
600g green asparagus
1 leek
350g Farfalle
400ml vegetable stock
1 bunch chives + something to decorate
Salt and pepper
Preparation

:
Heat oil in a pan and fry the finely diced shallots over medium heat until soft.
Add the cream give, bring to a boil slowly, the cheese, stirring constantly to give until it is melted. Then cover sauce and keep warm.
Peel asparagus in the lower third and cut off the ends.
Leek clean, white and light green part quarters lengthwise and transversely cut in half.
The Farfalle in boiling salted water until al dente cook and drain.
Meanwhile, boil the vegetable stock in a saucepan, add the leeks and asparagus and cook about 4-5 minutes over medium heat.
Cut chives into small rings, add together with the pasta to the sauce and toss well. Season with salt and pepper.
Remove the vegetables from the broth and place on a plate to the side. Add the pasta and garnish with the finely chopped chives.
Where the goat cheese like it, then you will love this sauce. It will now be with us to other vegetables, zucchini fit namely certainly outstanding. Even when cooking beginners this dish is easy to master and as the green asparagus is also pleasant to clean compared to white, the preparation is very simple. Give it a 🙂
A nice start to the week everyone!
Elena