February 18th, 2014
Filoteigtarte with peppers and chorizo – a guest post of Tina ("Expected' Tausendschön")
Come on in, come on in and make yourself comfortable, because today I'm not going to swing the wooden spoon, but I have a visit from Tina, I on the action "Übern Tellerrand" got to know.
She has now brought a delicious tart and if only watching the images mouth water converges me 😉
But now I leave you my kitchen and am looking forward to a nice result…
Yikes…, I'm not even in my own kitchen, where is here the drawer with all the paraphernalia ?? I must now for once serve as a guest with dear Elena no chaos in the kitchen and if they do, I promise that I will then also clean up a good girl again. 🙂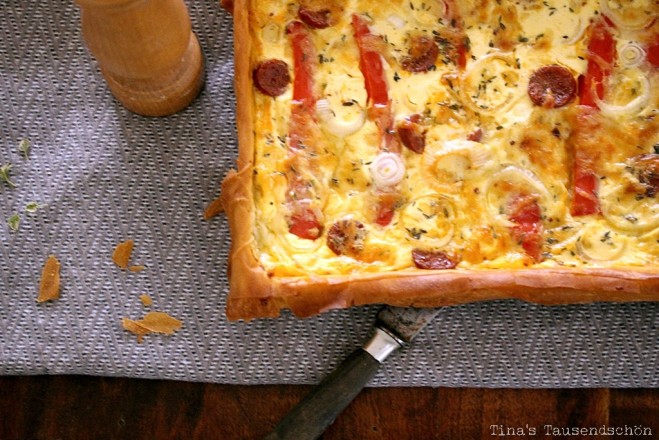 Achso… first time:
Hi, I'm Tina…, Usually I blog on Expected' Tausendschön, My little blog about all sorts of stories from my kitchen, my new garden and sometimes even a little bit of DIY and decoration. When Elena was offering me me sometimes run riot with her, of course I did not hesitate for long. I am delighted as Bolle sometimes to be out außerhäusig. It is my first guest blog at all and I hope I leave a good impression with my hostess and with you.
As a gift I once brought something today from my hearty repertoire – a delicious tart filo pastry with spicy chorizo, sweet peppers and savory cheese. sort of a storm and rain-eating or as it is called New Germany: Soul Food!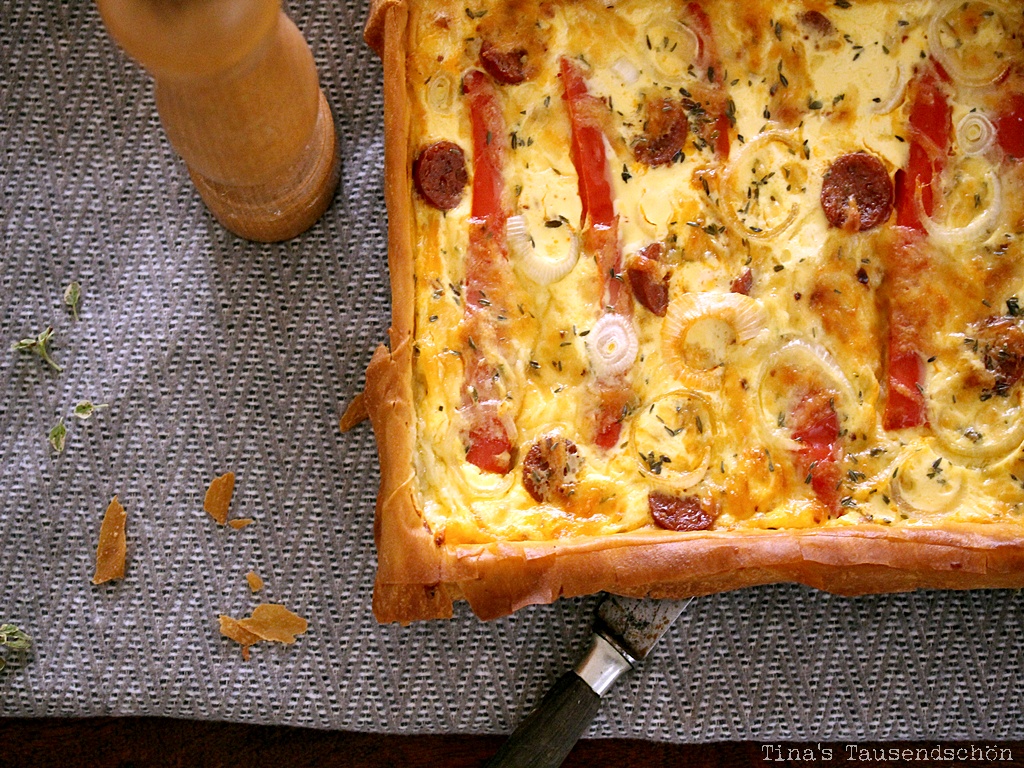 recipe
Filoteigtarte with peppers and chorizo
Total time
45min
Filoteigtarte with peppers and chorizo
Ingredients

(For a rectangular tart tin ca: 25×30 cm)
4-6 square Filoteigblätter
1 red Spitzpaprika (sweet)
100g Chorizo
1 red onion
4 eggs
200g sour cream
100g grated mountain cheese
½ Chilischote
fresh thyme
Muscat
Salt and pepper
some brown sugar
50g zerlassene Butter
Preparation

:
Wash peppers and remove seeds and cut into wide strips, chorizo ​​also cut into slices. Then remove the onion and cut into rings. Everything set aside.
Then mix the eggs with the sour cream and mix with salt, pepper, finely chopped thyme, nutmeg and chopped chilli. Then mix the grated mountain cheese.
Preheat oven to 200 ° C and grease the mold with butter. After that, the Filoteigblätter spread and individually also brush with melted butter and place it in the mold. (Do not forget the edges!)
Add the red pepper slices and chorizo ​​on the dough and then pour the egg-cheese mixture. The onion slices and sprinkle sprinkle with a little brown sugar.
Tart in the oven about 25 – Bake 30 minutes. Sprinkle removal and possibly even some chopped thyme over it.
Good Appetite!

Dear Tina,
with this tart you hit my taste at all! Thanks for visiting 🙂
Check it over to Tina's blog, because it has so many' Another delicacy that pays nachzukochen it!
Greetings
Elena
This post takes part in the series "Übern Tellerrand" :