September 7th, 2013
Financiers au café – My contribution to Coffee Day
In keeping with the day of the coffee there is a recipe with the ever beloved pick-me. I myself must confess, yes, that I do not drink coffee – courageous confession of an Italian 😉
Nevertheless, I use it often in the preparation of desserts, because I now feel coffee in combination with the sweetness as pleasant.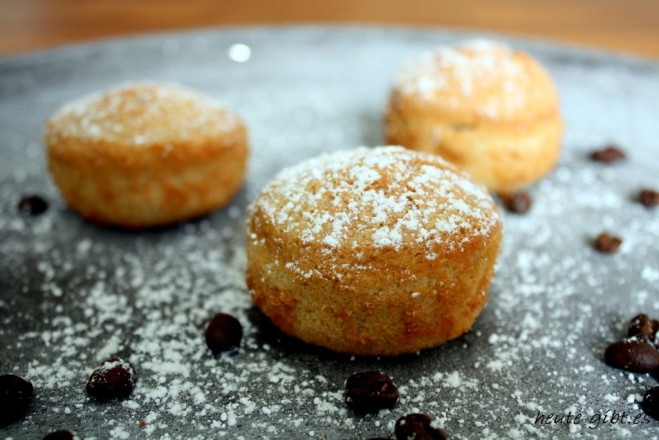 As the name suggests, it is in today's pastry around a specialty of French cuisine. Admittedly, I've never tried it before, but discovered by accident yesterday. The traditional version of the financiers contains no coffee. But since I wanted to bake something appropriate for this day for you, I have the recipe slightly modified.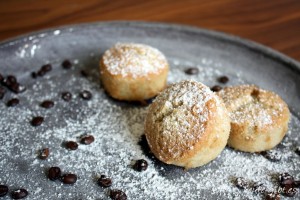 Financiers au café
Ingredients

: (For 8-10 pieces)
50g almond kernel
50g Mehl
120g icing sugar
4 egg whites
2 EL kalten Espresso
60g Butter
Icing sugar for dusting
Preparation

:
First, the bitter cup of almonds must be removed. This works best when the almonds are just for a minute in boiling and then immediately placed in ice water. Now can the shell easily peel off with your fingers. The skinless almonds place them on a paper towel to dry.
Grind the dry almonds with the food processor very finely and then mix in a bowl with the flour.
Now beat the egg whites with an electric mixer until fluffy and meanwhile, mix the icing sugar slowly.
Preheat the oven to 180 ° C (fan oven) Pre-heat.
Add the flour and almond mixture and the cold espresso also to egg mixture and mix well.
Melt the butter in a saucepan and brown work under the dough.
Now the espresso cups are greased and filled ⅔ to the ground.
If you are willing to not risk to put your cups in the oven, you can instead also small rectangular molds – Die traditional Financier-Form – or use cupcake liners.
The financiers for 17 minutes in the oven baked, let it cool down and lukewarm dissolve out of the cups.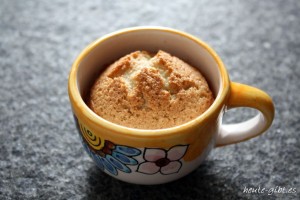 Serve with powdered sugar dusting and with a cup of fresh espresso.
If I'm honest, taste me the Financiers really well despite coffee flavor. The consistency is pleasantly fluffy, not too intense the taste of the espresso, but just right. If you're looking for a tasty biscuits for the coffee gossip, which is easy and quick to prepare, then you should give a chance to the French specialty. You will not regret 😉
Bon appetit!
Elena