February 22nd, 2017
Food Talk with Fabian von "In the kitchen. Ready go!"
After an unintentional break, the time has finally come again: It's Wednesday, which means: time for a food talk! If you don't know what this is all about, have a look at first post of the series over, because I will briefly explain what this is about.
But now it makes you comfortable and welcomes our guest today: Fabian from the blog In the kitchen. Ready go!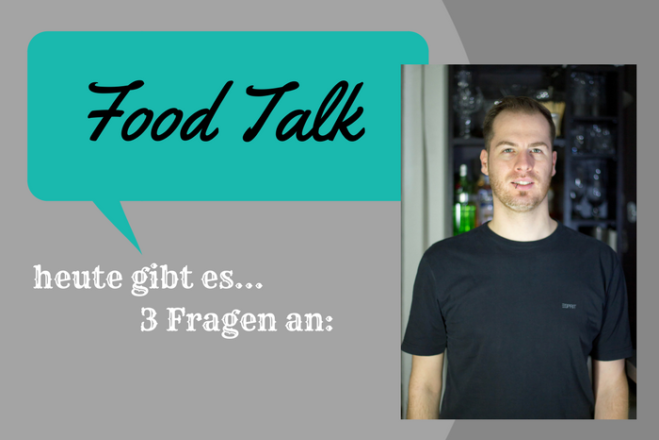 I am a big fan of Fabian's blog and often only visit it to admire his great plates. So the topic of aesthetics plays a big role today and supper clubs. Now I don't want to put you under torture any longer, here are my 3 questions for our guest:
Dear Fabian, if you look at the photos of your dishes, you might think that you are in a star restaurant. Do your plates always look so great (even when there are no guests) and do you have a few tips on how to best arrange them visually?

Thank you! Nice that you like the dishes 🙂
Since I usually prefer dishes for the blog "special moment" cook, they are often a bit more complex and do not come to the table to the extent during the week. Nevertheless, I also make sure that the plates look appealing in everyday kitchen. The visual impression is the first thing you pick up from a dish, before smell and taste. In my opinion, the optics therefore play an important role. In addition, the type of serving also has a practical function: As a cook, you can control a bit how the dish is eaten and how it is perceived: If the guest is to eat a fork full of everything, I will serve everything in a compressed and dense manner.

If the guest minds with the food "play" should, in which he should combine individual components with each other at will, then I serve more openly / extensively. So these are the two basic considerations.

To serve yourself: I always find it really nice if you follow the plate shape. E.g. a semicircle on the edge of the plate or round in the middle of round plates. Gladly also as strips. This is possible with rectangular, square or round plates.

Basically, less is (often) more. Overloaded plates look unappetizing. Too little food (or plates that are too big) make a dish seem lost.
Where do you get inspiration for your very creative recipes and the ideas for your sideboard? Do you perhaps have a role model or two?

This is different, but I would say: Instagram, cookbooks, blogs (in order). Sometimes I see e.g. B. on Instagram pictures and I have thoughts like "I prefer XYZ instead of ABC and this and that". But that happens by chance. On the other hand, I sometimes consciously go the opposite way and specifically look for combinations. The Taste thesaurus is a big help there.
As for role models: Uwe von Highfoodality could perhaps be described as a role model. I think he cooked most of his recipes by far from his blog. His photos are also great! He made me start blogging.
You always organize supper clubs. What exactly does it mean, why do you do it and how does it work for you?

There are several definitions of what a supper club can be. For me personally it goes in the social dining / restaurant-at-home direction. It happens that I publish the appointment for the next supper club in my blog a few weeks in advance. I will then lose about 6-8 places among all interested parties. The guests come to my home on the appointment and are there with 4-5 courses & Spoiled drinks.

My motivation for this is mainly 3 things:

– It's just fun to make other people happy!

– I can really let off steam in the kitchen and try special things / dishes 🙂

– You often get to know great people who are naturally passionate about pleasure. It is always very interesting!

And last but not least, of course there is something delicious to eat;) PS: This is not an April Fool's joke, but the next Supper Club will take place on 1.4 😉 More information is available from me im Blog.
Thank you Fabian for your participation!
The Supper Club topic has been appealing to me for a long time and maybe I'll really tackle it. Although I don't know if I can keep up with Fabian the planned menu watch for the next evening!
If you don't have time to take part, then maybe you should cook one of Fabian's dishes yourself! Would you like some suggestions?
How about Pork belly sous vide on red wine shallots with three kinds of puree from the potato? Or rather crunchy sweet potato cubes with ostrich steak and lime chilli hollandaise?
The combination Salsify | Orange | Tonka Bean | Hazelnut flakes sounds interesting too. And for ice cream fans I have this delicious one Estragoneis picked out.
Oh yes, if you're as intimidated as I am at the sight of Fabian's plate: don't worry! Everything is explained step by step and I am sure that you can do it well. It is definitely worth a try and hey, even if it doesn't look perfect, the dishes still taste 😉
See you soon
Elena