January 11th, 2017
Food Talk with Zorra of "cooking pot"
Welcome back to our weekly food talk! If you don't know what Food Talk is about, you can do it in Post from last week read up.
Now sit back and greet our guest today: Zorra from Blog "cooking pot".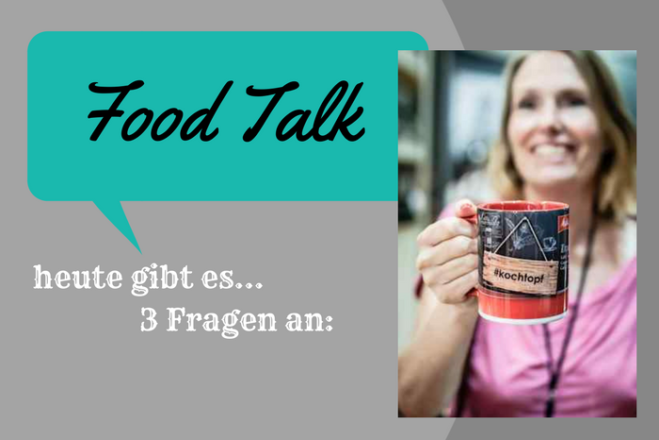 I am sure that many of you know dear Zorra. If not, then it is high time! For 14 (!) Years she has been blogging about dishes and tips related to cooking. Since 2005 she has also organized one Gast-Blog-Event on a certain subject, and in winter there is always the famous one "Culinary advent calendar".
But enough talk, let's get Zorra to answer and see how she answered my three questions:
Dear Zorra, as a Swiss who lives in Andalusia, you are a specialty among German-language food blogs. How many years have you been living in Spain and has your life changed since then?
I just had to check, I have been living in my beautiful adopted home for almost two decades now. I have to confess, we still don't eat typical Spanish after all this time. But more seasonal and regional, which comes mainly from my own garden, which I didn't have in Switzerland. I wasn't really interested in cooking before emigrating. I have already cooked but only had a few standard dishes that I cooked alternately.
Anyone who knows your blog knows that the topic "Bread" plays an important role for you. Where does this great passion come from and what is behind the action? "#sychronbacken"that you see on the blog and social media channels?
I first discovered bread baking in Spain. Andalusia is not really a bread country. At some point I could no longer see the eternal white bread and decided to bake bread myself. I never succeeded in my first loaves of bread. They were rock hard, perfect doorstops but not really good to eat. So I gave it up again until I got up Petras Brotkorb respectively Chilli and Ciabatta bumped. With Petra's support, I dared to do it again. Successfully, since that moment, that was in 2006, I never bought bread again, the first one #synchronbacken have Sandra from From-Snuggs-Kitchen and I performed in 2014. But the idea actually came from a previous campaign when we had our kitchen machines compete against each other with a bread recipe. It was so fun that we decided to expand the campaign so that everyone can bake with it.

With #synchronbackbacken everyone bakes a recipe given by Sandra and me. Everyone - no matter whether beginner or professional, can take part in the campaign. During the preparation and baking process, we exchange ideas via the social media channels with the hashtag #synchronbacken and can follow each other as it looks with the others. It is always exciting to see how different the results are, even though we all have the same recipe as a template. A few days later we blog about the campaign. If you would like to join in, that next #synchronbacken takes place on 28./29. January 2017 instead of. We'll give you a recipe a week before in our blogs.

Suppose you had the opportunity to talk about the new trend topics in 2017 in the area "to eat and drink" to decide. What would be your top 3 and why?
I already wrote about it in my January newsletter. My topics for 2017 are Milk and meat products, of course in good quality and if possible homemade.
It is in the area of ​​sweet baked goods Gugelhupf, a Bread Baking Day runs until February 1st, the last one by the way.
I wish for alcoholic beverages Sherrythat he can make it out of the granny corner.
Thank you Zorra for participating and for the detailed answers!
If you want to have a look around Zorra, I can definitely do this Linguine with crispy chicken skin recommend. In general, pasta lovers will get their money's worth, because just like me, Zorra is a big fan of pasta.
And hers too Ice creams you shouldn't miss it, the next ice season will come again sometime 😉
Next week we will continue with our Food Talk, all of you a nice relaxing Wednesday!
Greetings Elena