January 18th, 2017
Food Talk with Tina from "DELICIOUS&Co"
Hi, it's Wednesday again, which means it's time for a nice dining "Pläuschchen" – it's time for our weekly "Food Talk".
Make yourself comfortable on my virtual sofa and rejoice in our guest today: Tina from the blog DELICIOUS&Co.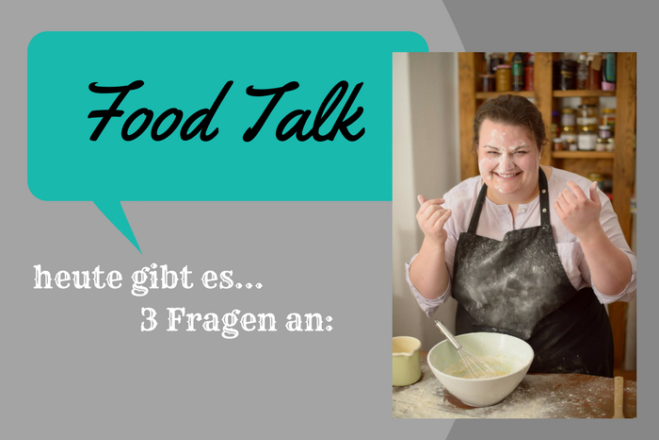 The love Tina I have two years ago on the Foodbloggercamp met in Reutlingen personally where us tips and tricks on the subject "sourdough" has given. But even before I knew her great blog where I like to rummage again.
Even today, I'm always very happy to go and am already looking forward itself to its answers to my questions:
Dear Tina, who shop around on your food blog, which found there lots of tasty dishes and interesting creations. It often are not classic but very creative food combinations. What inspiration do you use the most and what does a typical procedure when you are creating a new dish?

Hey Elena, thank you so much that you have invited me today to your Food Talk couch. True, I like to combine unusual flavors from each other or try things I've never seen anywhere. My Inpirationsquellen are very versatile. Sometimes I walk through the grocery store, look in the telephone department a court and think to myself: "Hey, this can be much fresh delicious cooking ?!" and then I walk it turned away, because I discover something in my cupboards, eh away needs.
I use many different mediums to me to be inspired: books, blogs, TV shows, commercials – you would not believe where we are confronted everywhere with food.

Also consider my friend and I together what we want to eat. That is similar to Ping Pong play… I say, for example, "I would once again wants to spinach" then comes in response "… I would like to once again beef" – "Ok, Burger?" – "With spinach?" – "Why not? We could make spinach and cheese Taler…" – "and then a Siegelei and bacon on the burger?" – "Yes sounds good… then do we still Buns with nutmeg and some Emmenthal it?" – and so it goes then back and forth until the recipe is. And that reminds me, that actually sounds totally delicious. I have to make so times a burger… 😉
Thus, from a planned actually simple little snack quite quickly once a cheese evening with black nuts, melted balsamic tomatoes, figs gratin and cucumber chutney…

If the concrete plan but then stands, then cook and bake, I highly structured and of course always write with what and how much I used it. Mostly I write beforehand the ingredients on a piece of paper that I have überlget me and then write down only the amounts, so it goes in the heat of the moment simply faster.

By the way, goes with my experiments also from wrong at that. I have, for example, once made a quiche with sauerkraut and bacon. In the freezer I had grated cheese and took the for browning. Unfortunately, I have found only after baking that this was a very hearty goat cheese that has made the quiche simply inedible – the flavors are simply not in harmony. Of course I had the quiche already photographed… I do namely always wanted to know in advance if the experiment was successful and I want to show you. The pictures of the Quiche lie since in my "Unsuccessful experiments"-Folder.
You're a big fan of Thai cuisine. What has particularly impressed you here, what ingredients here are indispensable, and you would have to do for people like me who have never cooked really thai?

Oh yes that's true. I liiiiieeeebe Thai cooking. These flavors and fragrances… just lovely. When my mom and I moved to Nuremberg 10 years ago, we have behind the castle a small Thai Food Snack discovered who has cooked the most delicious Thai food we had eaten so far. There were cooking Thai women every single dish fresh to order and there were over 50 dishes on the menu.
Even today we really love to eat there and I have now also infected my friends with love for Thai food.

I love these fresh herbs, citrus notes – these aromatic dishes, one looks forward throughout the apartment via their scent. Essential for this kitchen are the 4 S: sweet, sour, salty and sharp. For that include Ingredients like kaffir lime leaves, tamarind paste, galangal, lemongrass and fish sauce irreplaceable. Of course, it takes more to a tasty curry to cook, but the ingredients mentioned are actually getting and represented in any court and therefore absolute basics. Therefore: authentic Thai and vegan – that will not do. In Thailand ALWAYS fish sauce is used to add salt. And this has a special flavor that is not easy to replace salt.

When we were last year in November in Thailand we did there two cooking classes and learned how to make a Authentic Tom Kha Kai cooking (the recipe for this can be found on my blog) and what belongs in a traditional curry paste. It is how easy it is amazing but ultimately, if you know what ingredients you use muss.Ich would advise everyone simply times try the Thai cuisine.

Even if you still have no experience with Thai food, because cooking experience do not have to be their case. But you keep on the ingredient list. If you weglasst something you can taste it now. Try it out my Tom Kha Kai from – that's totally easy and convinces you determined. The right ingredients for their place in the Asia-store.
Finally: What are three things your kitchen equipment you could never do without and why?

Phew that's difficult because there's so much that I often use. Most important is probably a good knife. I do not need special cutting tools or fancy kitchen gadgets, as long as my knife is sharp and needs to have a certain size. Small knife I can not use.
I'm assuming that an oven and a stove are obsolete and decide as a second for my mortar. I can not understand that there are still people who buy already finished ground spices and use. This tastes but after nothing? I buy my spices always whole and grind always fresh, the essential oils give only just the right kick.
For me as a food blogger, of course, particularly important: Notepad. If it I once hectic things are a bit in the kitchen always ready to jot down a note pad to the ingredients used and quantities and my readers to show the recipe behind.
Thank you Tina for the nice conversation!
You have time or short? When you should take a look a latest from Tina's creations: This Oriental Polenta with carrots, dates and pine nuts Although vegan, but has nevertheless convinces as a meat lover myself!
If you want other hand, never have baked sourdough bread and know how that works, then you should definitely this detailed blog post to read!
That was unfortunately again with today's Food Talk. But next week it goes on and I'm looking forward to seeing you and another guest.
See you soon
Elena