August 12th, 2016
Gluten-free sponge cake with white rum
Gluten free? Just today there is a cake that can eat people intolerant to gluten without any problems – and all others of course! One thing is already tell now: It's probably one of the fluffigsten cake I have ever tasted!
Actually, the theme gluten intolerance does not really big role in my life. Neither I nor anyone in my immediate relatives or friends must pay attention to whether in a court contain gluten or not.
Cooking without gluten? Of course no problem. But a cake ?? Without flour? No idea how that is and whether the taste at all! When I of Karens Wanderbuchaktion learned in the book "Happy Baking Gluten-Free" was sent on its way, I was tempted but then the gluten-free baking try it.
The recipe selection in the book is great, so that everyone will find something for his taste. I chose this sponge cake, the quite simple seemed the execution and had something extraordinary by the rum.
When reading the ingredient list I'm on for the first time "Kartoffelmehl" encountered. Since I had to on this and all the ingredients at home, I wanted to start immediately with the baking, I inquired whether we can replace that.
The result: potato flour can be easily replaced by corn starch, which I did.
(In the original recipe 175g corn starch and potato flour 175g be used)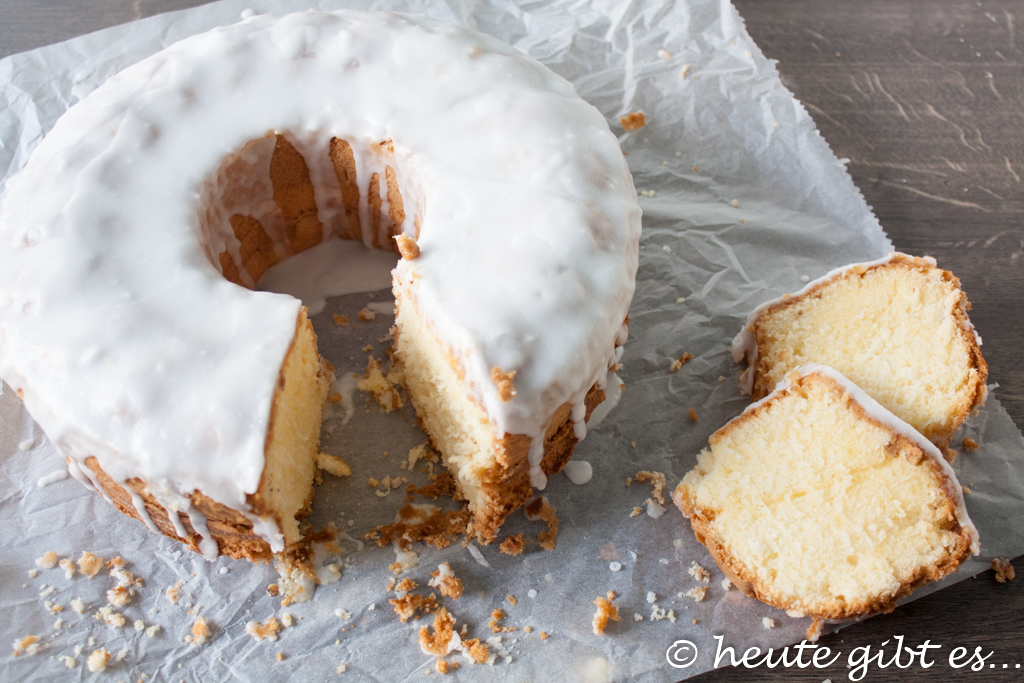 recipe
Gluten-free sponge cake with rum
Total time
1h
Gluten-free sponge cake with white rum
Ingredients

: (For 26er wreath form)
80g whole peeled almonds (90g or unpeeled)
350g butter, softened
250g Zucker
1 tbsp vanilla sugar
2 Prisen Salz
6 eggs
350g of corn starch
12g baking powder
60ml white rum
Butter and corn starch to form
for the casting:
240g icing sugar
6-8 EL white rum
Preparation

:
If you have unshelled almonds, they give in boiling water so that you can easily remove the shell.
Place the unpeeled almonds in a nonstick frying pan, lightly fry stirring, remove to cool and then chop finely.
Preheat the oven to 175 ° C (fan) Preheat.
Whisk the butter with the sugar, vanilla sugar and salt until fluffy with an electric mixer or with a food processor.
The eggs then add one by one and each mix well.
Mix the starch with the baking powder, to seven to butter mixture and mix well.
Finally, stir in the almonds and rum and place the dough into the mold.
Bake the cake for 40-45 minutes in the oven. Checks with a straw or toothpick if the cake is already baked in the interior, otherwise you adjust the time on your oven individually.
Then take the cake from the oven, allow to cool briefly to pounce on a wire rack and let cool completely.
For the frosting Sift powdered sugar, spoon by spoon add the rum and stir the glaze. These – once it has the right consistency, spread over the cake and let it cure.
The cake is nice loose, juicy and tastes really good. If someone had said that this is baked without flour me that I had previously thought to be hardly believed it. This is baked with security again, whether guests are with or without gluten intolerance to visit.
If you are allowed to drink any alcohol or even children are, you can rum certainly by another liquid such as lemon juice replace 😉
Many thanks to the love Karen that I could join this Wanderbuch action and thus was able to put my unauthorized prejudices!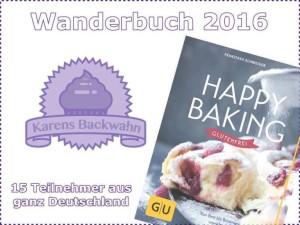 Have fun baking – you dare!
Elena