March 5th, 2017
potato gnocchi – and the new blog category for Italian cuisine
Welcome to my new blog Category: "Italian Kitchen – Learn all about. , ," !
What is at stake here?
It's simple: Again and again I am asked by friends and acquaintances to master recipes of Italian cuisine. Many ask themselves the production of pasta and pizza – to name just two examples – extremely complicated, although this is usually not the case. Risotto make yourself? No, I'd rather go to my favorite Italian restaurant! That this is not necessary and you can even as a beginner cook perfect meals and baking, that's what I want to show you with this category.
Every month I dedicate myself to another Italian classics, And I you the right on the first Sunday basic recipe will show and you tell first tips and tricks. On other Sundays, there is then either Variations of the classic or other types of processing, depending on the topic.
The special: You have the opportunity to me to 20th of the month to make all questions about the topic of the month. To do this you use the most in the comments below each post, send me a E-mail or a message by Facebook.
On the last day of the month there will then be a FAQ entry about where I will answer all the questions as fully as possible.
What do you think about the idea?
I am happy about opinions, suggestions and criticism!
Only as reassurance: The other days are not affected by this action, so it will not only give prescriptions to an Italian classic. Sunday is so here in the future our "Italian Sunday" 😉
But let us start immediately with the first month Topic:
"Italian Kitchen – learn all about GNOCCHI!"
If ye turn thinks that this classic is not extensively enough in order to fill the following Sunday, then you are mistaken huge! These little dumplings – which incidentally is the meaning of the word "Gnocchi" – there are in all variations, with most of you probably before that court, first to the "potato gnocchi" thinking that are made similar to noodles made from potatoes.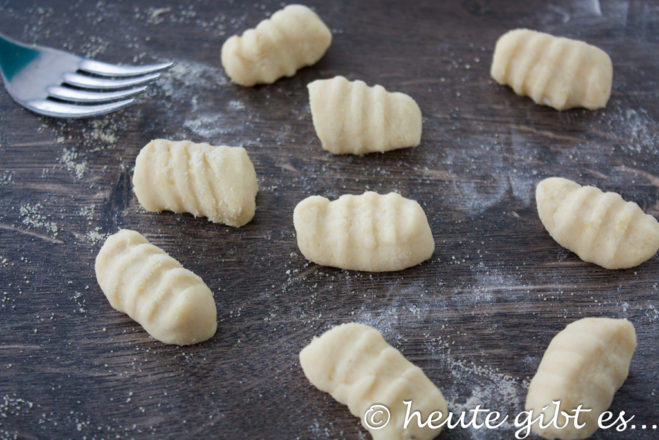 Extreme important – pronunciation
Now, perhaps many of you will think, spinning it as totally? No, because I think it is extremely important to speak the name of a court, especially if it is a classic right.
Mostly we smile at it as an Italian when words like "Bruschetta" or "Milk with coffee"Used now also in the German language often are mispronounced. You can not imagine what I've heard it all by word creations!
Therefore important: Speak the Word "Gnocchi" sent the book off, as an "gnocchi" out. That is correct! It is neither "Gnotschi", still "Gnokki" or "Njotschi", If you think only a kTo, then one speaks of a "Dumpling" (pronounced "Njokko").
The potatoes
When preparing gnocchi choosing the right potato is very important. In general: The more starch has a potato, the softer it is cooking. Consequently, floury potatoes contain the largest and waxy potatoes the lowest starch content.
Since the strength are extremely important for maintaining the shape and consistency of gnocchi, located floury potatoes are best. Theoretically, you can also use predominantly waxy, and I would even an egg to bind to give in this case, for safety.
Depending on the type of potato – and partly according to the season – the starch content varies slightly. Therefore, it may very well be that the amount has to be easily adapted to flour. It is important that the dough is smooth but not sticky.
In my recipe I use in addition to flour still durum wheat semolina, making the gnocchi still have a little more bite. Your case requires no egg, that is, these gnocchi are also suitable for vegans and taste exactly as you know it from your Italian. The preparation is very simple and requires only a few accessories.
What accessories are needed?
Simple: A pot, a knife (or alternatively a sharp spatula) and a fork – that's it!
And what about a gnocchi board? Honestly? The needs in my opinion no man! If you have money left over and you are finer grooves on the gnocchi super important for the aesthetics, then you are welcome to buy you such a board, but really necessary is not. A normal fork does it well!
Have the gnocchi ever have any grooves? I am aware that is partially written off the wells, but these are not just for looks there. The purpose is that here the sauce very well "adhere" remains and thus serves the general taste. So do not give up if it does not work right the first forms, practice makes you know, perfect!
But enough talk, let me show you how easy can prepare their own potato gnocchi.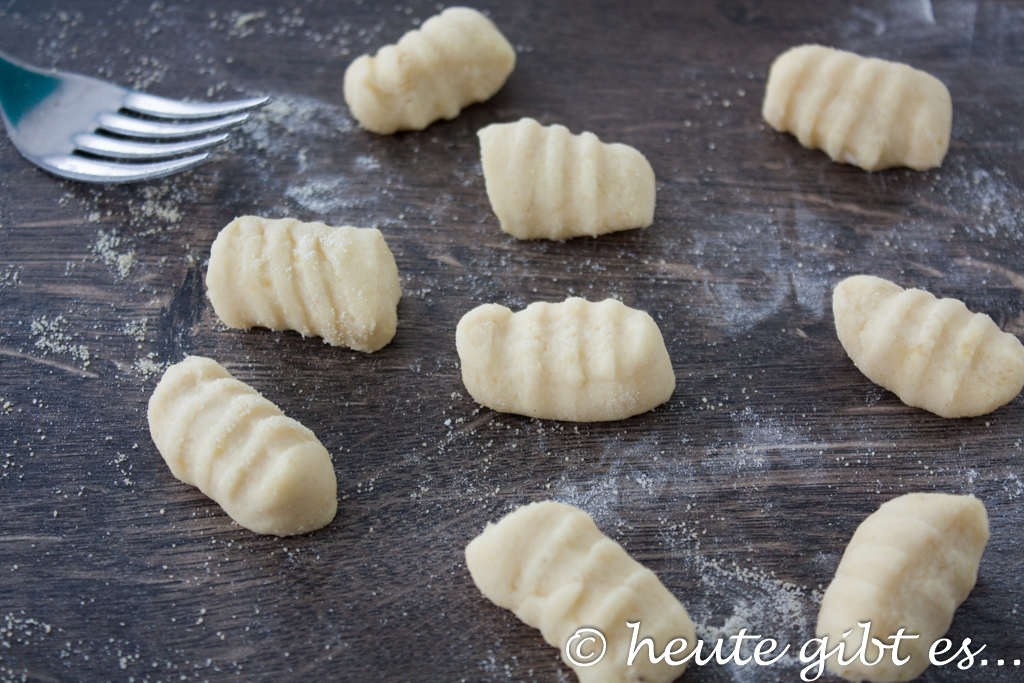 potato gnocchi
Ingredients

(For 4-6 people)
1kg floury potatoes
500g flour
100g Hartweizengrieß
Salt
Preparation

:
Boil the potatoes in a pot with water at all. This can best test their with a fork: Can these good stab to the middle of the potato, they are done.
Now the still hot potato peel, press through a potato ricer and place in a bowl the flour and semolina.
Mix everything with your hands until smooth, season with salt and leave then rest for about 15 minutes. If necessary, i.e. especially if the dough is too sticky, adding more flour.
Important: Knead the dough just until it is compact and smooth. Kneads her him much longer, the gnocchi are too hard during the cooking process.
To form the gnocchi, a piece of dough on a floured surface is formed into an approximately thumb-thick roll and about 1.5 – 2 cm thick pieces cut.
now uses a gnocchi board or a fork to get the typical grooves: For this, enter one of the small pieces of dough on the floured fork and by gently pressing with the thumb moving them from you. By rolling the desired depressions form.
Attention: So you will not dry out the remaining dough, cover this while with a cloth!
The ready-shaped gnocchi puts her at some distance from each other on a lightly floured tea towel, so they do not stick to you.

Wenn ihr soweit seid, die Gnocchi einfach in leicht kochendes Salzwasser geben. Sobald diese an der Wasseroberfläche schwimmen sind sie fertig und können z.B. mit einer Tomatensoße serviert werden.
If one or the other of you now think: "So much effort for a few gnocchi? Then I buy but rather that from the refrigerated section!"I have a few tips for stockpiling for you.
Gnocchi in stock – proper storage
In our household, we are just two people – I now just go out from the norm and not when the extended family to visit 😉 – which is why it often pays to produce larger amounts of gnocchi and then consume them if necessary. Finally, the effort is not substantially greater there and you can save in the future if only for the cooking of the potatoes a bit of time.
The ready-formed, still raw gnocchi, you have it easy spread on a tray, pre-freezing in your freezer for about 20 minutes and then you can freeze them together in a container, without sticking them together. This process will be most of you know of berries and works here as well!
If you then in the next few weeks you feel like gnocchi again, you can pick it out quickly from the freezer and directly – yes exactly from frozen! – enter into the boiling salted water. I could not believe it, but it works without loss of quality!
Well, now you have got the taste? If you have never before dared you make gnocchi itself, then there is now no more excuses 😉
Otherwise, stay tuned to the following Sunday on this issue and do not forget, just ask any questions!
See you soon
Elena