May 29th, 2015
Pomegranate couscous – a quick and simple dish
For hours standing in the kitchen to cook an elaborate dish. For many, a nightmare for me, more of a pleasure. At least this is so, since we have completely renovated the kitchen and dining area after a major renovation action. Having over 5 years in a mini-kitchen with just 1 meter worktop – or rather two 50cm – had to cook, I have since the end of December my absolute dream kitchen: open and with MUCH place! If I had to name my favorite place in our house, then it would certainly become the kitchen. The planning was a lot of fun – on occasion I can explain this in more detail if desired – and with the result, I am totally satisfied.
Nevertheless, there are days when you barely have time or do not want to ever be in the kitchen. The perfect solution? Very clear: pasta. but since I had my entire childhood on pasta every day in different variations, I have some time looking for an alternative. And I found it: Couscous! If you've never cooked with it should do so necessarily. It's simple and it's fast – even usually faster than a pasta dish.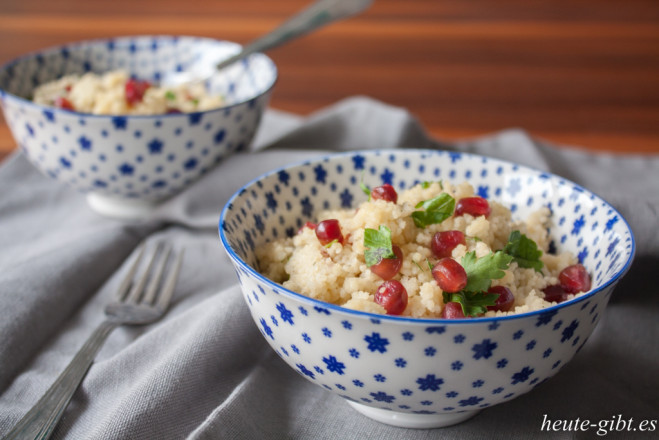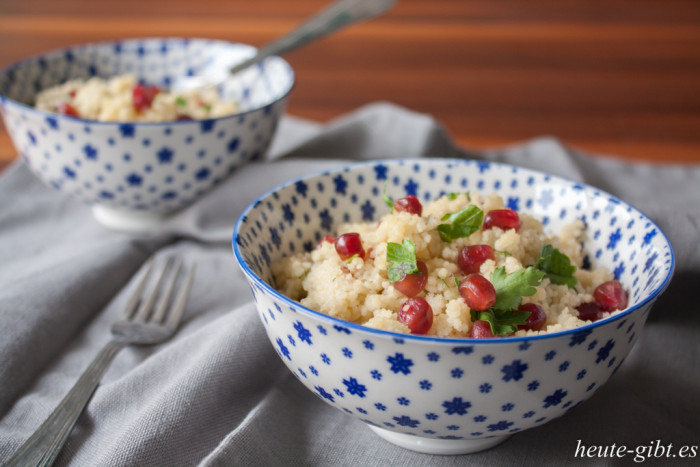 Today's court, for example, – from the magazine deli – cooked ready in just 15 minutes tastes warm, but the next day cold.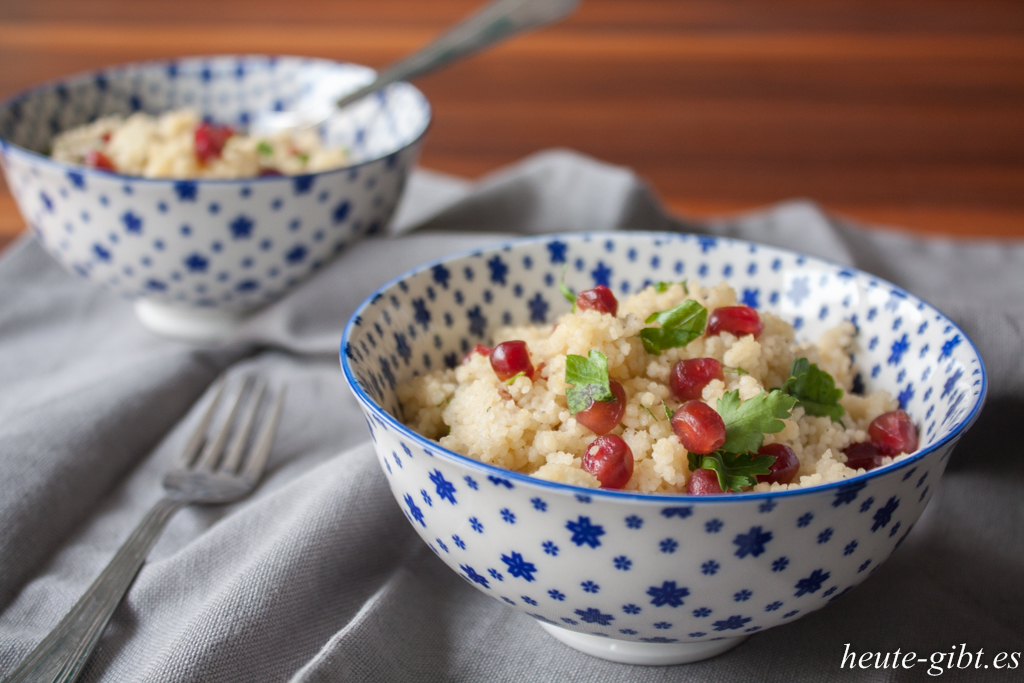 Pomegranate couscous
Ingredients

: (For 4 servings)
300g Couscous
2 cinnamon sticks
20g butter, softened
1 pomegranate
4 tbsp chopped parsley
Salt and pepper
Preparation

:
In a saucepan, boil 600ml salted water, add the couscous and the cinnamon sticks, remove from heat and allow three minutes to swell covered.
Season with pepper, add pomegranate seeds, butter and chopped parsley. Then with a fork, mix everything well and loosen the couscous.
And, the not sound super easy to? It is! I like to do more of it and then take it in a lunch box to work. Not infrequently, the colleagues are envious 🙂
What about with you? Do you use also like couscous? Maybe you have another alternative to pasta for me? Then likes to write me a comment, I am pleased with suggestions!
Greetings
Elena