September 15th, 2013
Toasted goats cheese on apple – a salad with passion fruit dressing
Für all diejenigen unter euch, die es nicht wahrhaben wollen: Es ist Herbst. Naja, zumindest der meteorologische. Dies bestätigt sich leider spätestens nach einem Blick aus dem Fenster. Alles grau und nass.
Während anderswo schon ein warmes Süpplein gekocht wird, konnte mir das schlechte Wetter den Appetit auf einen sommerlichen Salat noch nicht verderben.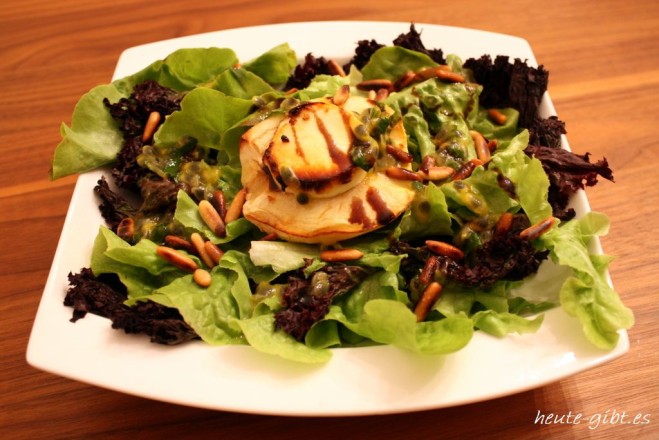 Schnell in den Kühlschrank geschaut und festgestellt, dass sich da was machen lässt: Ziegenkäse und Maracujas – klingt doch schon mal nach Sommer 🙂
Einen leckeren Apfel und eine handvoll Pinienkerne habe ich auch noch entdeckt, nun stand einem erfrischenden Salat nichts mehr im Wege.
Hier nun also das Ergebnis meiner Improvisation: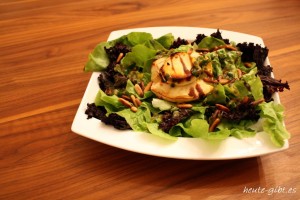 recipe
Toasted goats cheese on apple
Total time
25min
Toasted goats cheese on apple
Ingredients

: (For 2 people)
2 Scheiben Ziegenkäse, ca. 1cm dick geschnitten

1 großer Apfel

1 TL Honig

1 EL Pinienkerne

2 Hand voll gemischter Salat

a little butter to grease the dish
For the dressing:
2 Maracujas

2 EL Olivenöl

1 TL weißer Balsamico

10 Blätter Minze

Salt and pepper
Preparation

:
Den Backofen auf 200°C vorheizen.

Apfel schälen, in zwei Hälften schneiden und das Kerngehäuse entfernen. Diese kommen nun auf eine gefettete Form.

Je eine Scheibe Ziegenkäse auf die Apfelhälften legen und für 15 Minuten im Backofen backen. Anschließend auf jeden Ziegenkäse ½ TL Honig geben und für weitere 5 Minuten in den Ofen stellen, bis der Käse eine goldgelbe Farbe annimmt.

Währenddessen die Pinienkerne ohne Fett in einer Pfanne rösten und beiseite legen.

Den Salat waschen, trockenschleudern, zurechtzupfen und auf zwei Teller verteilen.

Für das Dressing die Maracujas halbieren, das Fruchtfleisch mit einem Teelöffel herauslösen und in eine Schüssel geben. Die geschnittene Minze zusammen mit den anderen Dressingzutaten dazugeben. Alles gut verrühren, mit Salz und Pfeffer abschmecken.

Sobald der Ziegenkäse fertig ist, je eine Apfelhälfte auf die Teller geben, Pinienkerne darauf verteilen und das Dressing gleichmäßig über den Salat verteilen. Nach Wunsch mit etwas Crema di Balsamico dekorieren.
Solange man nur in den Teller schaut und nicht aus dem Fenster, könnte man das triste Wetter fast vergessen und den Sommer so noch ein wenig festhalten.
Ich werde mir diesen Salat auf jeden Fall mal wieder gönnen, mit etwas Glück dann im Garten bei Sonnenschein 🙂
Greetings
Elena