September 15th, 2013
Toasted goats cheese on apple – a salad with passion fruit dressing
For those of you who do not want to admit it: It's autumn. Well, at least the meteorological. This unfortunately confirmed at the latest after looking out the window. Everything is gray and wet.
While elsewhere already a warm Süpplein is cooked, was able to get the bad weather the appetite for a summery salad not spoil.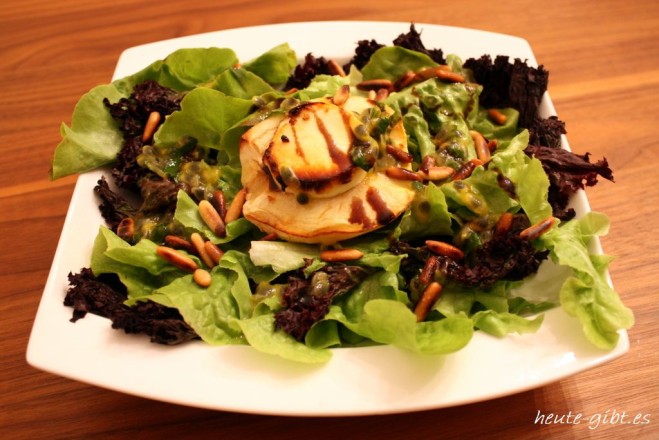 Quickly looked in the refrigerator and found that since what we can do: goat cheese and passionfruit – sounds ever after summer 🙂
A delicious apple and a handful of pine nuts, I also discovered was now a refreshing salad nothing in the way.
So here are the result of my improvisation: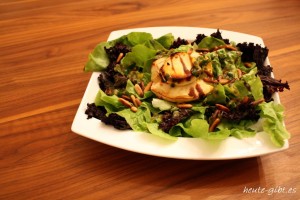 recipe
Toasted goats cheese on apple
Total time
25min
Toasted goats cheese on apple
Ingredients

: (For 2 people)
Cut 2 slices of goat cheese about 1cm thick
1 large apple
1 teaspoon honey
1 tablespoon pine nuts
2 handfuls of mixed salad
a little butter to grease the dish
For the dressing:
2 Passion
2 EL Olivenöl
1 tsp white balsamic
10 mint leaves
Salt and pepper
Preparation

:
Preheat the oven to 200 ° C.
Peel apples, cut in half and remove the core. These come on a greased form.
Laying each a slice of goat cheese on the apple halves and bake for 15 minutes in the oven. Then type in any goat cheese ½ teaspoon honey and ask for another 5 minutes in the oven until the cheese takes on a golden color.
Meanwhile, toast the pine nuts in a pan without fat and set aside.
Wash the lettuce, spin dry, rightly pluck and spread on two plates.
For the dressing, the passion fruit in half, dissolve out the pulp with a teaspoon and place in a bowl. The cut mint along with the other dressing ingredients add. Mix well, season with salt and pepper.
Once the goat cheese is ready to give one each apple half on the plates, spread pine nuts on it and distribute the dressing evenly over the salad. Decorate as desired with some Crema di Balsamico.
As long as you look only at the plate and not out of the window, you could almost forget the dreary weather and the summer so a little hold.
I will allow myself this salad definitely again, with a little luck then in the garden in the sunshine 🙂
Greetings
Elena