May 1st, 2015
Hähnchensaltimbocca with lemon potatoes – by Christian Henze
Today is Italian here. Again? Well, in my opinion, the Italian cuisine is still relatively rare represented here and the opinions of some my followers on Facebook Judging, it can often be something from my country here. Basics, classic and typical recipes that are not well known, but just as delicious. To satisfy everyone, there should be a good change and I'm already thinking on how this can be implemented in time.
Today there is a modified form of an Italian classic, the Saltimbocca, which as much as "Spring in the mouth" means. The recipe comes from the great book "A Tavola! The real Cucina Italiana for the home" Christian HenzeI have taken for you a closer look. (Until tonight (May 1, 2015) you can have this in my review Linked win).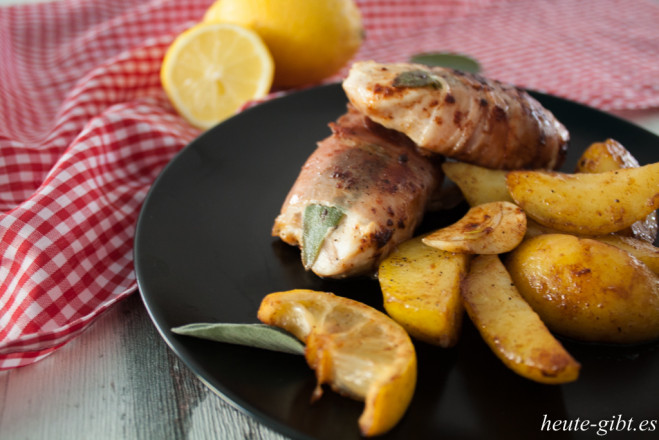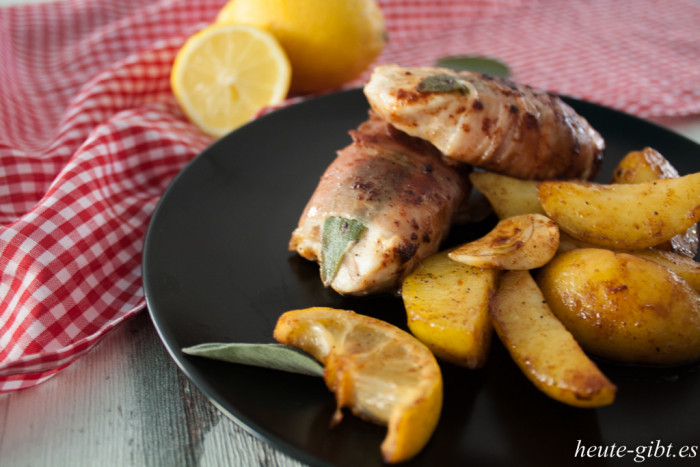 The classic saltimbocca a la romana are made of veal cutlets that are fried topped with a slice of prosciutto and a sage leaf, while refined with a little white wine. In this version of chicken meat is used and does not use any alcohol. this Hähnchensaltimbocca be served with lemon potatoes, thanks to the citrus note perfectly with this Italian dish.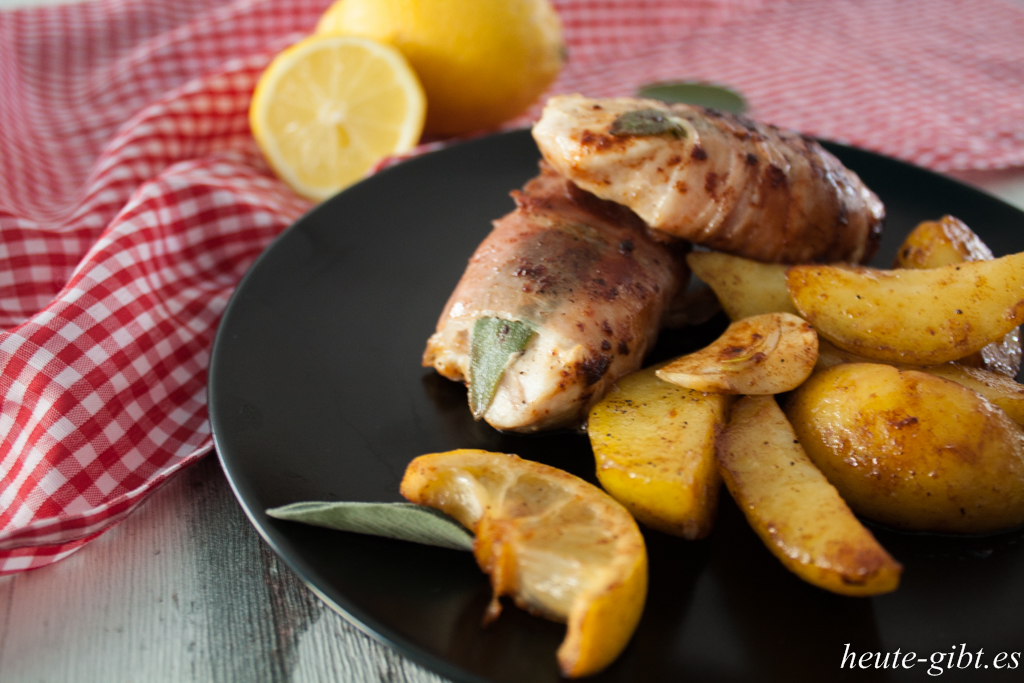 recipe
Hähnchensaltimbocca with lemon potatoes
Total time
45min
Hähnchensaltimbocca with lemon potatoes
Ingredients

: (For 4 people)
For the saltimbocca:
2 large or 4 small chicken breasts (approx 600g)
16 slices Parma
16 sage leaves
3 EL Butter (ca. 50 g)
Salt and pepper
For the lemon potatoes:
700g small, waxy potatoes
1 EL Butter
5 garlic cloves
2.1 Bio-Zitrone
Salt and pepper
Preparation

:
Cook the potatoes unpeeled in salted water until tender, then drain and let cool slightly.
Meanwhile, the chicken breast fillet cut in 16 approximately 2 cm thick slices.
On each slice place a sage leaf and wrap with a slice of prosciutto, so that the sheet slightly out looking.
The saltimbocca then season with salt and pepper. With the salt bypass sparingly because of the ham.
Heat the butter over medium heat in a nonstick frying pan and fry the meat parcels in it.
keep the roasted meat in a warming drawer or in a preheated oven at about 80 ° C warm. For this, the meat put on a plate or the like, since the pan with the Fleischsud is then needed.
Peel the potatoes, cut into corners and fry with the butter in the pan you used previously.
The peeled, halved garlic cloves and sliced ​​lemon add and mix everything well.
Season the potatoes with salt and pepper.
Before serving the Hähnchensaltimbocca to the potatoes to the pan and toss everything well again.
This modified form of the classic from Rome tastes just as delicious as the original! It is the combination with the lemon potatoes is really awesome and you miss nothing. Try it out and let me know how you tasted this dish. I'm curious 🙂
Greetings and a nice May 1st
Elena