December 1st, 2013
Cynthia Barcomi's burger buns – and a small giveaway
Have a nice first Advent everyone!
Today we go to America, in the world of burgers. I love burgers, but rarely do themselves which home. The few times I have the buns – I confess the – always bought ready-made. Although they were never perfect, I could not believe it even bake me what. Bread and buns are still new territory for me.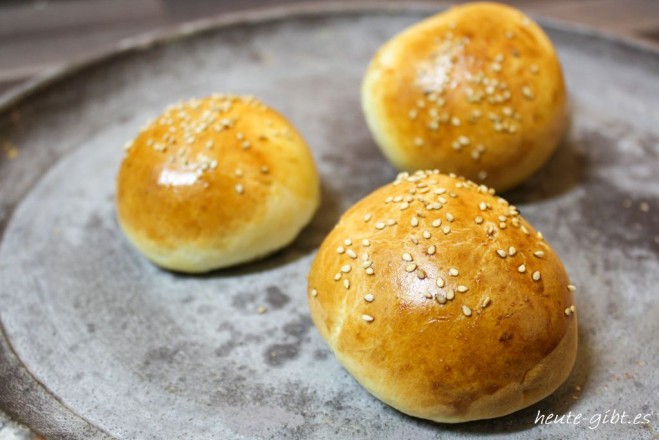 But in one of my favorite books I have a recipe for hamburger buns – or burger buns as they are properly called – discovered and had to try it absolutely. The recipe comes from the book finally "Let's Bake" Cynthia Barcomi that I only recently here on my blog 've reviewed. There you can read about how much I love this book – and I tell an already ahead: At the end of this paper, this book will again be the focus 😉 So far me every recipe from Cynthia Barcomi is super successful, which is why I am addressing the matter this time of good cheer: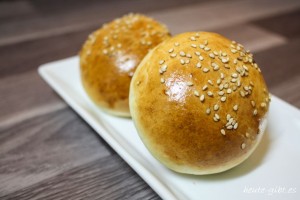 recipe
Total time
1h 15min
Burger Buns
Ingredients

: (For about 12 small rolls)
250ml Milch
125ml Wasser
60g Butter
2 eggs
650g Mehl
7g Trockenhefe
2 tablespoons sugar
1 ½ TL Salz
Sesame to sprinkle
Preparation

:
Milk, water and butter in a pot so long heat until the butter is completely melted. Allow to cool to room temperature and beat in one egg with a fork.
Flour, mix yeast, sugar and salt in a mixing bowl, add the butter mixture from step 1 and knead for three minutes with the dough hook of the hand mixer.
Important: Do not use additional flour if the dough is too sticky.
The dough then on a lightly floured surface knead for several minutes by hand, this then still remains quite soft.
Each 80g heavy balls shapes, spread on a lined baking tray and flatten slightly. The rolls with cover with a tea towel and let rest for 40 minutes.
Preheat the oven to 200 ° C.
Whisk briefly before baking the egg with 1 teaspoon water and using a brush on the buns.
Sprinkle with sesame seeds and for 10-12 minutes until golden yellow bake in the oven.
The freshly baked buns after we have recently Angrillen the trimmed sides occupied by individual taste.
Part of the rolls we have frozen. These are now already eaten and tasted great despite the freezing!
As you can see once again a great and Foolproof recipe from Cynthia. Your book "Let's Bake" is full of it. I am thrilled and would like one of you so give pleasure: Among all the readers who leave a comment under this post I will give away a copy of this book.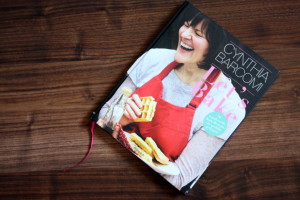 (At this point I would like to thank the Mosaic Publishing)
What do you have to participate in the lottery?
Just leave me a comment under this post and answer the following questions: What is your favorite burger? What ingredients are indispensable for you?
You should be at least 18 years old, live in Germany and specify a valid e-mail address in the field provided, on which I can reach you. The e-mail address will not be displayed publicly and used by me exclusively for the purpose of notification of winning.
You can participate until Friday, 6/12/2013 at 23:59 clock.
The winner has one week time to report from the time my notice with me by e-mail. If this is not the case, the book is up for grabs again.
The decision is of course excluded.
About Likes on Facebook I would be happy of course, but this is not a requirement for participation.
Now I will turn you all the best of luck and I wish you good luck!
All the best
Elena
Random.org has chosen: Congratulations Birgit!
Happy reading and baking 🙂