June 7th, 2020
Hearty cake with zucchini and olives – "savoury cake" as perfect leftovers
Do you know the situation of standing in front of the fridge and not knowing what to cook? If you do not always want to fall back on quick pasta dishes or rice pans at these moments, I have a perfect alternative for you today: Torta salata.
Best of all, you probably have the basic ingredients for this hearty cake at home and the other ingredients can be varied depending on the contents of the refrigerator. The ideal leftover food if you only have a few foods in the fridge or need to empty them before you go on vacation, for example.
Perfect leftover food: quick, hearty cake
The Torta salata (in German: salty cake) is a hearty cake that you can even prepare without a mixer. All you need for the utensils is a bowl, a fork and a springform pan – that's it. I also find it very practical that this can easily vary according to personal taste or existing food.
The spicy cake from Italy can be served both as a starter and as an independent course (with a small side salad, if you like). This is also ideal for picnics, parties and summer festivals, because you don't necessarily need cutlery to eat. Personally, I like to prepare this in a small springform pan and that's enough for us for several days. This cake can be kept well sealed for up to three days and can therefore be baked in advance.
My current version contains zucchini and olives as the main ingredients. Since both foods can also be eaten raw, the dough is already in the springform pan after ten minutes and, in the case of a small mold, only takes 35 minutes to bake. Isn't that great ?! 🙂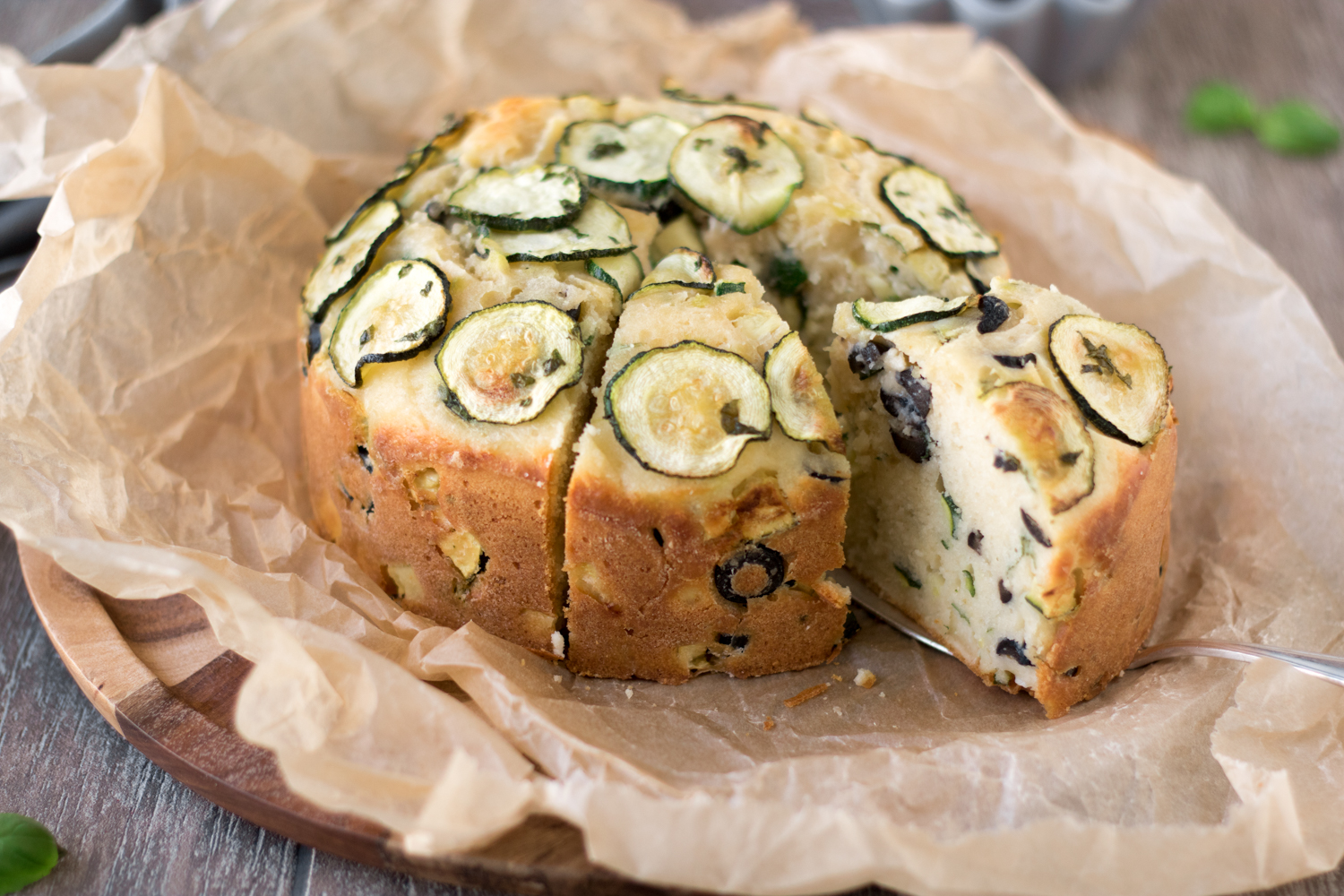 recipe
Hearty cake with zucchini and olives
Total time
45min
Hearty cake with zucchini and olives
Ingredients

: (for 20 springform pan)
300g Mehl
9g baking powder
30g grated parmesan
½ TL Salz
3 eggs
100ml tasteless oil e.g. Rapeseed oil
100ml milk
250g Zucchini
100g black olives (pitted)
about 8g fresh basil
some flour and butter to grease the mold
1 tbs. olive oil
Preparation

:
At the beginning, preheat the oven to 180 ° C (top and bottom heat).
Sift flour and baking powder into a large bowl, add parmesan and salt and mix everything well.
Now form a hollow in the middle, pour in the eggs, rapeseed oil and milk and mix with a fork to a compact dough.
Wash and dry the zucchini. Cut one part (about 70g) into thin slices and the rest into small cubes.
Cut the olives into slices and the basil into thin strips. Add zucchini cubes, olive slices and basil (set aside a bit) to the batter and mix everything together well.
Then pour the dough into a greased and floured springform pan and place the zucchini slices on the cake dough in a spiral from the outside in, slightly overlapping.
Finally, brush the olive oil onto the zucchini, spread the rest of the basil on top and bake the cake in the preheated oven for 35 minutes. Use the stick sample to check whether it is ready or leave it in the oven for a few minutes longer.
Tips:
For the perfect consistency, let the cake cool for at least 15 minutes before serving.
You can store the zucchini cake in an airtight container at room temperature for up to three days.
Swap the ingredients as you like. Don't you like olives? No problem, how about seared peppers or diced bacon? Let off steam!
Are you also a fan of recent cake? Then the torta salata is just right for you! What ingredients would you like to use for this?
Enjoy your meal Elena