January 15th, 2017
Honey Garlic Salmon – good intention: often times fish!
Before, I have always thought that cooking fish is a rocket science. That since quasi required training to create perfect dishes. And I oriented myself to highly sophisticated creations of professionals – no wonder that nothing could be as a cook beginners.
But now I know that often the simplest dishes are the tastiest and you can prepare a delicious fish dish without difficulty even with little cooking experience. My gelingsicheren Salmon-Couscous-Sachets for example, which were among my first fish, I'm still very happy and recommend they continue again and again. Especially if someone claims that he has never dared to fish.
A pro I have not to this day and unfortunately there are with us still far too rare fish. This I take as a resolution this year in any case: Eat more fish and also prepare particular. And I'd like to explore primarily the variety of fish for me in the kitchen, because due to my background, I know myself, after all of the many types of fish.
Nevertheless, I have it now again a salmon dish for you. Very easy to prepare, ready in 20 minutes or less and still very tasty.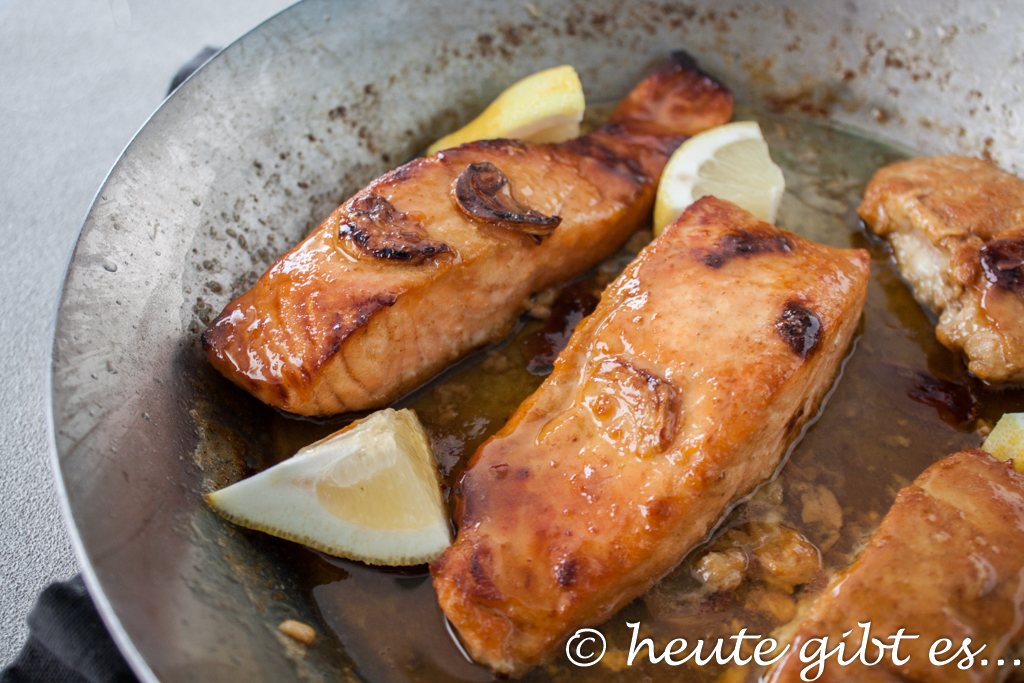 Honey Garlic Salmon
Ingredients

: (For 4 people)
45g Butter
4 tablespoons of honey
Juice of half a lemon
2 garlic clove
4 Lachsfilets to 125g
sea-salt
Lemon slices for serving
Preparation

:
Oven (at 180 ° C Top / Bottom heat – Preheat if available with grill).
Put the butter in a oven proof skillet and melt over medium heat, stirring for about 3 minutes until it foams slightly and eventually turn brown gold.
Now, honey, lemon juice and small diced garlic, mix everything well and simmer for about 1 minute, so that the garlic smell is quite noticeable.
Then remove half the liquid and set aside for later.
Add the salmon fillets to the butter and fry for 4 minutes on one side. If your fillets still have a skin, the skin should be down.
The fillets turn and finish cooking with the pan for 6 minutes in the oven. For example, if you should have any oven proof pan, use a baking dish.
salt lightly finally the fish, with the liquid (see step 4) Pour and serve with lemon wedges.
Sounds not so complicated, right? Is it not! The most sensitive issue is probably the browning the butter. Since you have to just stand by and do not let them out of sight, then it works too!
I'm curious, how do you like this recipe. What about you out with the theme of fish? Is there this many times in your kitchen and you have tips for us?
Let it taste you
Elena