September 17th, 2013
Indian Dal
Today it goes out of Europe and into the distant India. The Indian cuisine is pure taste of my favorites because I like for there typical spices such as curry, turmeric and chilli. To my knowledge there is in our near unfortunately no really good Indian, which is why I then yet I eat quite rare Indian.
This was also the reason why I dare sometime to cook something typical of the country. For that I had at that time my first spice rack to increase as turmeric or cumin were not represented there. Yes there are no typical spices of Mediterranean cuisine. Even with coconut milk I had never really what to do. Since it has the same but worked well the first time and both my husband and when I tasted it, I cook since then every now and again something Indian.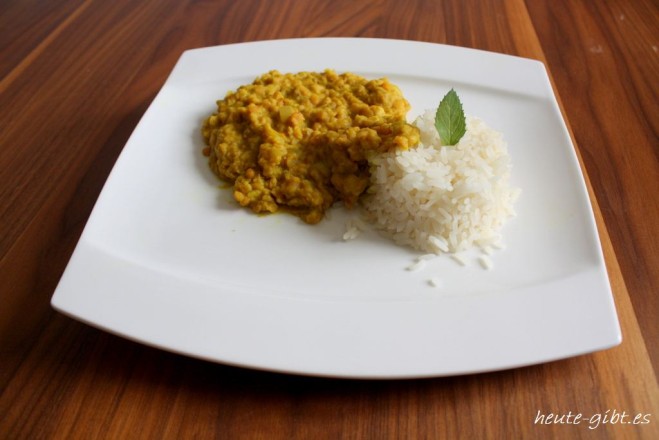 Today it was time again. I chose Dal, which as in India actually "Poor people's food" true, but still tastes really delicious. You can eat it with rice or naan bread. Since I have not dared to bake to the bread, I always serve it with rice.
The following recipe I've cooked several ways: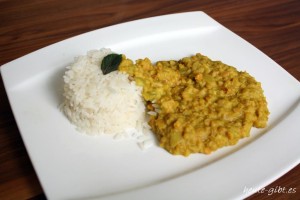 recipe
Total time
2h 20min
Indian Dal
Ingredients

: (For 4 people)
250g belch Linsen
3 EL Öl
1 EU Turmeric
1 tablespoon garam masala (Indian spice mixture)
1 EL Kreuzkümmel
1 TL curry
4 small dried chili peppers
1 large onion, diced
1 Dose Kokosmilch (400ml)
3 tablespoons water
2 cloves of garlic
optional etwas Ingwer
340g Reis
Salt
Preparation

:
The lentils in a bowl, cover with water and soak for 2 hours.
Heat the oil in a pan and fry the spices

therein

sauté while stirring.
Add the onion and fry until soft.
Now enter the lenses along with about 200ml coconut milk and 3 tablespoons of water to the pan and stir briefly.
Press in the garlic and if desired also stir in the chopped ginger.
Now let simmer for about 15-20 minutes at low heat the whole. Here, stirring occasionally, the rest of the coconut milk and if necessary – it should have a smooth puree – some water to enter.
Meanwhile, cook the rice according to package directions.
The lenses with salt to taste and serve with the rice.
Unfortunately, Indian courts have in my opinion only one drawback: you see visually not very appealing. That was for me today also a great challenge in photos: How can I get that it looks delicious home for the people? Well, I've given me really hard and I hope that it at least looks somewhat appetizing for you – or you me anyway, believe that it tastes good 🙂
In this sense: Rasawath aharak
Elena