July 23rd, 2017
lemon salad – summery lemon salad
Heute kommt wieder eine meiner Lieblingszutaten zum Einsatz: Zitronen! Die meisten von euch werden diese Zitrusfrucht wahrscheinlich für die Zubereitung von Nachtischen und Salatdressings benutzen. Vielleicht isst der eine oder andere unter euch diese Frucht – genauso wie ich – zwischendurch auch mal pur. Etwas komisch war für mich am Anfang die Kombi "Schnitzel und Zitrone", denn in Italien wird die "Cotoletta" – die italienische Variante des Schnitzels – nie damit kombiniert. Aber ich habe mich sehr schnell an diese Kombi gewöhnt und esse das nun auch immer so.
Why do I tell you this little story with the Schnitzel? Simply because I assume that many of you do not know the recipe today, and some will find it suspect with certainty. I present you today a lemon salad before, served as home cooking, especially in the southern regions of Italy. The recipe is super simple, quick to prepare and tastes delicious. As always in such a case: Choosing the right products is crucial.
Proper lemon – On the right balance is important!
I go strongly believe that most people make when buying lemons most concerned about whether this is a bio-product or treated with pesticides. However, for this salad, it depends mainly on the right balance of pulp and white bowl. Used for this summery salad lemons with a large white portion, such as Amalfi lemons. This citrus fruit from the Amalfi Coast are larger than the standard variety and have more white bowl, but is not bitter when compared to otherwise.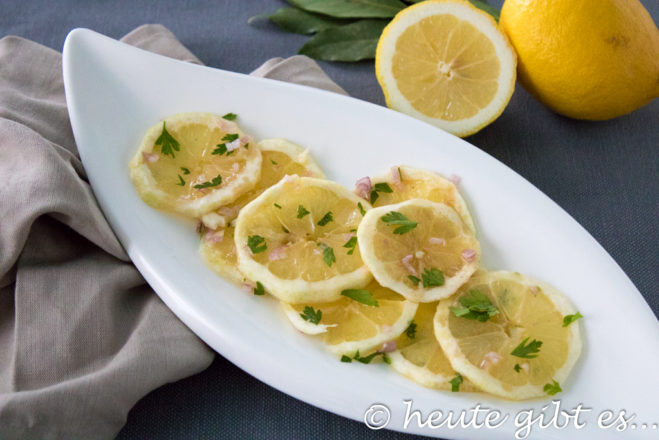 We have these lemons for example, at the weekly market. Should you find any with you in the city, you can of course also use ordinary lemons. If you then the salad is too acidic due to the higher acidity, you can just mix in some sugar.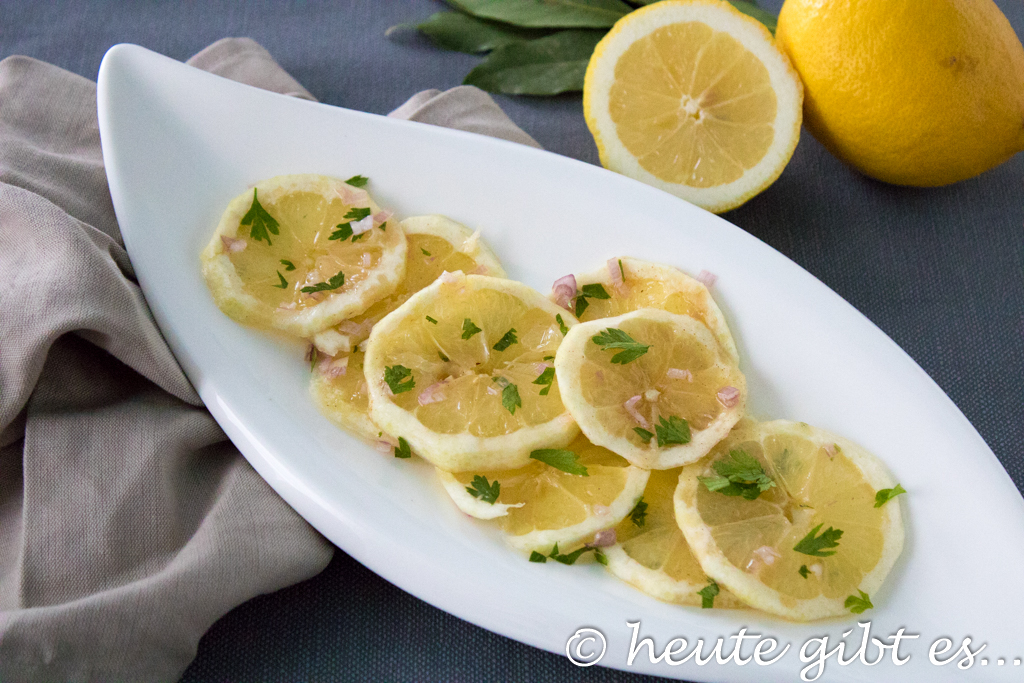 lemon salad
Ingredients

: (2 persons)
2 lemons (e.g. Amalfi lemons)
1/2 shallot
2 EL Olivenöl
1 level teaspoon salt
2 pinches cinnamon
some fresh parsley
Preparation

:.
Remove the yellow portion of the lemon peel and then cut the lemons into thin slices using a potato peeler.
The shallot very finely chop, give and together with the other ingredients of the lemon slices to taste the salad.
infuse the lemon salad for about 20 minutes and then enjoy.
Whether as a barbecue side dish, a steak or if you just have just fancy a delicious, refreshing salad, this insalata di limoni is just right. Personally, I am one of the people who always have a couple of lemons in the fridge. So, if you even do not know what you should do with a new acidic fruits, then this dish is perhaps something for you!
Enjoy your meal!
See you soon
Elena