July 9th, 2017
Marinda tomato salad – quick Italian tomato salad
If the home is calling, you have to follow no choice but this reputation. Twice I spent in Sicily in the last weeks and am now ready to be able to welcome you to the unplanned break again.
A little late, I would like to introduce you to the July theme for my blog series today therefore: "Italian Kitchen: Lerne alles zum Thema ITALIENISCHE SALTED!".
I am a huge fan of salads and especially in the summer I eat this particularly like. Since it was partly as hot as in Sicily in Germany in recent weeks, I thought I bring some Italian flair into your salad kitchen and show you what we serve in Italy for salad dishes. And I want to show you not only typical classic, but also regional specialties. Two of my favorite salads can be found already on the blog: "Salad of grilled vegetables" (Sicilian salad of grilled vegetables) and "Panzanella crisp" (Crispy bread salad).
With today's salad I want to prove to you once again, the simple dishes are often the tastiest – provided you use good products! Today's protagonist is the Marinda tomato.
Aromatic tomato and the ideal variety
In the summer months can be found at street markets a wide selection of tomatoes. Especially with this vegetable, it is in my opinion very important to buy this during the corresponding season. Who needs red tomatoes that look juicy but to taste it? It's just really a huge difference when they are ripened in the sun!
Depending on what you did with the tomatoes before, you should pay attention to the correct type, as not every tomato for everything is appropriate.
Tomatoes, variety Marinda are ideal for this simple tomato salad, because they not only look great, but taste very aromatic. Due to the solid flesh and the fixed shell, it is important here to cut these tomatoes not into large pieces, but in fine disc.
Examined in the market of fixed specimens and buys a mixed bag. If it Marinda tomatoes really are (from time to time are they are as "Merinda" titled) can buy it without hesitation and dark green fruits, as they also taste very good. The different colors are then not only look good, but also provide a greater variety of flavors on the tongue!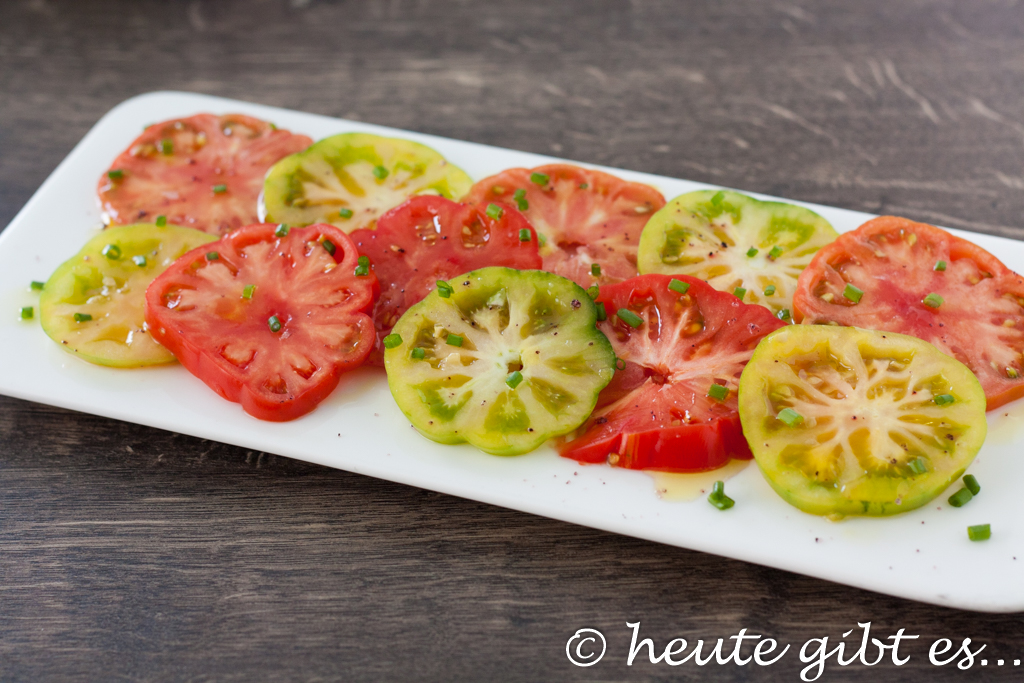 Marinda tomato salad
Ingredients

: (2 persons)
4 Tomatoes (Sorte MarindaHaiti)
olive oil
Fleur de sel or sea salt flakes
White balsamic vinegar (optional)
chives
Preparation

:
Wash the tomatoes, cleaning, cut into thin slices and spread evenly and easily overlaps on a plate or a plate.
According to personal taste olive oil, salt and if spread over the tomato slices desired vinegar.
Cut the chives into thin rings, sprinkle over the tomatoes and serve with some bread.
The information of the ingredients are time kept very rough, so you can taste this salad according to your own taste. Some like a little more oil in the salad, however, others use a lot of vinegar, while others leave this most like completely gone. I personally eat this salad with fresh bread, which I can then dunk in oil – but of course is not a must 😉
See you soon
Elena