July 16th, 2017
Classical Rice Salad – classic Italian rice salad
Looking for another classic salad for the July edition of my blog series on Italian cuisine of today's rice salad, I remembered. I ate the last time when I was a child. I remember that I loved this salad and like to eat the remains of two to three days later. Why is it then so eternally no longer was this, I do not know themselves. But the more I am pleased that I have thought and this will now prepare again for sure.
The right rice and its preparation
There is probably nothing worse than a rice salad that is muddy because of improper rice used or it has not been cooked properly. therefore respects the choice of the rice that you choose a variety that you do not easily overcooked, but has also followed a relatively solid consistency. The easiest solution here is to use the parboiled rice.
you can expect about 80g rice that you should cook in enough water per person. One of the biggest mistakes in the preparation of rice is in fact often small amount of cooking water. Used at least five times as much water as rice and give added about 10g of salt per liter of boiling water. After cooking you should put off the rice in no case with cold water in this recipe because it is thereby rather tasteless. Right here is the distribution of the rice in a greater to use this only further shallow bowl and when it is completely cooled.
Free choice of ingredients – Romp allowed!
The great thing about this classic is that it is the perfect dish for hot summer days and you can vary this quite easily, depending on what you have in the fridge. The presented below variant is our personal family recipe that can adapt their depending on your taste and desire. There are no right or wrong here!
Traditionally, most vegetables like corn and peas are used for this salad, which are combined with egg, tuna, a sausage or ham places and mild cheese. Should you in your refrigerator but still find other ingredients that you shall this very gladly add. Delicious taste for example, dried tomatoes and paprika. Only looks at the addition of pickled in oil vegetables that you should reduce the recipe the quantity of olive oil.
so use this recipe as inspiration and raging you out!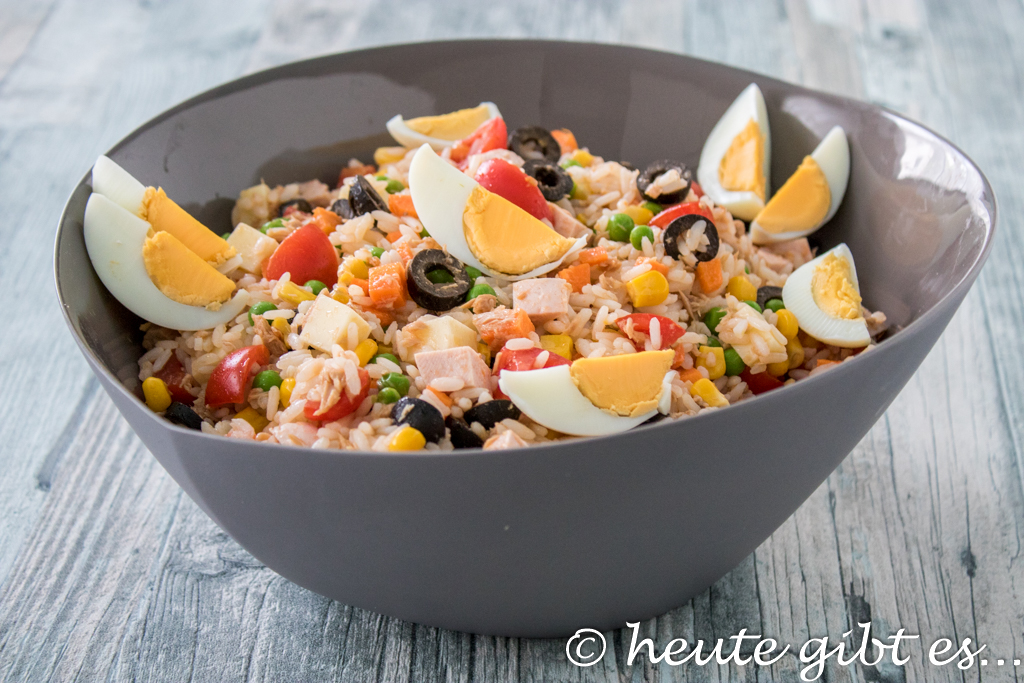 Classical Rice Salad
Ingredients

: (4 people)
320g Reis (parboiled)
200g frozen peas
2 medium carrots
200g Cocktailtomaten
150g hard cheese, e.g. Provolone or Emmental
150g sausage (Lyoner type) or cooked ham
200g Dosenmais
1 can (185g) tuna (in oil)
3 hard boiled eggs
100g black olives
olive oil
Salt
Preparation

:.
In a pot of salted water for the rice to a boil and cook these in it according to package directions. Then distribute the rice in a shallow bowl and only continue to use if it has completely cooled.
In parallel, the peas cooked in another pot of lightly salted water. So they should stay beautiful green they plunge into ice water.
can be prepared the other ingredients while the rice and peas cook:
Peel carrots and dice, eight pieces tomatoes, cut into slices olives, sausage and cheese into cubes, drain the canned corn.
Once all the ingredients are prepared, these – except for the eggs – are mixed in a salad bowl.
Since the tuna already contains oil, you should add just a dash of olive oil and season everything with salt.
Finally cut the eggs in columns, decorative spread over the salad and serve.
This salad tastes when stored in the refrigerator 2-3 days later very well and is for this reason also perfect for a garden party or as an accompaniment to a barbecue. Theoretically, you could without much effort to prepare several versions, so you can be considerate on your vegetarian or vegan guests.
Enjoy your meal!
See you soon
Elena