August 21st, 2015
Salad of grilled vegetables – Sicilian salad to barbecue
Sicily, my second home – I am straight. Specifically, I'm sitting right now at a comfortable temperature on the balcony of my parents with a sea view. Within a few days I felt getting a thousand mosquito bites, and a mild sunburn. We eat here – how can you maybe think you – anything but lowcarb. One would, after all, not that grandma, aunts and other relatives are offended if you tee off Sicilian pastries and other typical delicacies, right?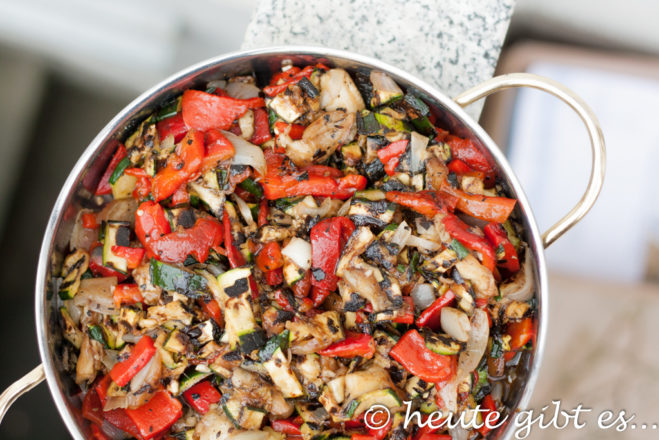 always typical regional dishes as promised here in the future, preferably from Sicily such as Muffuletti or Sicilian donutsAs well as Italian favorites Bolognese Sauce or Panna cotta presented.
Suitable for the sunny weather there is today a recipe with which I associate a lot of beautiful memories: barbecues in the garden with the family, my father, who is for us and at 40 ° C prior to hot charcoal grill, the common Preparing Vegetables with my mom, engravings corpses and laughter with my siblings when I died reefs again with the dirty hands over my face,… .
If weather permits, we grill along with my parents very often and a lot. I may be good meat, but when grilling "mutate" I partly for vegetarians. Besides Bruschetta there are, among other things this delicious salad of grilled vegetables, you simply as a side dish to meat or on toasted slices of bread – as an alternative to classical Tomatenbruschetta – can eat.
The information in the recipe this time are relative to see, because you can depending on how much you have vary somewhat from the respective vegetables there.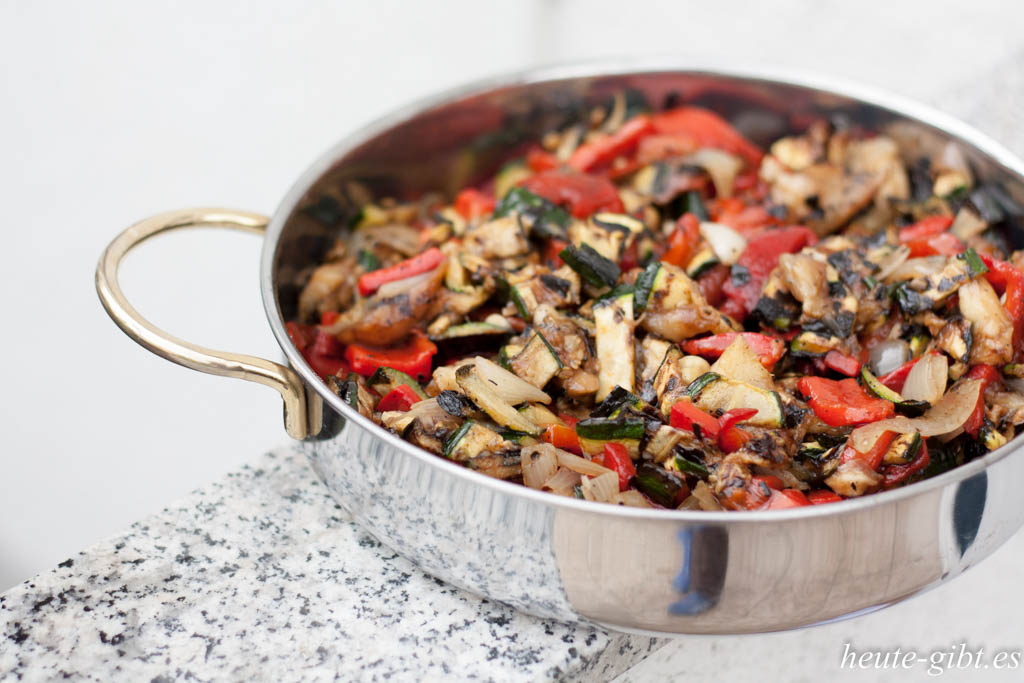 recipe
Salad of grilled vegetables
Total time
1h
Salad of grilled vegetables
Ingredients

(For 4-6 people)
4 medium zucchini
5 red peppers
2 small eggplants
4 small onions
2 cloves of garlic
dried oregano
olive oil
balsamic vinegar
Salt and pepper
Preparation

:
The vegetables unpeeled placed in the coals of a grill and regularly turned until it is black on all sides. Once you can purely stand well with a fork, take the vegetables out of the fire and let it cool slightly.
We always use a charcoal grill for this. Whether you can use for this purpose also a gas or electric grill or the oven, I is not possible to say. It is important that the outer shell is correct since this black developing the particular taste inside.
About this experience, I would be very grateful 😉
Then the vegetables by peeling the skin and remove brush from the core. At the end you should get as clean as possible shelled vegetables.


Hint

: Best gloves if you want to avoid Uses that charred remnants get under your nails.

Cut the vegetables into small pieces and give everything together in a bowl.
Finally, turn on the salad with vinegar, oil, salt, pepper and oregano and leave for something if possible.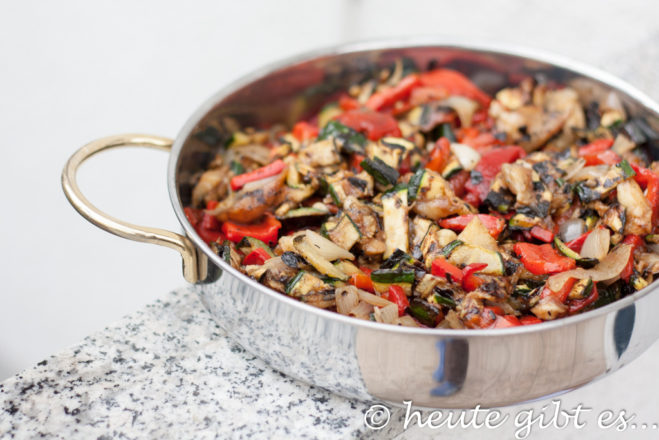 Since the salad is intended as a side dish for barbecues, it makes sense to grill the vegetables before meat so you can eat at the same time with the meat of this. Is anything left? Do not worry, because the salad still tastes good the next day. I am curious if this court to satisfy the carnivores among you 😉
Greetings from sunny Sicily
Elena